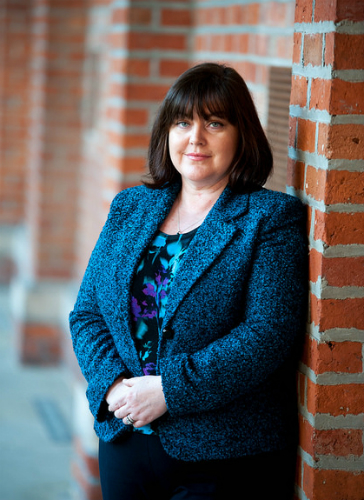 Research Theme: Maternal & Child Health and Centre for Children's Rights
Research Title: Competent or Not? Young People's Accounts of Sexual Readiness
Research Interests: I am interested in the social construction of gender in/equality, sexual rights and health, particularly in adolescents. Other current research includes inequalities in health by social class and ethnicity as well as gender, and lay perceptions of health related behaviours.
Supervisors: Professor Maria Lohan, Professor Laura Lundy and Dr Carmel Kelly
Email: m.templeton@qub.ac.uk
Personal Bio
I am currently in the write-up of my PhD study at Queen's University Belfast, supervised by Professors Maria Lohan and Laura Lundy, and Dr Carmel Kelly. My study explored young people's and sexual health service providers' discourses, around the concept of (hetero)sexual readiness. This research also benefits from the application of a 'children's rights' perspective and includes young people's participation at each stage of the research process. I am a qualified sexual health facilitator, and have vast experience working with young people in education and vocational training. I am also a child protection officer with experience delivering the Childline schools service programme (NSPCC) to primary age school children. I am an active member of the Maternal and Child Health research cluster in the School of Nursing and Midwifery at QUB, the Centre for Children's Rights, and the Sexual Rights and Reproductive Health of Young People, special interest group.
Project Summary
My study explored the concept of sexual readiness with young heterosexual people aged 16-18 years, from Northern Ireland. While most research to date has focused on the causes and consequences of early sexual debut among young people, this study investigated how young people themselves recount their first sexual intercourse experience, highlighting the wider social dimensions that may have influenced their decision to sexually debut when they did. The findings from this study will have important implications for young people's sexual health, sexual rights, and for relationship equality more broadly. This information will be useful to those who work with young people and are interested in understanding the context in which they make their decision to initiate sex, and how this impacts on their sexual health. Reflecting on these findings will result in recommendations relevant to healthcare practice and future health and education strategies for moving the sexual health agenda forward, to improve sexual health outcomes for young people.
My Perfect PhD Day
Chatting with fellow researchers in the school and discussing the joys and challenges we all face in our work.
Teaching
PhD Level: Developing a theoretical Framework for PhD research.
Qualitative Data Analysis: A worked example (Thematic Analysis).
Safeguarding Children in the Classroom.
MSc level: Conducting a Critical Review of the Literature.

Other Activities
I am currently an internal adviser (QUB) on 'The Student Consent Research Collaboration Survey' which seeks to measure the prevalence, incidence and nature of non-consensual sexual experiences within the Queen's University Belfast student population, with a view to providing evidence-based recommendations to most effectively improve the current condition. This project was recently awarded the President's Award for Student Achievement at the SU Awards (May 2016).
When I'm not PhDing…
I'm sleeping!!!
Conferences & Publications
Conference Presentations Related to PhD
Exploring Sexual Readiness: Why the participation of young people in research is crucial. The Girl-The Woman: Generational Borders. Institute for Collaborative Research in the Humanities Symposium. QUB, Belfast. May 2014.
Exploring Sexual Readiness: Why the participation of young people in the research process is crucial. All-Ireland Doctoral Conference, QUB/UCD, Belfast. May 2014.
Gaining Ethical Approval to Undertake Sexual Health Research with Young People in the UK: Applying a 'Children's Rights Based Approach. The 15th Biennial Conference of the European Society for Health and Medical Sociology. Helsinki, Finland. August 2014
Competent or Not? Young People's accounts of (hetero)sexual readiness. Festival of Social Science. The National Children's Bureau, Belfast. November 2014
How do young people understand and communicate their concept of heterosexual readiness: A mixed-methods systematic review All-Ireland Doctoral Conference, QUB/UCD, Dublin. June 2015
Working with Young People to Address Ethical Issues in Sexual Health Research. 3rd Children's Rights Research Symposium, University of Antwerp, Belgium. Oct 2015
Children's rights based research - synergies with the five ethical principles. Five Principles of Social Science Research Ethics. Academy of Social Sciences Research Ethics Project Group. QUB Nov 2015
Are you ready or not? 21st Northern Ireland Regional Sexual health Conference. Newry, NI. Nov 2015
Other PhD Dissemination Activities
Submission to 'Independent Inquiry into Child Sexual Exploitation in Northern Ireland' on behalf of the Centre for Children's Rights QUB. Feb 2014.
Research Showcase Event. South Eastern Trust sexual health clinic. Downpatrick. May 2014.
Sexual Health Improvement Network Northern Ireland. Belfast. Oct 2014.
Understanding the young sexual body. ESRC symposium. London. April 2015.
7th Annual Sexual Health and Young People Symposium: Empowering Young People to Make Informed Choices. Public Policy Exchange. Westminster, London. June 2015
Children as Actors for Transforming Society (CATS). Geneva, July 2015.
'Tell Someone You Trust' International Children's Rights Day. Queen's University Belfast. Nov 2015.
PhD Publications
A systematic review of adolescents' views on sexual readiness: a thematic synthesis of qualitative research. Journal of Advanced Nursing (under review)
Working with young people to address ethical issues in sexual health research (in preparation).