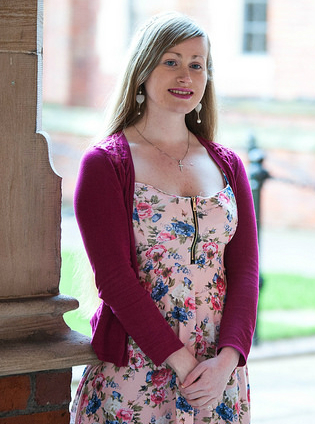 Research Theme: Supportive and Palliative Care
Research Title: The Use of High Fidelity Simulation for Delivering End-of-Life Education in Undergraduate Interprofessional Education.
Research Interests: Healthcare professions education, inter-professional education, theology and healthcare, endocrinology, gynaecological endocrinology, intraoperative care and education, mental health.
Supervisors: Dr Joanne Reid, Dr Helen Noble, Dr Claire Lewis
Email: pcunningham22@qub.ac.uk
Personal Bio
I completed my undergraduate degree at Queen's University Belfast (QUB) in 2014, graduating with a BSc (Hons) in Adult Nursing and was the recipient of the 2014 Florence Elliot Prize for Best Overall Performance in BSc Nursing. I spent some time working as a staff nurse in the Belfast Trust before returning to QUB to undertake PhD study after securing a studentship with the School of Nursing and Midwifery.
Project Summary
Providing care to patients who are dying and their families is a known area of concern for undergraduate nursing and medical students. Despite such concerns, end-of-life care has traditionally been poorly delivered within undergraduate nursing and medical curricula (Dickson et al, 2008; European Association for Palliative Care, 2007). From the limited evidence available, end-of-life care simulation has been proposed as a viable teaching method given its positive impact on knowledge acquisition, communication skills, student satisfaction and level of engagement in learning (Gillan et al, 2014). However, there is a dearth of research into the use of simulation as a method of teaching end-of-life care to undergraduates, including its use in interprofessional education. Using a mixed-methods research design, the aim of my study is to investigate the use of high fidelity simulation in undergraduate interprofessional education to deliver end-of-life education to nursing and medical students.
My Perfect PhD Day
When I have met my day's targets whilst having a few laughs in the office!
Teaching
I am a registered teaching assistant within the School of Nursing and Midwifery at QUB. My experience of teaching to date has involved facilitating high fidelity simulation uniprofessional and interprofessional scenarios with undergraduate nursing and medical students.
Other Activities
Registered support provider on the Queen's Register of Support Providers, providing note taking and exam reading support for disabled students.
When I'm not PhDing…
I am a member of the QUB cheerleading team, Queen's Knights Cheerleaders, and enjoy long walks, baking and playing the drums and guitar.
Conferences & Publications
Cunningham, P., Reid, J., Noble, H., McAneney, H., Carswell, C., McClement, S., Rice, B., Spence, A., Walsh, I. and Lewis, C. (2017) 'Inter-professional high fidelity simulation: the way forward for end-of-life care education', Palliative Medicine and Hospice Care , 3,(1), pp. 6-10. DOI: 10.17140/PMHCOJ-3-120
Cunningham, P. (2017) 'Pathophysiology, diagnosis and treatment of polycystic ovary syndrome', Nursing Standard, 31(39), pp. 44-51. DOI: 10.7748/ns.2017.e10595
Cunningham, P., Noble, H., Al-Modhefer, A-K. and Walsh, I. (2016) 'Kidney stones: pathophysiology, diagnosis and management', British Journal of Nursing, 25(20), pp. 1112-1116. DOI: 10.12968/bjon.2016.25.20.1112
Cunningham, P. and Noble, H. (2014) 'Type 2 diabetes: a case study', Nursing Standard, 29(5), pp. 37-43. DOI: 10.7748/ns.29.5.37.e9142