Global Prize for Pharmacy Academic
A Queen's academic from the School of Pharmacy has been honoured with a global prize for his contributions in the science of drug delivery.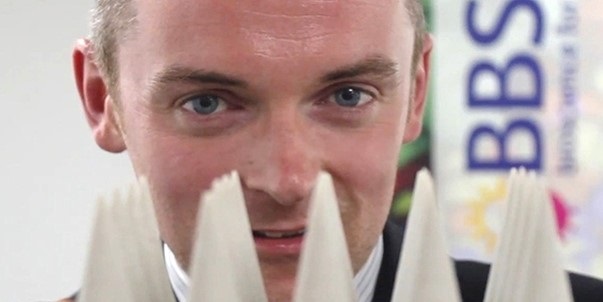 Professor Ryan Donnelly has been awarded the 'Young Investigator Award' from the Controlled Release Society (CRS), which is awarded annually to a scientist under 40 who has made outstanding contributions in the science of controlled release.
CRS is a global society which aims to provide collaboration between scientists, engineers and clinicians in the area of drug delivery science. The CRS community includes a wide variety of inter-disciplinary scientists and technical professionals working on the latest breakthroughs, plus targeted, unique connections in the field of delivery science and technology. The Young Investigator Award is presented annually to a member of the society who is seen as one of tomorrow's leaders within the science of drug delivery.
Professor Donnelly received his award for his world-leading research on microneedle arrays for transdermal drug delivery and intradermal delivery of vaccines and photosensitizers, as well as minimally-invasive patient monitoring. His work has already attracted numerous prestigious awards, including the Biotechnology and Biological Sciences Research Council Innovator of the Year in 2013, the GSK Emerging Scientist Award in 2012, and the Royal Pharmaceutical Society Science Award in 2011.
Speaking about the award Professor Donnelly said, "I feel honoured to receive this major award, especially considering the achievements and global profiles of the previous winners. I would like to thank my Group members past and present for their loyalty and all of their hard work. Our microneedles research is typical of the pioneering work ongoing in the Faculty and reflects the ethos of the School of Pharmacy, which is to leverage benefits for patients through innovation"
The award will be presented to Professor Donnelly in July at the CRS Annual Meeting and Exposition in Seattle where he will deliver his award lecture to fellow society members.
The School of Pharmacy at Queen's University Belfast continues to build upon its reputation for world class innovative research. Professor Donnelly and his team have been key players in the development on new and innovative microneedle systems which have applications in both drug delivery and diagnostics.
For further information on the research undertaking with the School of Pharmacy visit www.qub.ac.uk/pha
Media
For media contact
comms.office@qub.ac.uk
or call +44(0)2890 973091.