COCOON study: home & community delivered care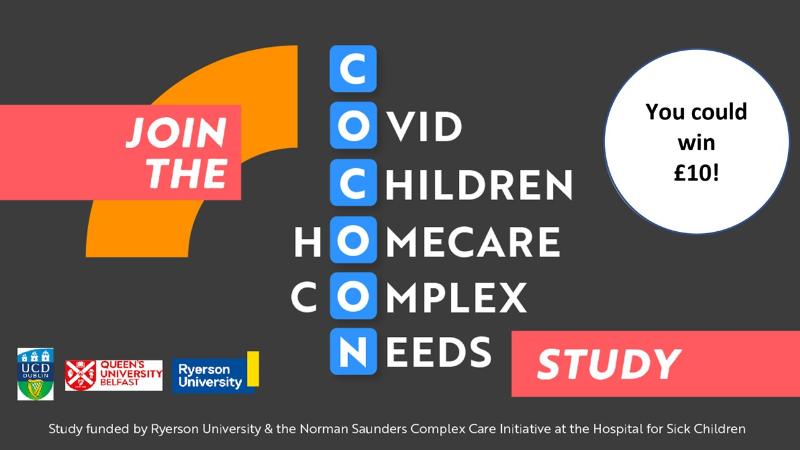 COVID-19 impacts homecare
The COCOON Study: working with colleagues from around the world we will...
Explore the impact of COVID 19 on community care for people with rare and complex health and social care needs. We know from research by ourselves and others that homecare services have been severely disrupted due to the 2020-2021 COVID-19 pandemic. While many carers have a significantly increased caring load, others are having to manage with reduced community support for health and social care, with a lack of respite facilities causing particular challenges. This project is gathering a solid evidence-base to help develop policy and practice guidelines to support home and community focused care for people living with complex care needs.
COCOON Study: COvid Children hOmecare cOmplex Needs
Phase 2: Following on from our international survey, we are now conducting interviews to document the impact COVID-19 has had on home healthcare services for children with rare diseases and/or complex needs.
Our goal is to bring attention to home healthcare services for this unique population of children and their families, and gather real-time information to help address concerns, challenges and gaps experienced by families and health care practitioners during the pandemic. You will be asked to participate in an interview, approximately 30-45 minutes in length. This will take place virtually via Microsoft Teams on a day and time suitable to you. As a token of appreciation for participating in the interview, you will receive an electronic gift card valued at £10.
Phase 1: online survey

If so, please consider completing our online survey https://survey.ryerson.ca/s?s=10195 which aims to:
Assess how home healthcare policies are experienced by families and operationalised by home healthcare practitioners and agencies;
Gain an understanding of the gaps and challenges paediatric home healthcare services are facing to better equip them to meet current and future pandemics.
About this study: The COVID-19 pandemic has disrupted all our lives. Children with rare diseases and/or complex care needs and their family caregivers are no exception. In addition, to having an increased risk of contracting and transmitting COVID-19 this population heavily depend on the home care sector 24/7 for extraordinary care needs, placing immense added pressure on these families. Furthermore, public health recommendations during COVID-19, to stay at home and maintain physical distancing, present unique challenges for this population.
What is the purpose of the study? It is hoped this study will help to address expressed concerns, challenges and gaps that will inform paediatric home healthcare policy recommendations and practice guidelines during the COVID-19 pandemic.
What do I have to do? To participate in the study, you will need to be 18 years of age or older and complete an online survey responding to questions based on your experiences of receiving or providing home healthcare services during the COVID-19 pandemic. The survey should take around 20 minutes to complete. We will also be conducting interviews with a small group of caregivers and health care practitioners and completing a follow up survey in the Spring of 2021. Therefore, at the end of the survey there is an option to provide your email address indicating your interest in subsequent phases of the study.
How will the results be used? The anonymised summative data and interpreted information derived from this research study will be shared with the research team and all community partners and stakeholders, such as family caregivers, home healthcare practitioners, home healthcare agencies, and advocacy groups to develop policy recommendations and practice guidelines to guide paediatric home healthcare services as we live with the pandemic.
What are the advantages? By taking part you have a chance to win a £10 shopping voucher. We also hope you will benefit from the opportunity to voice your concerns and challenges experienced in receiving and/or delivering children's home healthcare services and to contribute to future policy and practice recommendations.
COCOON flyer_NI available to download in .pdf format.
COCOON_PIS: Further details are available in our COCOON participant information leaflet
If you would like access to the survey in a different format or hard copy, please contact us at our rare disease email