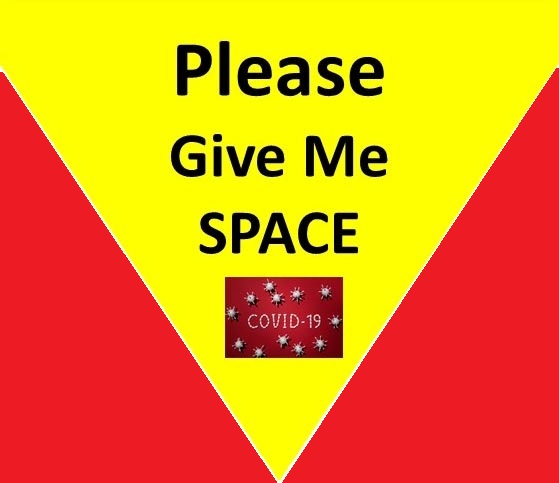 During the 2020 COVID-19 pandemic
Shielding with a rare disease(s)
A recurrent theme across all our rare disease projects during this 2020 - 2021 COVID-19 pandemic is concerns raised about social distancing by people who live with rare diseases. Below are some voices from our local Northern Ireland rare disease community to highlight some positive aspects and concerns about Shielding from 698 participants.
COVID-19 is a serious disease that has important consequences for many people living with rare diseases.
In March 2020, people considered to be at the highest clinical risk from COVID-19 received letters from their medical team advising that they should:
stay at home at all times
avoid all face-to-face contact for a period of at least 12 weeks
This 'protective-zone' is known as shielding and was updated so that shielding will continue until 31st July 2020. Persons advised to shield in Northern Ireland includes, "people with rare diseases and inborn errors of metabolism that significantly increase the risk of infections". This shielding advice was updated on 8th June 2020 so that people who are shielding may go outdoors while maintaining strict social distancing with members of their household, or if they live alone with one person from another household that is preferably the same person each time. Following a decrease in observed community infection levels, from 6th July 2020 people who are shielding may meet up to six people outside their home as long as social distancing is strictly observed and form a support bubble with one other household. NI direct advice on shielding
Impact
Representative comment
Time to enjoy new hobbies and get jobs done
"I quite like it. Feeling safe".
More time at home with family very welcome
"Good to spend time with family"
No different to the normal day-to-day isolation living with a rare disease
"We're isolated anyway so no change"
Lack of understanding COVID-19 guidelines for shielding

"Guidelines for people with rare diseases AND the carers has been vague, and has not helped us make informed decisions about my household."

"No clear advice given"

Lack of consistency when being advised to shield; uncertainly over shielding

"I don't even know if I'm extremely vulnerable or vulnerable"

"I have not received a letter, but am shielding due to complex medical needs"

"Inconsistency whether my condition is classed as high risk"

"...One consultant says one thing and the other says another..."

Difficulties getting groceries and medicines

"Better support for those who are shielding such as help getting online food delivery slots"

"I have been told that I have been identified as high priority but I cannot access the priority service as I didn't have a loyalty card for major supermarkets before this hit"

Lack of practical help & independence

"Aside from the lack of face to face human contact (which is almost zero), just practical things that need the help of another person around the home are starting to get really frustrating, and risky"

"It's hard to manage when you lose all you are dependent on"

Feeling lonely due to the isolation

"Don't leave house now, see no one, no work, no contact with anyone except a disabled son who is unable to communicate in any way. Feel very lonely"

Lack of respite facilities and practical carer support

"Not getting enough sleep! And then having to care all day as well."

"Who cares for her if I catch COVID19? ...This terrifies me generally."

"...I miss my independence"

"There is no backup and no support"

"I love my child, but there is no break – 24/7 with schools and respite facilities closed"

Community care not perceived as safe

"We cancelled Trust supplied carers as they were not washing hands, pulling gloves from a full pocket, said they were reusing masks in multiple homes, shops etc."

Looking towards relaxing the lockdown regulations

"What about exiting lockdown? The public needs more education on social distancing to help very high risk people"

"More information about supporting rare disease patients and their carers. More 'policing' of social distancing in shops e.g. if carer is reaching up for a loaf of bread, a stranger's head should not appear under their arm! More public education about the importance of social distancing for vulnerable groups. Maybe a 'please give me space' tag/banner I could use when lockdown is relaxed..."
While some people who have been shielding welcomed this news, others are less convinced as highlighed in these representative examples below.
Is it too early pause shielding?
"We are still very vulnerable and I will continue to stay at home as much as possible"
"It's not worth the risk"
"Give us more information about a way out of this shielding, that won't put us at risk"
"Family are super keen to visit, but they've been everywhere and it is not safe yet"
"Please keep the advice to socially distance at 2 metres and minimise non-essential travel for us"
"I am not ready to leave my house yet - can I still get priority groceries and medicines delivered?"
"I like walking outdoors, but not entering a nightmare shop"
"Postcode level information on COVID-19 positive tests (home and workplaces) would help us judge local risks"
Requests for improved public education / compliance / regular guidelines:
"We need better public education about the need for social distancing for vulnerable people - available masks DO NOT stop me catching COVID-19"
"Please, please educate people on how to wear masks properly - covering mouth and not nose, or lowering them regularly, is not good!"
"My dog has a 'please give me space' sash - I'm already wearing it outdoors; many people do not socially distance"
"Will there be a letter or card produced that I can show to 'prove' I'm not wearing face coverings for medical reasons?"
"[We need] More frequent updates unique to highly vulnerable people on how government action plan affects them and their lives"
"Please share the science behind guidance updates specific to NI"
Will there be 'approved' NI suppliers of PPE where clinically vulnerable people can obtain required products?
"Face coverings minimise the spread of COVID-19. They don't stop us catching it - we need to be able to buy proper protective masks as we are so so very vulnerable."
"We need good masks that stop us catching COVID-19 before stopping shielding".
"Getting necessary PPE is now very expensive and hard to find - I'm not going near people without it".
What about schools and work?
"My anxiety is going through the roof at the thought of having to go out - will I still have support?"
"If the government advice is to pause shielding, what does that mean for schools?" ; "I am not comfortable sending my very vulnerable child to school in the current circumstances".
"If shielding is paused, must I go back to work onsite? Is there any protection without this government advice to shield?"
"My disability means I should not wear a face covering; how should I keep myself safe after 31st July?"
*** We are not providing advice, but the following links may be of interest to people venturing out while shielding is paused - updated 1st August 2020***
Wales plans to pause shielding from 16th August 2020 provided community transmission is low: https://gov.wales/guidance-on-shielding-and-protecting-people-defined-on-medical-grounds-as-extremely-vulnerable-from-coronavirus-covid-19-html#section-46628
Scottish advice with shielding paused - the Scottish SMS Shielding Service is still operational and they are developing a COVID forecasting service for shielding that will allow you to sign up to an SMS update telling you about your risk of being exposed to the virus in your local area.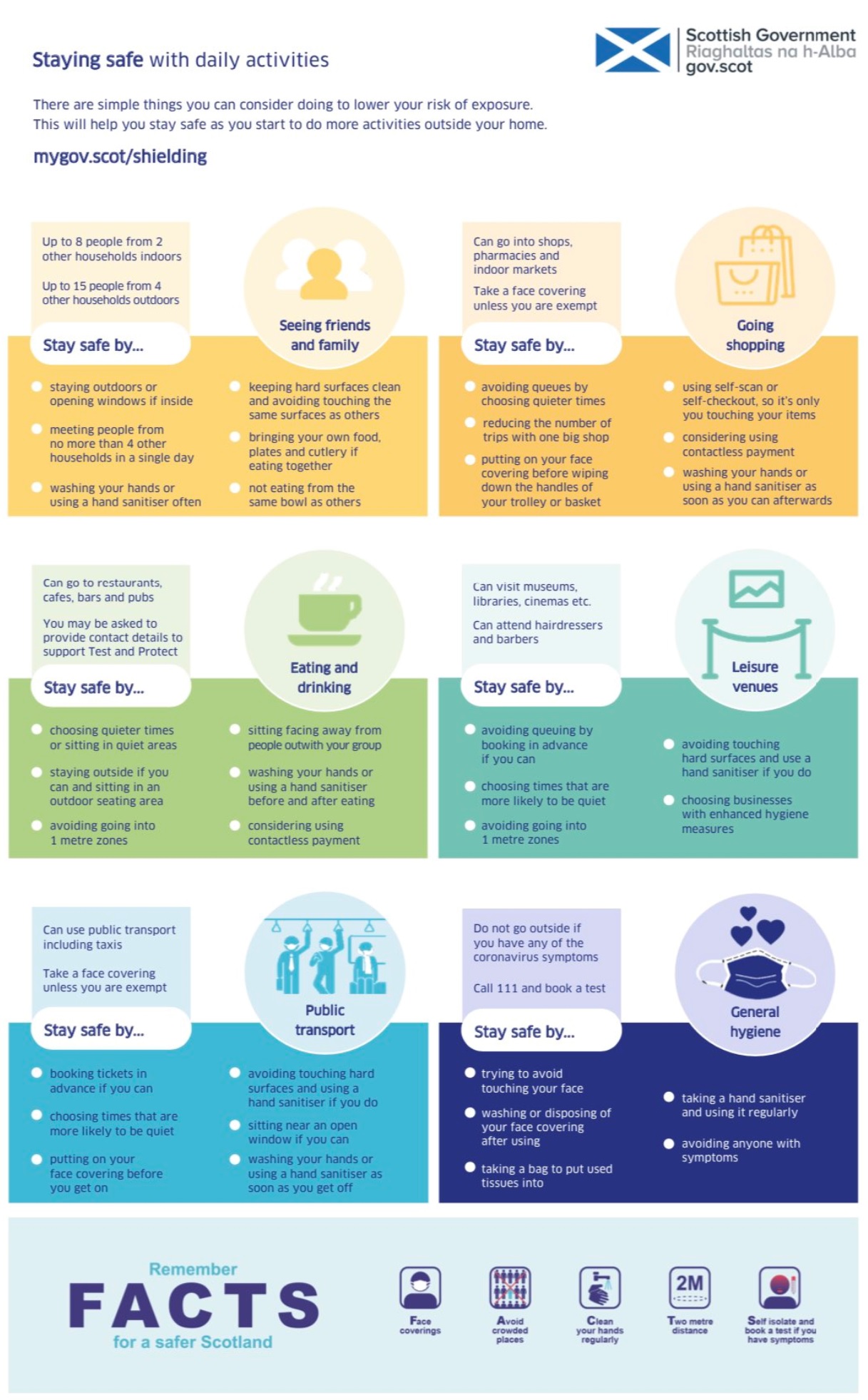 Many groups are providing some form of visual prompt to remind the general public that a person is very vulnerable to COVID-19.
For example:
The Distance Aware campaign is partnering with many groups including Kidney Care UK to provide a range of 'social distancing' materials: https://www.bevancommission.org/distance-aware
Muscular Dystrophy UK has developed personalised distance aware badges: https://www.musculardystrophyuk.org/get-the-right-care-and-support/coronavirus-information-and-advice-for-people-with-muscle-wasting-conditions/distance-aware-badges/
As requested, here is a generic shield from the Bevan commission design template (https://www.bevancommission.org/distance-aware) that some people with rare diseases are already using in Northern Ireland - 217 requested & posted as of 10th August 2020 - 15th September 2020.
.
The UK government is now (7th August 2020) supporting optional badges that can be used to promote Social Distancing. https://www.gov.uk/government/publications/please-give-me-space-social-distancing-cards-or-badges
On 24th February 2021 our NI Health Minister Robin Swann introduced the distance aware shield for Northern Ireland. Be Distance Aware | Department of Health (health-ni.gov.uk)
Details of the NI campaign are available at the following link Coronavirus (COVID-19): be 'Distance Aware' and keep social distancing | nidirect with resources downloadable here Distance Aware campaign resources | HSC Public Health Agency (hscni.net)