Voices from rare disease carers across NI
Carer reported experiences: supporting someone with a rare disease

Our research describing insights from rare disease groups across NI highlighted the 'missing voice' of carers in a lot of rare disease research. We're delighted that following on from that paper, our carer-focused research is now publicly available: https://www.medrxiv.org/content/10.1101/2020.07.10.20150581v1
The uniqueness and complexity of rare diseases, together with a perceived lack of understanding from health professionals, can make caring for someone with a rare disease extremely challenging. Carers are often forced to become expert patients alongside people they care for. Due to the demands placed upon carers it is essential that appropriate support is available for them to ensure they can continue to carry out this vital role. This exploratory study researched challenges carers face when looking after someone with a rare disease and identify how they could be better supported in this role.
To be eligible to participate, respondents had to be adults caring for someone with a rare disease. Mixed methods were used including an online survey (n=57 respondents) where carers highlighted a need for better support specific to their mental health needs, liaising with health and social care professionals, financial, communication, training and respite options. During a facilitated workshop (n=32 attendees) discussions focused on challenges carers face as well as priorities to better support carer needs in the future.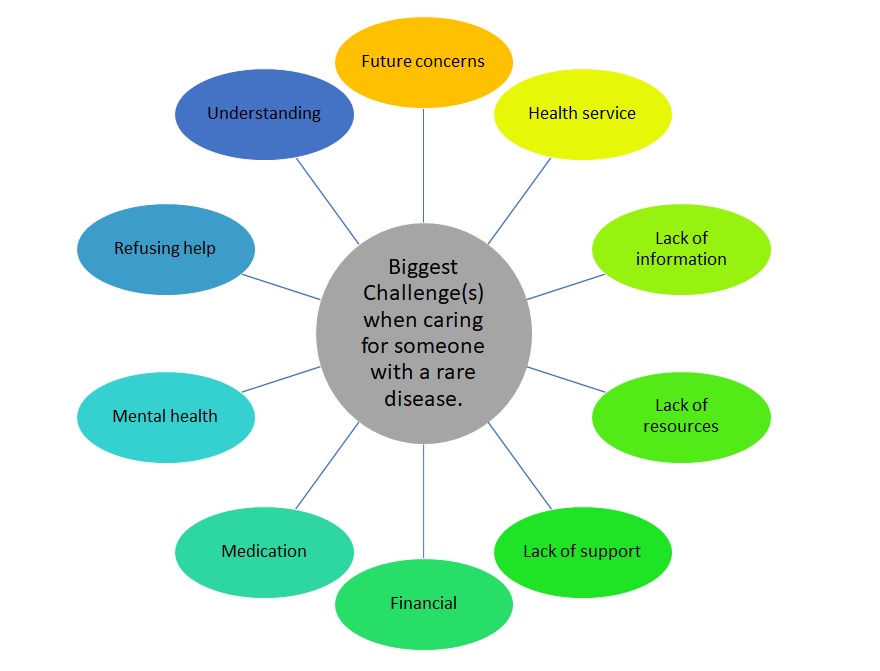 While carers reported several positive aspects of their caring role, the majority of comments highlighted challenges such as sub-optimal interactions with healthcare professionals, insufficient (or absent) emotional, psychological and social support, lack of financial support, and lack of awareness of existing support services. It is important that strategies are put in place to ensure that carers take the time they need to care for themselves and raise awareness of available support options for carers of people with a rare disease(s) from health and social care providers, charities, or support groups.
We are keen that this important research is as accessible as possible so are delighted that our paper is now publicly available on MedRxiv: Read our preprint for rare disease carers here
This is an early version of the paper that has not yet been peer-reviewed. The manuscript has been submitted for peer-review and formal publication.
JM is supported by funding support from the Medical Research Council Northern Ireland Executive support of the Northern Ireland Genomic Medicine Centre though Belfast Health and Social Care Trust. AC is supported by a Department for the Economy PhD studentship award.
Media
For more information, please do get in touch with our rare disease team by email