‌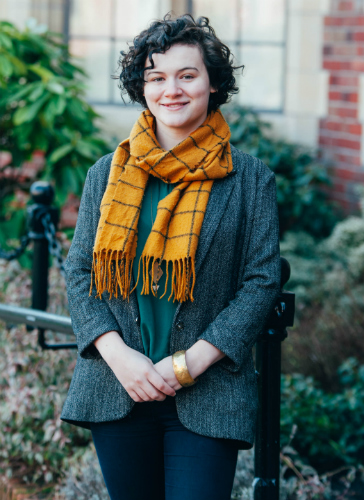 Research Theme: Maternal & Child Health
Research Title: An evaluation of If I were Jack in post-primary schools with regard to the Relationship and Sexuality Education requirements of teenage men
Research Interests: My research interests include Relationship and Sexuality Education, gender, sexuality, and sexual and reproductive health (especially of young people).
Supervisors: Prof. Maria Lohan, Dr Carmel Kelly, Dr Áine Aventin, Prof. Abbey Hyde
Email: kgillespie05@qub.ac.uk
Personal Bio
I undertook my undergraduate degree in Politics at Queen's University Belfast (2013), before continuing my studies with a Master's degree in Humanitarianism and Conflict Response at the University of Manchester, where my dissertation focussed on how politics, religion and culture affect Relationship and Sexuality Education in Northern Ireland.
While at QUB I was involved with the QUB: SAFE (Sexual Awareness For Everyone) Society, undertaking training with Brook NI, and signposting students to sexual health services and handing out condoms. In my final year at QUB I was elected Vice-Chair of QUB: SAFE.
In October 2014 I returned to QUB after accepting a Health Services Executive of Ireland and Crisis Pregnancy Programme scholarship to undertake PhD study within the School of Nursing and Midwifery.

Project Summary
My study aims to evaluate the 'If I were Jack' educational resource in post-primary schools with regard to the Relationship and Sexuality Education requirements of teenage men. This research is necessary because:
Teenage men have been neglected in relation to Relationship and Sexuality Education (RSE), particularly with respect to teenage pregnancy (Swann et al., 2003; Smith et al., 2005; AGI, 2002; Marsiglio et al., 2006; Lindberg et al., 2008; Lindberg & Kost, 2013; Lohan et al., 2010). Boys are currently much less likely than girls to receive education concerning pregnancy and pregnancy prevention in schools in Ireland (Mayock et al, 2007) and elsewhere (AGI, 2002; Schubotz et al., 2004; Rolston et al., 2005). When young men do receive RSE concerning pregnancy it is often via resources that are directed towards females and which ignore the fact that boys and girls are affected differently by gender norms and values relating to pregnancy (WHO, 2011). Thus, amongst others, the World Health Organisation has highlighted the urgent need to produce and scientifically evaluate gender-sensitive interventions to address teenage pregnancy (WHO, 2011).
In order to help address this need, researchers at Queen's University Belfast conducted research on young men's attitudes to teenage pregnancy and parenthood in schools in Ireland in 2009. Following the completion of this research (Lohan et al. 2010; 2011; 2012), the research team worked with key health and educational stakeholders and end-users to develop an educational resource for use in post-primary schools in Ireland (funded by an ESRC knowledge exchange research grant RES-189-25-0300, HSE Crisis Pregnancy Programme and The Public Health Agency Northern Ireland). The resource entitled 'If I were Jack' is currently being rolled out in post-primary schools in Ireland.
http://www.qub.ac.uk/sites/IfIWereJack/
There remains, however, a need to examine the acceptability, feasibility and impact of promising interventions such as If I Were Jack and to explore the extent to which they fit with young men's identified RSE needs. The proposed research aims to document the RSE needs of teenage men and to explore end users' perceptions of the acceptability of the If I Were Jack resource for meeting the RSE needs of young men in post-primary schools in Ireland. Research of this kind ensures clarity about the acceptability and feasibility of innovative interventions and helps develop a broader evidence base to inform the development and implementation of RSE in schools in Ireland.
The overarching aim of the proposed study is to evaluate the If I were Jack educational resource in relation to reported RSE requirements of teenage men with a specific focus on relationships, pregnancy prevention, crisis pregnancy decision-making and teenage fatherhood.

My Perfect PhD Day
My perfect PhD day would involve attending a conference on Relationship and Sexuality Education or sexual and reproductive health, and getting my presentation done first thing in the morning so I can relax and enjoy the rest of the conference without being nervous!
Other Activities
I am on the Athena Swan committee and am a member of the Maternal and Child Health research cluster. Additionally, I am a member of the 'Sexual and Reproductive Health of Children and Young People' Special Interest Group, and the Systematic Review Special Interest Group.
When I'm not PhDing…
I am a qualified fencing coach and help to run the QUB Fencing Club. I am a member of the National Management Committee of Brook Northern Ireland (a young people's sexual health charity).
Conferences & Publications
Oral presentation at International Conference on Men and Masculinities, New York 5th-8th March 2015: 'Relationship and sexuality education for boys: A systematic review of what boys and young men want and what works best', as part of an invited panel on Advancing Gender Equality in Reproduction: The consideration of men.