BELFAST AND LONDON RESEARCHERS JOIN FORCES TO EMBARK ON 'PIONEERING' PROSTATE CANCER STUDY
Researchers from Queen's University and the Institute of Cancer Research in London have received a grant of over £819,000 from Prostate Cancer UK to test a new potential treatment for advanced prostate cancer.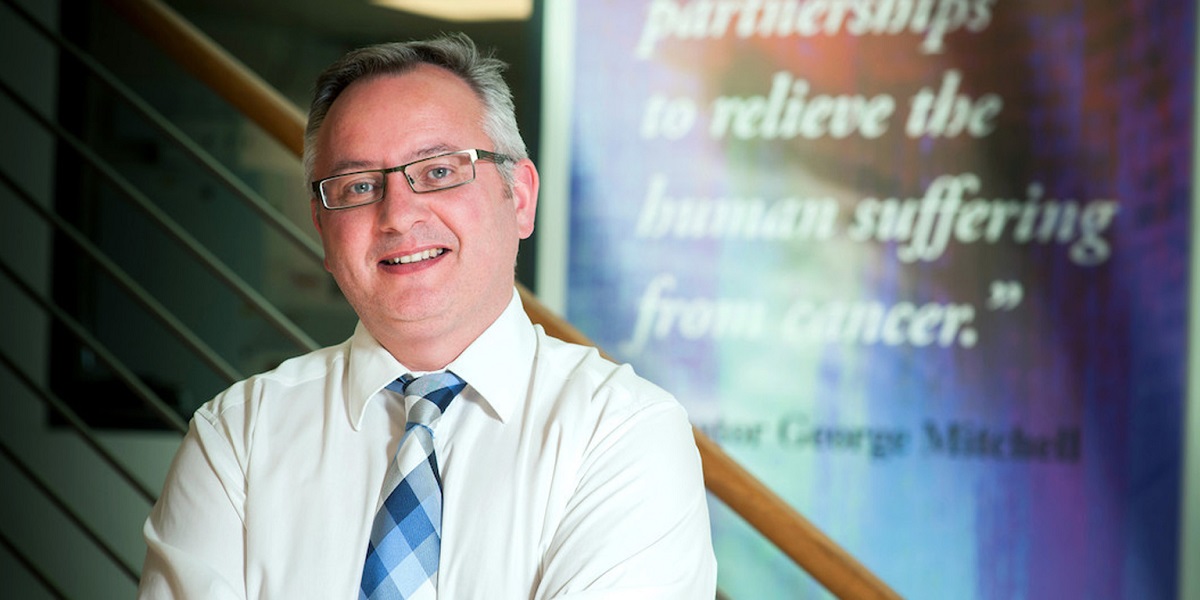 The researchers, led by Professors David Waugh and Johann de Bono will test the safety and clinical benefit of a new treatment which could help men who don't currently respond well to existing treatments. The project will also investigate whether this treatment works particularly well for men with a mutation in a gene call PTEN, which prevents cells from growing out of control when it is working properly.
The grant has been awarded as part of Prostate Cancer UK's new £2.6 million Research Innovation Awards scheme. This initiative encourages researchers to develop forward thinking, ambitious research proposals which challenge the status-quo.
Professor Waugh said; "Men with a fault in the PTEN gene often don't respond well to current treatments for advanced prostate cancer. We are hopeful that our new treatment could help this group of men, giving them precious extra time with their family.
"Every man and every cancer is different, meaning that every man responds differently to treatments. Finding the right drug, for the right man at the right time is vital. Through our work we hope to not only develop a new treatment for men, but also pinpoint those men who are most likely to benefit from it.
"We're incredibly grateful for this grant from Prostate Cancer UK and can't wait to get started."
Prostate cancer kills over 250 men in Northern Ireland every year and over 1,000 are diagnosed with the disease. Over the next ten years Prostate Cancer UK has set out to tame prostate cancer so that it becomes a disease that doesn't pose the same threat to men's lives that it does today. In order to achieve this aim, the charity is concentrating all of its research firepower on three key areas: diagnosis, treatment and prevention.
Dr Iain Frame, Director of Research at Prostate Cancer UK, said; "Through shifting the science over the next decade, we want to transform prostate cancer into a disease that the next generation of men will not fear.
"We're delighted to be funding our first ever Research Innovation Awards, which has been made possible thanks to the generous donations of our supporters. We challenged the research community to think creatively and send us ideas we'd never seen before, that could really change the game for men. We weren't disappointed. Pioneering research like this from Professor Waugh and Professor de Bono, is going to play a key role in helping us to achieve our ten year goal and we're looking forward to seeing how this research progresses."
For further information on all research funded by Prostate Cancer UK visit: www.prostatecanceruk.org/research/research-we-fund
Key headline statistics
10,900 men die from prostate cancer in the UK each year. That's one man every hour.

It's the most common cancer in men, with 330,000 living with and after the disease in the UK.

Prostate cancer is set to become the most commonly diagnosed cancer of all in the UK in 2030 - which is why we must all act now to curb its power to kill.

Prostate cancer treatment often causes devastating, long term side-effects. Incontinence and erectile dysfunction strike at the heart of what it means to be a man.

Anyone with concerns about prostate cancer may contact Prostate Cancer UK's Specialist Nurses in confidence on 0800 074 8383 or online via the Live Chat instant messaging service: www.prostatecanceruk.org. The Specialist Nurse phone service is free to landlines and open from 9am to 6pm Monday to Friday with late opening until 8pm on Wednesdays.

Visit www.prostatecanceruk.org now to help beat this disease.