Prostate Cancer Centre of Excellence to open at Queen's thanks to £1.6M donation
A new Prostate Cancer Centre of Excellence is set to open at Queen's University Belfast, thanks to a generous £1.6million gift to establish a clinical research facility at the Patrick G. Johnston Centre for Cancer Research.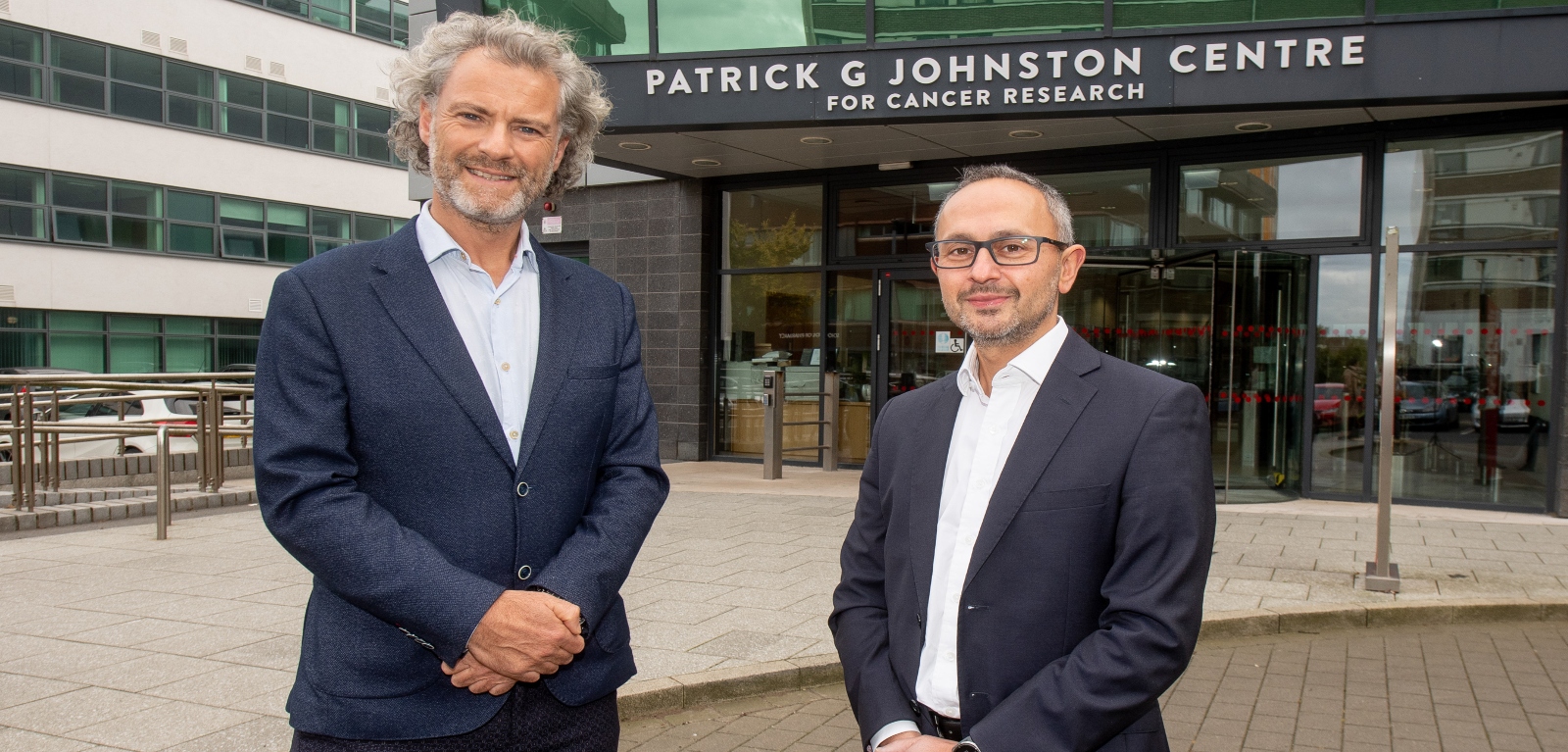 One of the largest single donations in the University's history, the gift will build on the existing world-class prostate cancer research programme at Queen's University by establishing a multidisciplinary research cluster involving clinical and laboratory science across the University, as well as industrial and academic partnerships. This Centre will transform prostate cancer research in Northern Ireland and help to improve the lives of patients through innovations in treatment.
It will also create jobs for clinical trial staff, clinical fellows, lab scientists and PhD students, and position the University at the forefront of the fight against prostate cancer.
Professor Ian Greer, Queen's University Vice-Chancellor, welcomed the plans. He said: "The impact of this gift will be truly transformational to prostate cancer research at Queen's, and for patients in Northern Ireland and across the world. Our research activity has global impact and I am very excited to see the life-changing discoveries and outcomes that this Centre of Excellence will produce. The University is extremely grateful for this gift, and we look forward to shaping a better future for those affected by prostate cancer."
The project is being led by internationally renowned Queen's clinical academics Suneil Jain, Professor of Clinical Oncology, and Joe O'Sullivan, Professor of Radiation Oncology at The Patrick G. Johnson Centre for Cancer Research. The research focus will be on advanced radiotherapy, drug-radiotherapy combination studies and big data analysis, and on training up the next generation of cancer researchers.
Prostate cancer is the most common cancer in men in the UK. More than 52,000 men are diagnosed with prostate cancer every year – 142 men every day. In Northern Ireland, approximately 276 men die from the disease every year.
Explaining the difference such a significant gift will make, Professor Jain said: "It will enable us to deliver more cutting-edge clinical trials for our patients, testing new, promising treatments that we hope will improve cancer outcomes or reduce treatment related side-effects.
"We already have a strong track record in Belfast of developing novel clinical research. We want to build on this to help develop the cancer treatments of the future."
Echoing the impact of this gift, Professor O'Sullivan said: "The Prostate Cancer Centre of Excellence will link world-class research at Queen's University Belfast with clinical trials at the Belfast Health and Social Care Trust and the Northern Ireland Cancer Centre. We are grateful to the donor for this generous gift, and hope our work will benefit men and their families who are facing their own very personal prostate cancer journeys."
The gift was made by a local charitable trust, set up by a donor who had himself been part of a clinical trial at the University. Being able to run more prostate cancer clinical trials will be a factor in the success of the centre, thanks to the involvement of the Belfast Health and Social Care Trust as clinical partner.
Media
Media inquiries to s.devlin@qub.ac.uk