Queen's and Ipsen enter partnership for innovative first-in-class cancer therapy
Queen's University of Belfast and the global biopharmaceutical company Ipsen have entered a collaboration and licensing agreement relating to Queen's cutting-edge preclinical stage first-in-class FLIP inhibitor programme.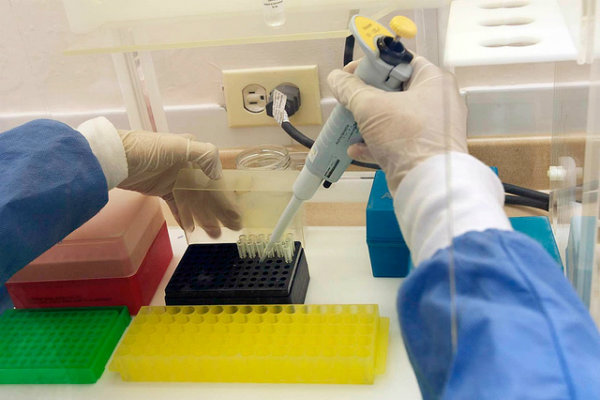 The FLIP(i) programme is a cutting-edge drug discovery programme, supported by Wellcome. FLIP is a major apoptosis-regulatory protein that is frequently overexpressed in hematological and solid tumors (including colorectal, lung and pancreatic cancer). It has been implicated in the regulation of multiple aspects of programmed cell death and is of significant interest as a novel cancer therapeutic target.
Lead researcher Professor Dan Longley explains: "Resistance to current treatments for various types of cancer and leukaemias is a major clinical problem. Our work at Queen's has demonstrated that FLIP is frequently highly expressed in certain cancers and leukaemias and that this can cause resistance to treatment leading to patient relapse. By targeting FLIP, we aim to overcome this resistance and improve outcomes for patients."
The programme first commenced over a decade ago when Professor Dan Longley and his team at Queen's discovered a novel protein-protein interaction (PPI). Prior to this seminal work the PPI of FLIP-FADD was widely thought to be 'undruggable'. Through carrying out extensive research into the binding events, the team realised that there were significant differences in their binding modes and a completely new therapeutic opportunity was recognised. With the support of Wellcome, and advice from Domainex, a leading UK-based provider of medicine research services, the team at Queen's have been able to find selective inhibitors of the FLIP-FADD PPI.
Commenting on the news Howard Mayer, EVP Head of R&D at Ipsen said, "This collaboration provides strong development synergies for Ipsen and the opportunity to target the apoptosis (cell death) pathway to develop innovative cancer therapies. We are delighted to be working with the team at Queen's and we believe great partnerships create great possibilities."
The academic team at Queen's, led by Professor Longley and Professor Tim Harrison have developed novel, small molecule FLIP inhibitors and used these to achieve pre-clinical proof of concept. The priority for the team is now to progress this programme towards clinical development.
Professor Longley commented: "Our work to date strongly supports the potential for FLIP inhibitors as therapeutic agents in multiple oncology settings. Our team is looking forward to partnering with Ipsen's clinical and development experts, harnessing their global knowledge, expertise and networks to advance this program and bring a FLIP inhibitor to people living with cancer around the world."
Professor Harrison added: "We are excited about the potential of the novel, first in class small molecule FLIP inhibitors we have been able to develop thanks to the support from Wellcome, and now are looking forward to working with Ipsen to move these molecules through the next stages of development, and ultimately into new treatments for patients."
Brian McCaul, Director of Innovation at Queen's, commented: "By working in collaboration with researchers, investors and industry partners, our commercialisation teams are here to translate invention into real world impact that makes a difference to people's lives. The FLIP(i) program is an example of the exceptional innovation happening at Queen's."
Dr Lynsey Bilsland, Wellcome's Innovations Lead for the FLIP(i) program, commented: "The FLIP inhibitor program is an excellent example of using novel ideas in drug discovery to try and improve cancer outcomes. We have high confidence in the teams at Ipsen and Queen's in further developing this technology into the clinic."
Under the agreement Ipsen received a global exclusive licence to research, develop, manufacture, and commercialize FLIP inhibitors.
Media
Media enquiries to comms.officer@qub.ac.uk