In the first instance all queries regarding admission to medicine should be directed to the Admissions and Access Service.
Selection Process
The School of Medicine, Dentistry and Biomedical Sciences has 262 places available for candidates applying for 2019 entry to undergraduate medicine. The selection process for medicine is a two stage process and is intended to look at the following factors:
Assessments of cognitive ability:
Consideration of previous academic performance, either school or university grades and 'aptitude testing' using the UKCAT
Assessments of non-cognitive ability.
Tested through MMI (Multiple Mini Interviews). These assessments examine skills and attributes such as the ability to communicate, to empathise and moral reasoning.
Stage One: Cognitive Ability
All applicants will be required to take UKCAT* in the summer prior to the completion of their UCAS application and their overall score will attract up to six points. For details on the bandings used to score UKCAT and the scoring system for previous academic performance please see Admissions Policy Statement for Medicine (link below). These scores will be added together and all applicants ranked. The top circa 700 applicants will then be considered for interview.
Stage Two: Non Cognitive Ability - Interview
The second stage of the selection process will be a nine station multiple mini interview (MMI) to determine non-cognitive performance. MMIs are being used to test non-cognitive competence and the applicant's personal statement is considered within this process.
*Please note that all applicants are required to sit the UK Clinical Aptitude Test. This is an online test administered at various centres throughout the UK.
Final decisions about whether or not to make an offer will be made on the basis of interview ranking alone (i.e. Stage 2 results) and not in combination with other factors.
Work Experience
It is accepted that it can be difficult for candidates to have equal access to clinical work experience and therefore it is not specified as a requirement for admission. Applicants are encouraged to obtain caring experience whether through volunteering or in paid employment as this is valuable in making informed decisions on career options.
Useful work experience links:
The General Medical Council firmly believes disabled people should be welcomed to the profession and valued for their contribution to patient care.
Doctors, like any other professional group, can experience ill health or disability. This may occur at any point in their studies or professional career, or long before they become interested in medicine.
No health condition or disability by virtue of its diagnosis automatically prohibits an individual from studying or practising medicine.
Having a health condition or disability alone is not a fitness to practise concern. It is important to look at the impact a health condition is having on the person's ability to practise medicine safely, which will be unique for each case.

The Medical School therefore welcomes applications from candidates with disability and is committed to providing appropriate support to meet known individual needs. Information on support available is provided by the University's Disability Services Unit.
We consider applications against the normal selection criteria. However, we also take into account the General Medical Council's fitness to practise requirement that students must meet the standards of competence, care and conduct as laid out in Good Medical Practice and Outcomes for Graduates. Anyone with a disability wishing to enter medical school is advised to read and reflect on these publications.
Useful Links
We encourage applications from all backgrounds. The School has in place various pathways for those candidates who have taken their GCSEs at certain secondary schools in Northern Ireland. For further information place see the policy statement or contact the Admissions and Access Service.
Information on opportunities available through the University's Widening Participation Unit is available from their website.
Further Information on Admission to Medicine at Queen's
Further details on Admission requirements are given in the Entry Profile on the UCAS website.
You will find the links to two key documents below which will help answer the more detailed questions you might have about applying to Queen's to study medicine.
The Queen's University Undergraduate Prospectus
Tells you how to apply to Queen's and when. You will also find details about what it is like to study at Queen's, what the university facilities are and what current students really think of Queen's.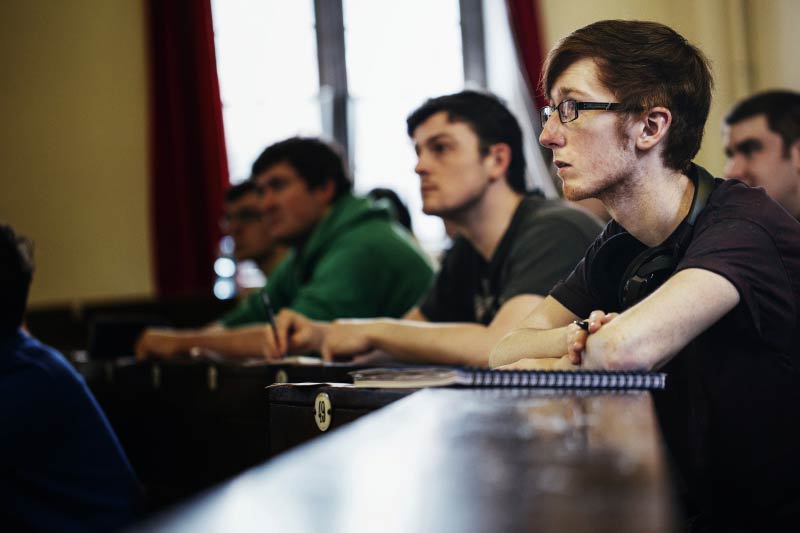 Advice and Information
Multiple Mini Interviews
Applicants selected for stage two of the admissions process will be asked to attend a nine station multiple mini interview (MMI) to determine non-cognitive performance.