Workshop for postdocs and research staff at Queen's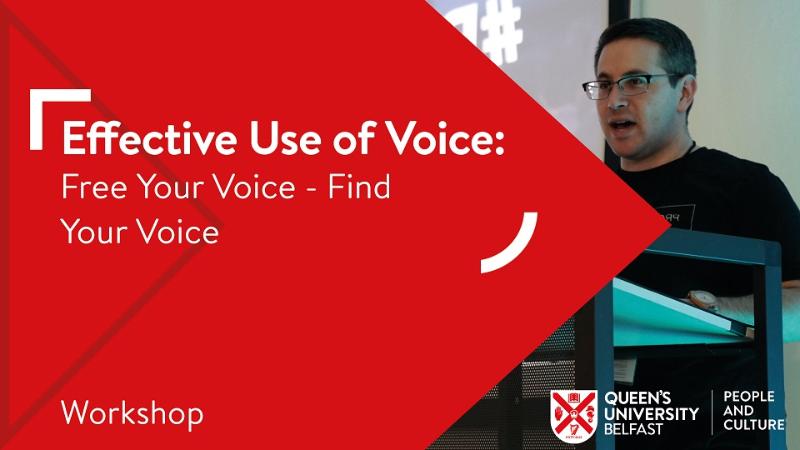 ---
Content
This online vocal workshop is designed to help you find your natural voice, get most of your voice and decrease tensions related to using your voice. It will involve three 45-minute sessions in the allocated slot.
Part 1: Welcome, Introduction and Warm-up:
We will look at the mechanics of the voice – the breath, the larynx and the articulators and how they work together to produce the voice.
Movements and stretches:
Pilates stretches and roll-downs to release the body, allowing it to be free and to find alignment. We will look at good posture, both in standing and sitting positions, and breathing – finding a natural 'sleep' breath, then developing it into lower abdominal breathing – 'Open Mouth and Open Body'.
Part 2: Tongue, Teeth and Lips – the Articulators:
Lots of fun exercises to release any tongue and jaw tension, allowing the natural, resonating voice to flow freely.
Finding Middle Pitch:
Does your voice tend to stray too high, or too low? We will look at ways to find the true middle of the voice, without losing the availability of variation in pitch, to bring colour and interest into your speaking.
Part 3: Putting it all into practice:
Looking at a short piece of prose to put all your hard work into practice!
Vocal Health and Q&A:
Looking at ways to safeguard your voice and keep it healthy.
Programme Objectives
This workshop will help to free your voice and undo any tension which may be hindering your true, natural voice. We will focus on abdominal breathing, relaxation, good posture and how we use our bodies to produce our voice.
It will also address any particular vocal issues arising due the current climate, where so much of our work is being delivered via virtual means.
The workshop will be aimed at academic and research staff who deliver presentations and lectures.
Department

People and Culture