Information sessions and related content
'Postdoc Life' information session series
The 'Postdoc Life' series of information sessions was introduced in January 2023 following the September 2022 Research Staff Survey, which showed that research staff found it difficult to understand 'how things work at Queen's' and what is available to them.
It aims at highlighting some of the internal and sector developments and initiatives to postdocs and research staff, in order to help them better understand and navigate their direct (Queen's) and wider (UK Research and Innovation sector) environment.
Sessions are organised approximately once per month, bringing in internal (or external) experts on the topic, and all postdocs and research staff can suggest topics by contacting the PDC (pdc@qub.ac.uk).
The sessions are provided on Zoom, enabling participants to ask questions to the facilitators.
Notes about the recordings on this page:
Videos are only viewable by Queen's staff and students

Links to videos open them in the Mediasite player on a new page. Chapters and captions are available

Details and links related to the content are provided for each video; click '+ expand' to access them

The information provided in videos was true at time of recording but, depending on when you are watching them, details may have changed

Questions and Answer parts of the sessions are not always included in the videos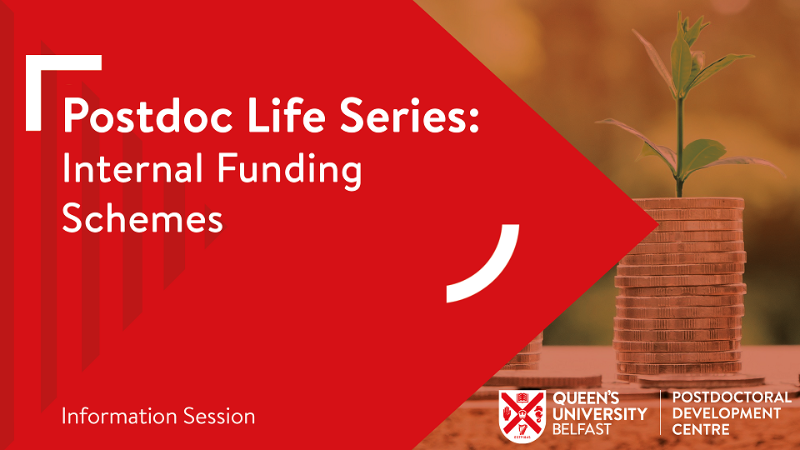 Internal Funding Schemes
'Postdoc life' January 2023
The recording of this information session designed for postdocs and research staff highlights some of the internal funding schemes they are eligible to apply for: the Research and Innovation Conference Fund, the Engaged Research Seed Fund, and the Agility Fund.
Watch 'Postdoc life: internal funding schemes'
In line with Queen's work on Research Culture, internal funding schemes were streamlined in 2022, and the application criteria has been widened to all staff involved in research. This enabled inclusion of postdocs and research staff, where previously only academic staff could apply. For research staff, these small pots of money with straightforward applications are a great way to write their first proposals, build a track-record of applying and securing funding, and receiving the budget required to bring some of their ideas to life and develop their career and CV. The internal funding schemes presented at this session fund a large range of activities, including presenting at conferences, organising public engagement activities, meeting potential collaborators, generating preliminary data for a fellowship application and training etc.
Details:
Chapter 1: Patricia McCrory, member of the Research Development Team, discusses the Agility Fund, which is an internal funding allocation that aims to provide a steady source of internal support for research and innovation activities. Patricia provides an overview of the Agility Fund, the support available and the application process.
Chapter 2: James Dillon,

Senior Research Impact and Engagement Manager,

provides an overview of the Engaged Research Seed Fund, outlining the eligibility and application procedure. James provides some examples of funded projects and describes the importance of these activities in the engagement and impact landscape, and the professional development of research colleagues.
Chapter 3: Chris Browne, Senior Research Strategy and Policy Manager, provides a short overview of the Research and Innovation Conference Fund, including an explanation of the guidance and criteria and application/funding process. This touches on the rationale for having this Fund, why the University wants to promote conference attendance, and the expectations regarding how it will benefit the broader research culture and quality.
Read more
Read less
---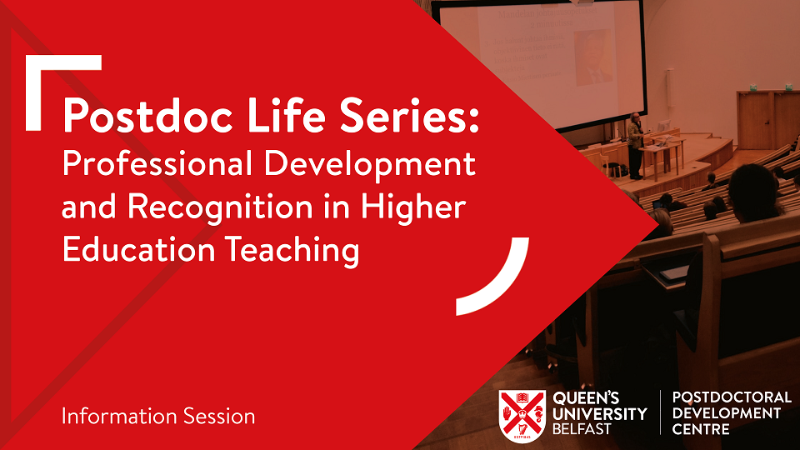 Development & recognition in Higher Education teaching
'Postdoc life' February 2023
The recording of this information session designed for postdocs and research staff highlights some of the internal development and recognition/ accreditations related to teaching practice. This includes the HEA Fellowship Scheme and the PostGraduate Certificate in Higher Education Teaching. It also discusses how and why it may be relevant to get involved with teaching as a postdoc.
Watch 'Postdoc life: Professional development and recognition in Higher Education teaching'
Gaining teaching experience and awareness of good teaching practice in higher education is key to research staff aiming at an academic career. The Centre for Educational Development (CED) at Queen's provides courses to develop teaching skills and supports applications for individuals to become Associate Fellows (or Fellows) of the Higher Education Academy (HEA), which is an internationaly recognised teaching certification listed as desirable criteria in most lectureship job descriptions. In this video, Karen Fraser, Senior Educational Developer in the Centre for Educational Development, describes some of the development programmes and certification routes available, notably via the Queen's Merit Award.
Note: some questions were answered during the presentation, so content does not always fit perfectly within the defined chapters.
Details:
Chapter 1: Introduction
Chapter 2: Higher Education Academy (HEA) Fellowship scheme. Overview of the scheme, eligibility and process for research staff to validate their teaching experience and skills for free by becoming AF-HEA through the Queen's Merit Award (QMA).
Chapter 3: PostGraduate Certificate in Higher Education Teaching (PGCHET). The PGCHET is a formal qualification, mainly directed at new academic staff on probation, for whom teaching is an essential part of their role.
Chapter 4: Categories of staff eligible
Chapter 5: Additional development programmes related to teaching and learning
Chapter 6: Summary and how to get teaching opportunities as a postdoc
Chapter 7: Questions and Answers
For further information:
Contact Ben, responsible for organising QMA accreditation programmes (qma@qub.ac.uk)
Read more
Read less
---