2-day Workshop for postdocs and research staff at Queen's (Application deadline: 27 May 2022)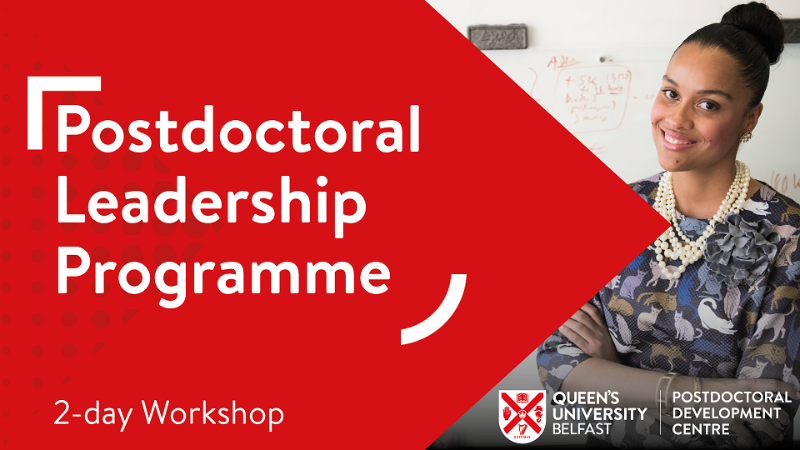 June 21, 2022 - July 5, 2022 (June 21, 2022 , July 5, 2022 )
Riddel Hall, Stranmillis Road
---
Content
Whatever they are coordinating a research project with multiple stakeholders, organising aspects of the functioning of their group, leading the organisation of events or intiatives internally or externally (workshops, development, research, social...), or planning to develop a vision for their independant research, postdocs get multiple occasions to demonstrate leadership.
The purpose of this programme is to help participants understand what leadership is, reflect on where and how they can play leadership roles and learn a number of core skills they can apply in any working environment, including academic research. Participants will be brought to reflect on how they can apply the principles discussed in the programme to their current situation or upcoming leadership challenges.
The following topics will be covered throughout this two-day workshop:
Day 1: Knowing myself as a leader
Insights Discovery Psychometric tool. An interactive introduction to the way people think, behave and communicate; and how to use cognitive diversity to achieve powerful outcomes.
Introduction to leadership (Direction, Alignment, Commitment – DAC – model, Drath et al.): Leadership versus management – understanding similarities and differences. You will carry out a DAC self-assessment to identify your strengths and areas for growth, as well as discuss the importance of our own personal values in leadership.
Day 2: Leading without authority
Vision building – why do it and how to do it. Vision building as a key component of setting direction; why it's critical in a leadership context; and how to (co-)create an inspiring vision that engages others.
Coaching skills for leaders - bringing out the best in others. Looking at the mindset and skills set of coaching, how this can be used to support the performance and growth of those we work with.
Pre-requisites
Participants will have to complete the Insights Discovery psychometric test, which will be sent to them approximately 2 weeks prior to Day 1 (it is quick and will enable you to get a detailed personal profile).
Registration
Candidates are required to complete a short application form highlighting their motivation to apply for this programme and how they intend to apply the knowledge they will receive. Eligibility criteria and guidance is provided on the application form.
A panel composed of members of the PDC Representatives' Network will assess the anonymised applications and allocate the places available.
Department

Postdoctoral Development Centre