This online event will combine humour and useful tips around some of the best tools postdocs have and need in their toolbox to progress: their skills, career development resources and a well-crafted CV.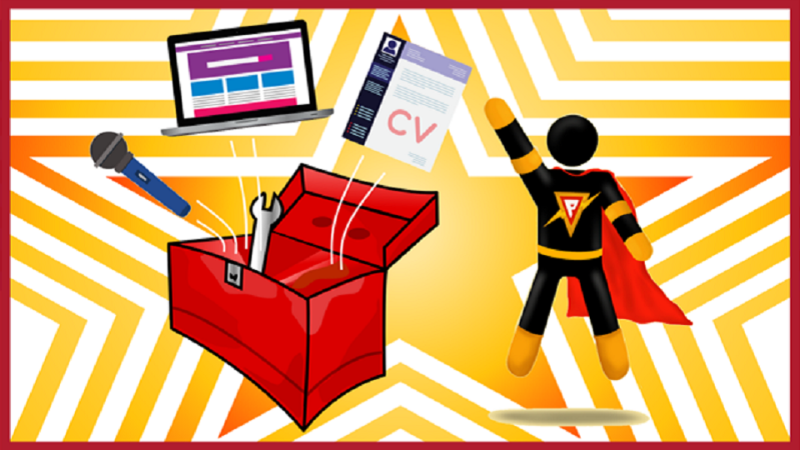 ---
*Note: this event was initially planned on Monday 19th September but was rescheduled on Wednesday 21st September, due to the funeral of Her Majesty Queen Elizabeth II.*
Career progression beyond a postdoc position, whatever shape it takes, relies on postdocs using the range of tools at their disposal that they knowingly (or unknowingly!) acquired.
In this event, each of our guest speakers will highlight a different item from the 'Postdoc Toolbox':
Skills:

whatever they are specialist or transferable, postdocs have a breath of skills that can apply to many roles and sectors. Using humour and a light-hearted presentation style, Steve Cross will discuss the ups and down of postdoc life, what he has in his own personal toolbox, and how you can equip your own.
Resources:

there are a lot of resources available online to help researchers plan their career and take their next step. Here, we will have sneak peeks of the new 'Prosper' portal, designed to enable postdocs to reach their career potential, and discuss key findings and take-home thoughts based on knowledge gained from the initial cohorts. The Prosper portal has been developed over the past couple of years and trialed in a few Universities in England. It will be released in open access to all in 2023.
CV:

a well-crafted CV can be a passport to any new role for a postdoc, enabling them to showcase their skills, achievements and experience to future employers. Sarah Ashworth will provide useful information on developing an effective CV, and tips on how to avoid common mistakes.
There will be a short Q&A after the sessions, and any unanswered questions will be followed up in a Q&A section here on the website after the event.
This event is organised by a group of volunteers from various UK universities, and received some support from the PDC.