Leading Cyber Security Expert Delivers Annual Queen's and KPMG Lecture
Queen's Management School and the Chief Executives' Club at Queen's University Belfast recently hosted leading Cyber Security expert, Mr Ciaran Martin, Chief Executive of the National Cyber Security Centre (NCSC).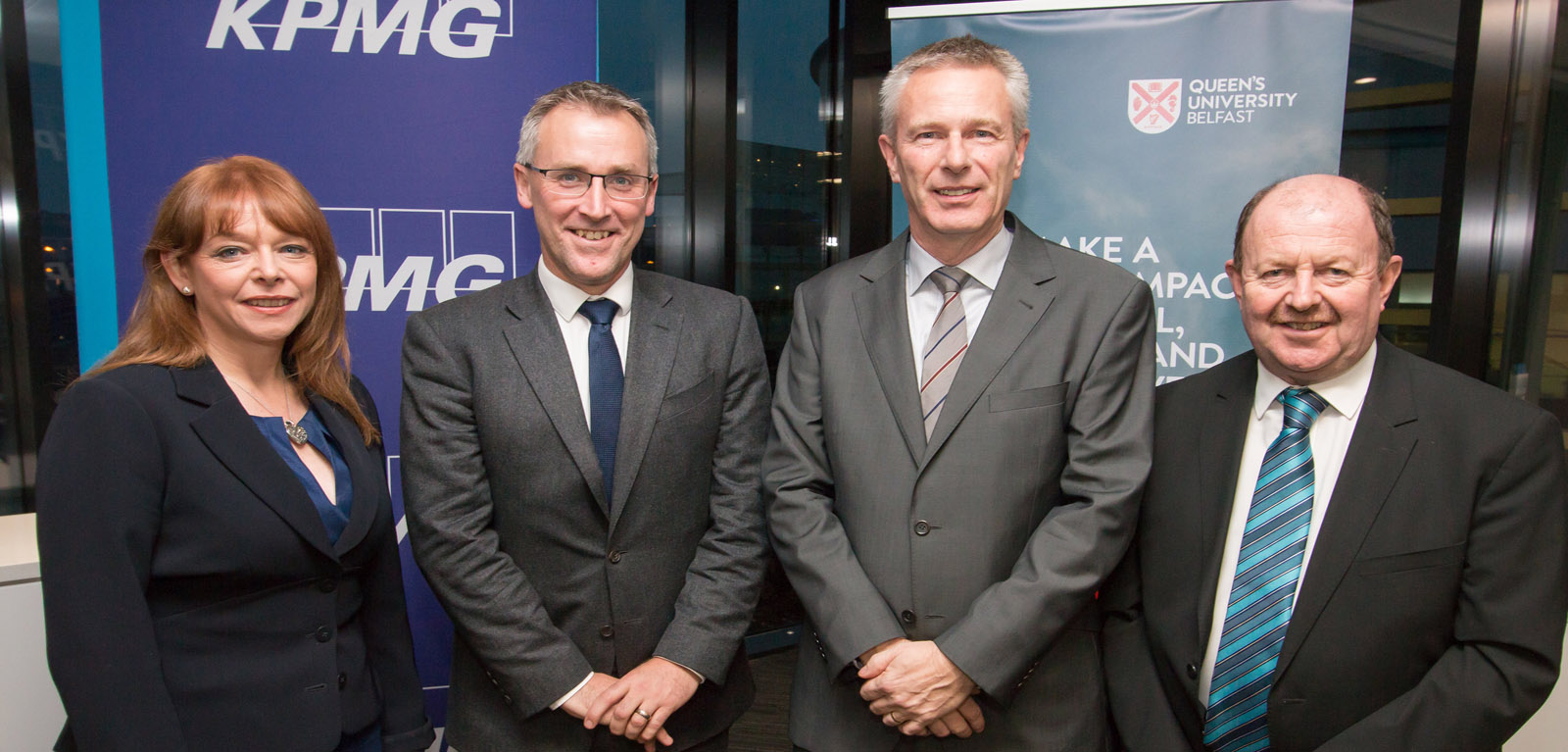 Mr Martin delivered the Queen's Management School and KPMG Annual Lecture entitled, 'Leading the Defence Against Cyber Attacks'.
Prior to his current role as Chief Executive of NCSC, Mr Martin was Director General for Government and Industry Cyber Security and Constitution Director at the Cabinet Office. In this role, he was the lead official negotiator for the Prime Minister and Secretary of State for Scotland in the run-up to the Edinburgh Agreement in 2012 on the referendum on independence for Scotland.
Professor Nola Hewitt-Dundas, Head of Queen's Management School, said: "Cyber security threats are fast becoming a major global and national issue for all organisations and businesses. This annual lecture series is one way that the Management School is working in partnership with KPMG to equip businesses to respond to serious technological challenges.
"We were delighted to welcome Mr Ciaran Martin, to deliver this year's Queen's Management School and Chief Executives' Club Annual KPMG Lecture on this important topic of cyber security."
Speaking at the event, Mr Ciaran Martin, Chief Executive of NCSC, commented: "For too long, cyber security has been shrouded in mystique and fear - that's not helpful. The most important thing leaders of organisations can do is to stop being afraid of the problem and try to understand it instead. Put simply, attacks are about return on investment, and cyber defence is about risk management and harm reduction.
"Digital attacks are a real risk to economic wellbeing in Northern Ireland and its citizens. They can cause widespread disruption to individuals, companies and public services.
"There's some great work going on around Northern Ireland, for example at Queen's, and we need strong partners across the whole of Northern Ireland society to combat the threat. That's the way to make Northern Ireland one of the safest places to live and do business online."
Mr John Hansen, Partner in Charge, KPMG in Northern Ireland, added: "We are thrilled to partner with Queen's Management School and the Chief Executives' Club once again for this latest lecture in the 'KPMG Lecture Series at Queen's University'. Over the years, this series has covered a range of important business topics and featured a varied portfolio of high profile speakers. This year's lecture is particular timely, given the significance of cyber security to every business in Northern Ireland.
"Our recent CEO Outlook Report revealed that cyber security is a key issue for business leaders in Northern Ireland. CEOs are moving beyond a generic view of cyber risk and are taking steps to become more cyber resilient by developing risk, resilience and mitigation plans in the parts of their business that could be most seriously affected. At KPMG we understand the challenges facing Northern Ireland companies in becoming cyber resilient and are working closely with our clients to help them address these challenges."
Following the lecture, Mr Martin took part in a panel discussion with Professor Sir John McCanny, Director of the Institute for Electronics, Communications and Information Technology (ECIT) at Queen's, discussing cyber security and Northern Ireland as one of the fastest growing cyber security hubs in the world.
ENDS…
Media
Media inquiries to Zara McBrearty, Communications Office at Queen's University Belfast on Tel: 028 9097 3259 or email z.mcbrearty@qub.ac.uk