Queen's Lions Roar For Success
With the Lions set to tour New Zealand in the summer, Queen's University Rugby Club will host a Gala Dinner on Friday 21 April 2017 in the Whitla Hall to celebrate the 20 players that have represented the University and the Lions.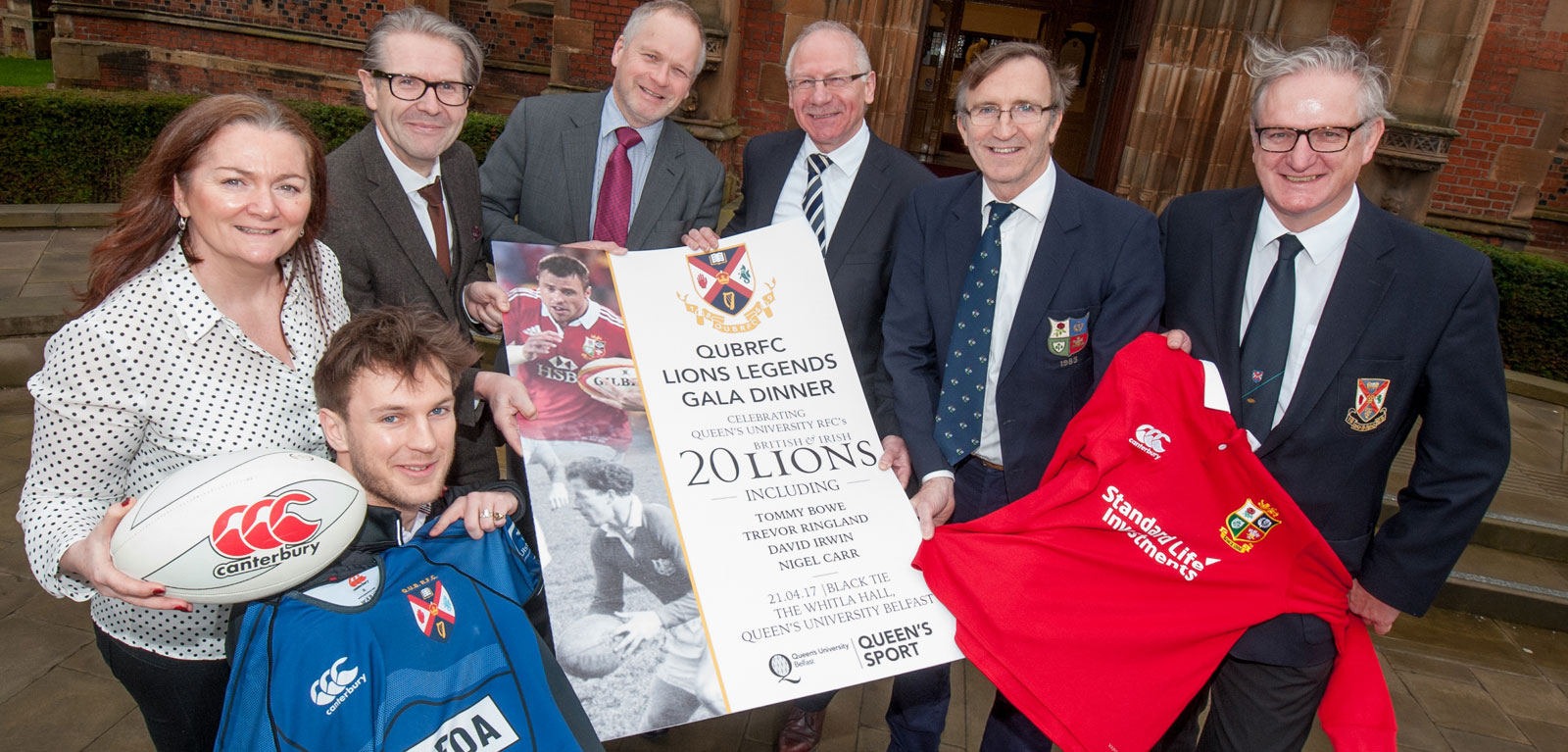 The event will also mark the introduction of the inaugural Robbie Moore Hall of Fame with inductees receiving a newly commissioned Robbie Moore Medal of Honour. The award is named after Robbie (Robin) who after 30 years of dedicated service to the club where he held post from 'sandwich maker' to Club President who sadly passed away in November 2016.
Queen's University Rugby Football Club is the oldest continuous rugby club in Ulster, founded in 1869 as Queen's College and the second oldest club in Ireland. Throughout this rich history, Queen's has won the Ulster senior cup a record 23 times and has developed some of the greatest talent to ever don an Ulster, Irish and British and Irish Lions shirt.
Queen's is synonymous with the greats of rugby having provided the Lions with 20 players more than any other club in Ireland, from Andrew Foster and William Tyrell on the 1910 tour to South Africa to the club's latest Lion Tommy Bowe a double tourist in 2009 and 2013.
Unique rugby re-union
Queen's University Pro-Vice-Chancellor for Education and Students, Professor David Jones, said: "This unique re-union of rugby legends who have represented the University and the Lions celebrates all that is great about Queen's and rugby. It is another example of how Queen's is at the heart of the city, with world-class sporting facilities right on our doorstep."
The night will involve a Q&A session with Lions from various generations, 'what happens on tour won't be staying on tour' and some of the club's and Lions legends will be inducted into the Hall of Fame and will receive a special presentation.
Inspirational
Head of Queen's Sport Liz McLaughlin said: "This is a fantastic opportunity to recognise 20 former Queen's University Belfast, British and Irish Lions for all they have achieved for Queen's University Belfast Rugby Club, the University and their sport. They led the way and inspired many students throughout their journey at Queen's, on and off the pitch, which ultimately paved the way for the establishment of the Rugby Academy in 2002. The event will also witness the first inductee to the Robbie Moore Hall of Fame."
An auction and ballot with some unique sporting memorabilia and other top prizes will take place on the night to support the Rugby Academy which aims to develop rugby performance and participation at the university.
Media
Further information is available from Mr Darryl Callaghan, Rugby Development Officer, Queen's University Belfast on 07842375114 and Darryl.Callaghan@qub.ac.uk