Queen's University signs new innovation and collaboration agreement with BBC Northern Ireland
Queen's University Belfast has signed a new agreement with BBC Northern Ireland, which is aimed at supporting the latest research and stimulating innovation for cutting edge broadcasting.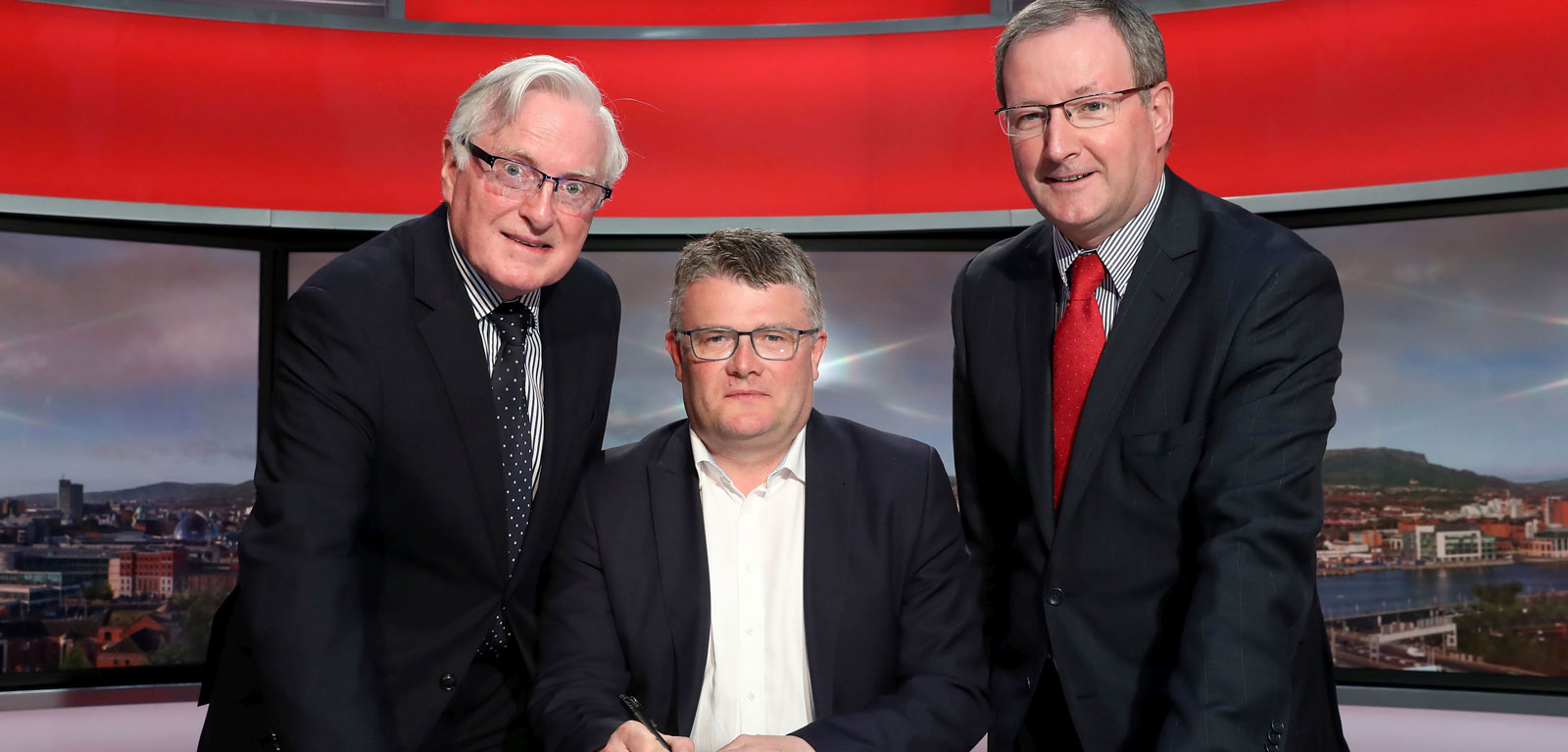 A number of joint projects are planned which will help enhance and develop media technologies through applied research. They will enable new concepts and techniques to be rapidly deployed to tackle some of the challenges facing the Digital Media sector.
By pairing the latest academic research with BBC Northern Ireland's local expertise it is hoped that it will benefit the whole of the BBC, and the wider industry more generally.
The collaboration, which also includes Ulster University, will help support learning and development opportunities across Northern Ireland with student placements, even greater engagement between the three organisations and the sharing of knowledge and facilities.
The agreement was signed in BBC Broadcasting House (Thursday 11 May) by Peter Johnston, Director BBC Northern Ireland, Queen's University Vice-Chancellor Professor Patrick Johnston and Deputy Vice Chancellor Professor Alastair Adair, from Ulster University.
Peter Johnston, Director BBC NI, said: "Both Queen's University and the Ulster University have a reputation for excellence and innovation. Although we have collaborated with the universities on a range of projects before, this agreement will forge new opportunities which will benefit students, audiences and the wider society in Northern Ireland."
Queen's University Vice-Chancellor Professor Patrick Johnston said: "Queen's is committed to expanding its impact on wider society through innovative and high quality education and research, and collaboration with a diverse range of partners. BBC Northern Ireland plays a crucial role in our society, and through this agreement, we will work together to develop courses that will meet the future needs of creative industry employers, provide excellent work-related opportunities for our students and drive forward innovation in media technology and practice."
Ulster University Deputy Vice-Chancellor, Professor Alastair Adair said: "This agreement will see Ulster University build upon a longstanding relationship with the BBC by using our globally respected research expertise to help shape the technologies, skills and creative approaches required to pioneer broadcasting advances in the fast-paced, competitive world of media. This new agreement will also create innovative student placement opportunities and enhance the unique presence of the BBC studio on our Coleraine campus."