Transport Commissioner Visits William Wright Technology Centre At Queen's University
Mike Brown, Commissioner of Transport for London, has visited the innovative William Wright Technology Centre at Queen's University Belfast.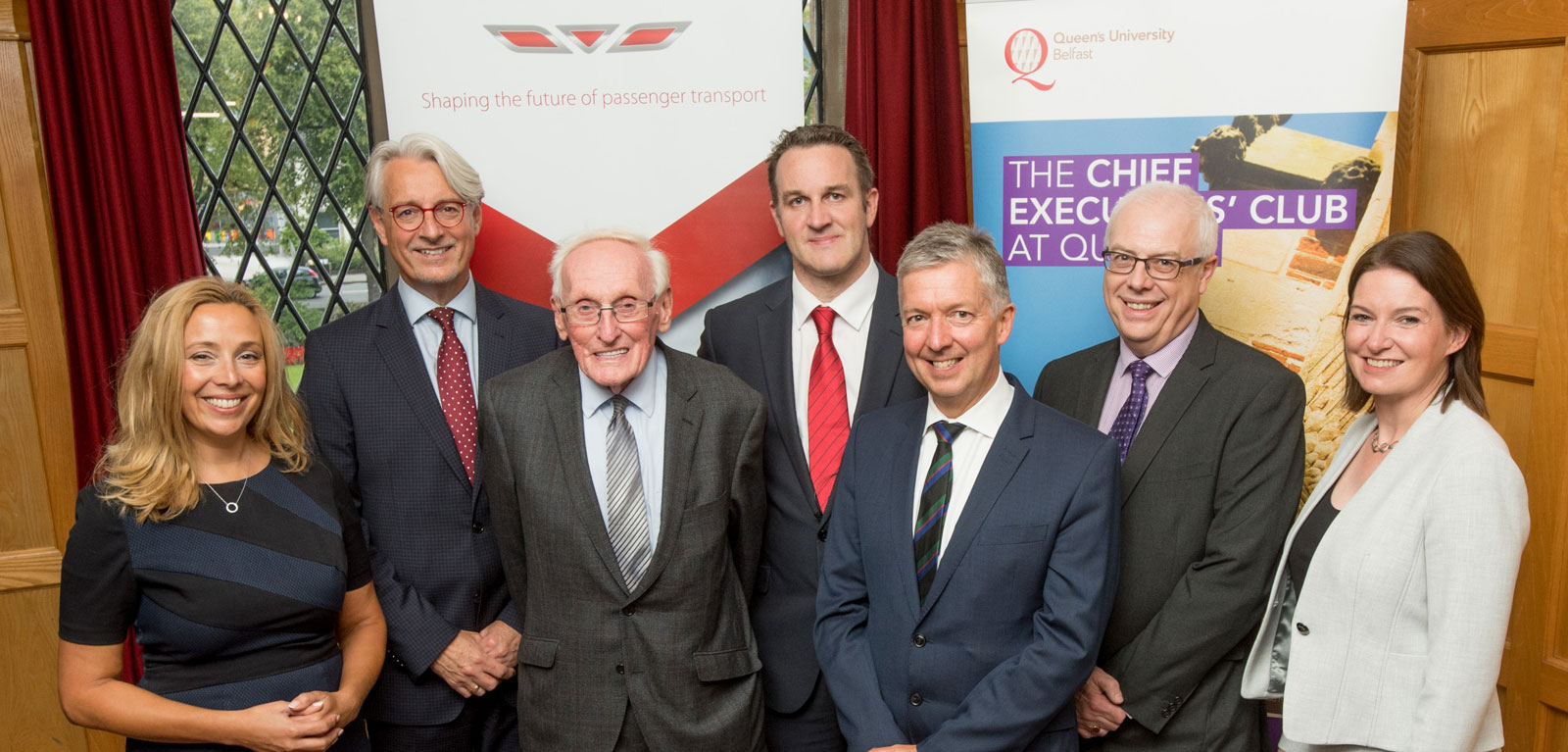 The visit took place at the new research centre at 50 Malone Road. After the visit Mr Brown gave a keynote lecture addressing 'The Challenges Facing Public Transport' to members and guests of the Chief Executives' Club at Queen's.
Named after Dr William Wright CBE, the William Wright Technology Centre is part of Queen's University's School of Mechanical and Aerospace Engineering. The project is a joint venture between the Wrights Group, which has currently invested £300,000 in the centre - a figure which is also being matched by Queen's University - and an upward potential investment figure of more than £6m.
The Centre is being developed as a showpiece centre of excellence with world-leading research. Its key aim is to promote research and advanced engineering to facilitate the creation and development of technologies suitable for today's bus industry, particularly as these needs become increasingly complex.
Over the space of five years, the Centre will gradually expand to around thirty full-time staff of research PhD students and post-doctoral researchers, supported by academic experts within Queens. A team of employees are already working on a range of research projects including drive cycle modelling, thermal modelling, vibration related fatigue and lifecycle analysis, including topics such as cost of manufacturing, maintenance and operation. Future steering and suspension based research and development are also covered.
Professor Roy Douglas from Queen's University Belfast commented: "At Queen's University we are delighted to officially welcome Mike Brown from Transport for London to the William Wright Technology Centre and highlight the innovative work that is taking place here in Belfast. Collaborations such as these continue to deliver world-class research that brings commercial, economic and societal benefits to Northern Ireland and further afield."
Commenting on behalf of Wrights Group, Mark Nodder OBE, Chairman and CEO said: "Mike Brown's visit to the William Wright Technology Centre marks another significant investment and milestone in our relationship with Queen's University.
"The Centre's important work helps us to not only attract and nurture the best engineering talent, its cutting edge research will also lead to the identification of projects that will ultimately become viable commercial developments.
"All parties benefit from industry and academia working together and, with its dedicated premises now in place, the William Wright Technology Centre will undoubtedly go a long way to the creation of even better and cleaner environmental technology for advanced passenger transport, both in the UK and across the globe."
Mike Brown MVO, Commissioner of Transport for London, said: "Wrights Group and Queen's University Belfast have been collaborating on individual research projects for over 20 years, helping to drive forward innovation and supporting young engineers. It was an honour to officially visit the Centre and I look forward to seeing the positive impact this partnership will make on the industry through ground-breaking research."