£32m Wellcome-Wolfson Institute for Experimental Medicine opens at Queen's
An iconic and world class building, the Wellcome-Wolfson Institute for Experimental Medicine, has been opened at Queen's University Belfast.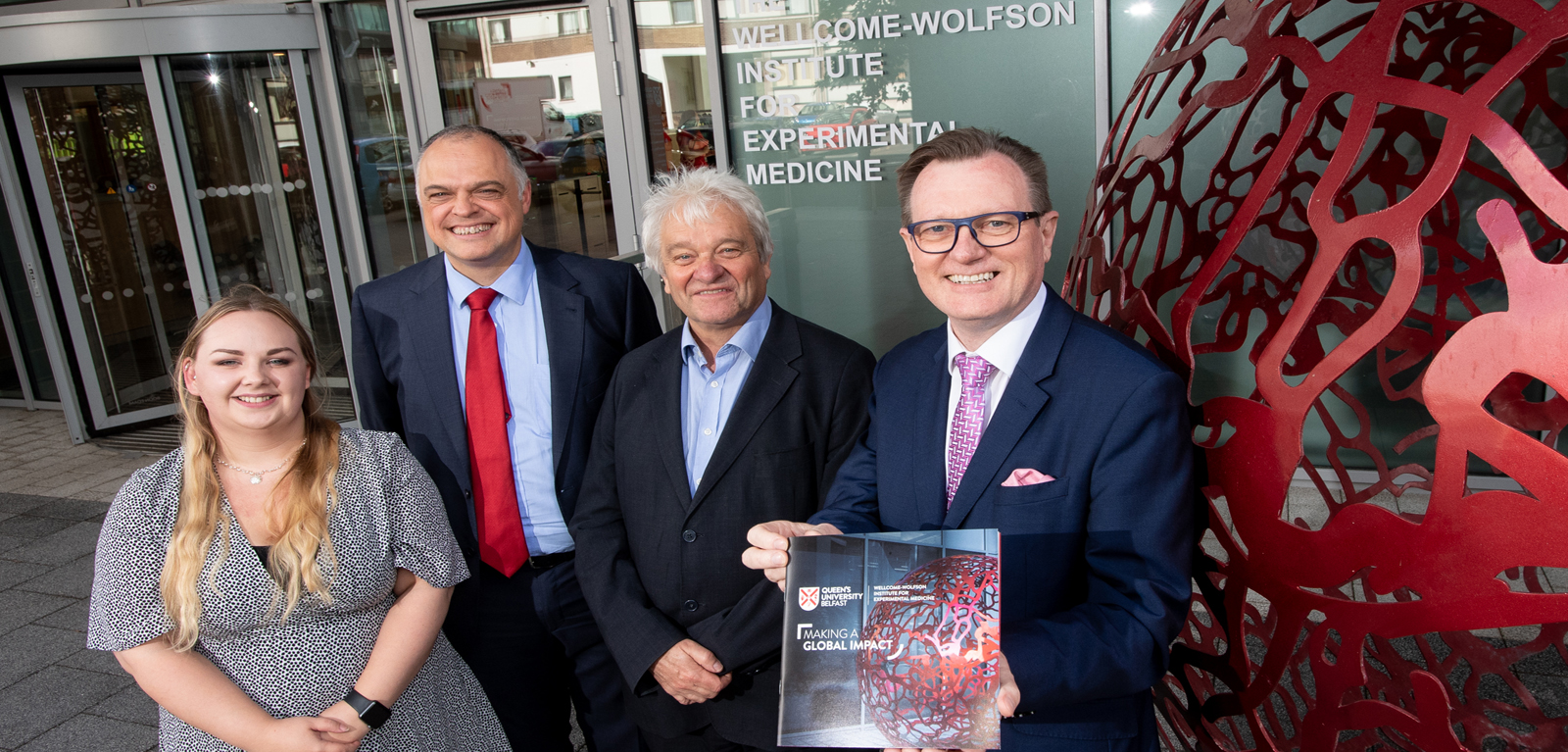 The £32m award-winning building, funded by Wellcome and The Wolfson Foundation, is supporting the expansion of experimental medicine – an institutional priority for the University.
The building was officially opened today (Friday 14 September) by Sir Paul Nurse, winner of the Nobel Prize for Physiology in 2001.
Professor Jose Bengoechea, Centre Director at the Wellcome-Wolfson Institute for Experimental Medicine at Queen's, commented: "I'm delighted to see this investment in Northern Ireland and specifically at Queen's University. Experimental medicine is about uncovering the intricacies of disease close to the patients, allowing a fast-track road to clinical application to benefit society. This approach represents a step-change to more effectively tackle global health challenges."
The state-of-the-art building is made up of high-tech laboratories placed around a central, spacious and light-filled atrium. This facilitates a collaborative working environment enabling Queen's researchers to tackle global health issues and improve patient outcomes.
At the Institute, world-leading researchers focus on the development and treatment of new avenues for the prevention, diagnosis and treatment of major public health problems that affect millions of people globally. These medical problems include eye disease, diabetic complications, cardiovascular disease, antibiotic resistance and common lung illnesses such as asthma, COPD, cystic fibrosis and pneumonia.
The Institute received generous funding for the new building from; The Atlantic Philanthropies, Insight Trust for the Visually Impaired, The Queen's University of Belfast Foundation, The Sir Jules Thorn Charitable Trust, UK Research Partnership Investment Fund, Wellcome, The Wolfson Foundation and Legacy gifts.
Paul Ramsbottom, Chief Executive of the Wolfson Foundation, said: "The Wolfson Foundation is delighted to be supporting an Institute that will allow such a wide-range of excellent quality research – all with a clear clinical focus. The funding that we provided was part of a fruitful funding partnership programme with our friends and partners at the Wellcome Trust.
"In a wider sense, we are very keen to encourage applications from Northern Ireland for all of our funding programmes and are pleased to have provided significant investment over the last few years – from research infrastructure to hospices, museums and schools."
Media
All media inquiries to Sian Devlin Communications Officer at Queen's University Belfast at s.devlin@qub.ac.uk or tel: 028 9097 5840.