Key figures from the Belfast/Good Friday Agreement mark twentieth anniversary at Queen's
Key figures from the Belfast/Good Friday Agreement gathered at Queen's University Belfast on Tuesday, 10 April 2018 for a public event to mark 20 years on from the signing of the peace agreement.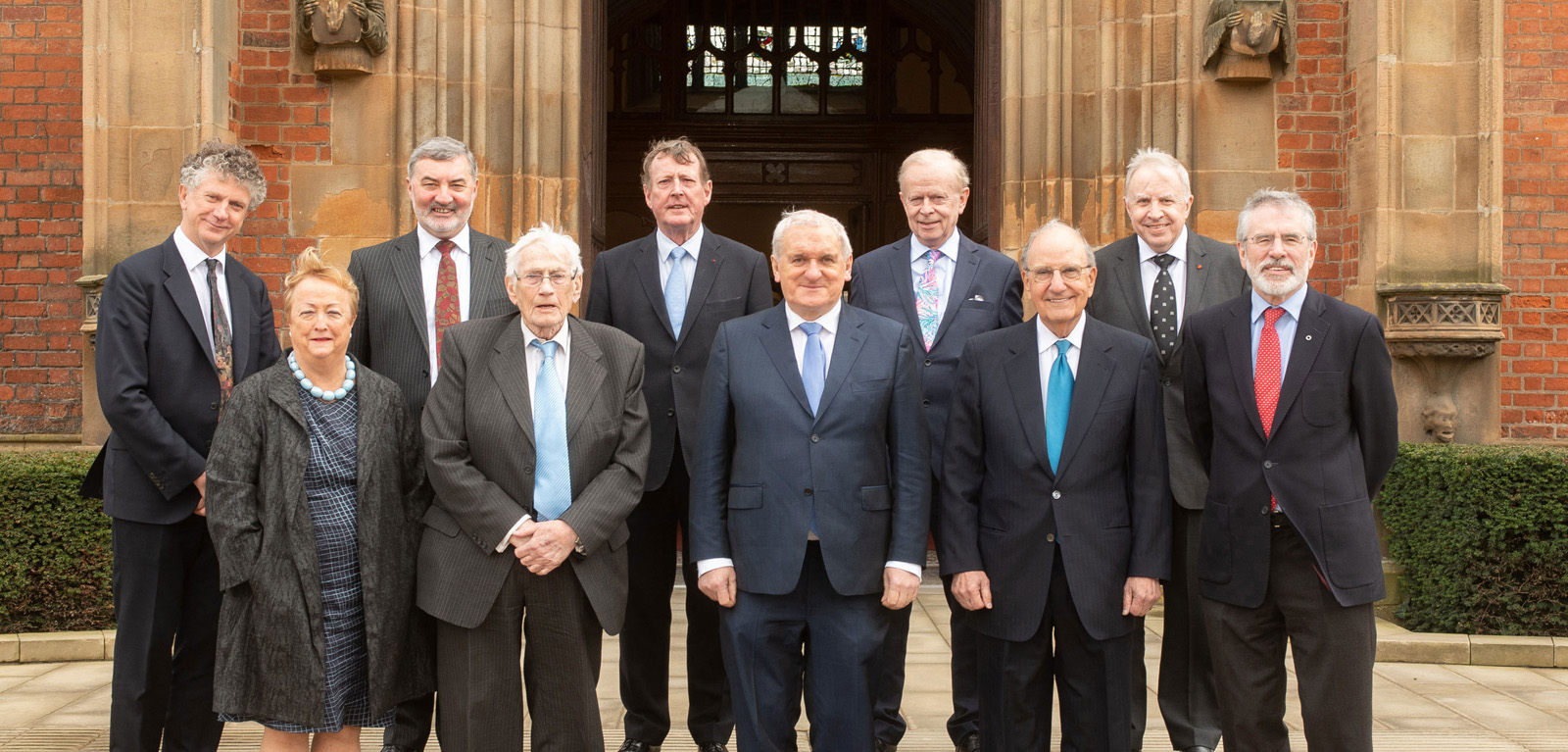 Chair of the talks and former US Special Envoy for Northern Ireland, Senator George J. Mitchell was joined by Dr Bill Clinton, Dr Tony Blair, Jonathan Powell, Dr Bertie Ahern, Gerry Adams, Lord David Trimble, Professor Monica McWilliams, Dr Seamus Mallon, Lord John Alderdice, and Peter Robinson as well as a number of community leaders and academics.
Secretary of State for Northern Ireland, Karen Bradley; Tánaiste, Simon Coveney; Liz O'Donnell; Mark Durkan; Lord Reg Empey; David Andrews; Conor Murphy and Dermot Nesbitt were also in attendance.
The event 'Building Peace: The Belfast/ Good Friday Agreement Twenty Years On' was organised by the Senator George J. Mitchell Institute for Global Peace, Security and Justice and is the only event of its kind to gather so many of the key influencers on the Good Friday Agreement to mark its 20-year anniversary.
The afternoon was made up of a number of panel discussions focusing of the different dimensions of the peace process, the ramifications of the Agreement for the politics and governance of Northern Ireland, the international input into the Agreement and the Agreement's impact on local society in Northern Ireland and beyond.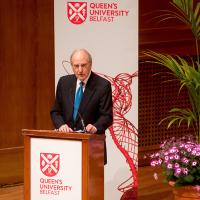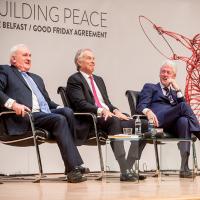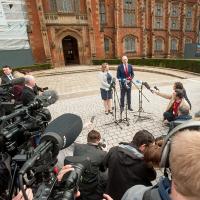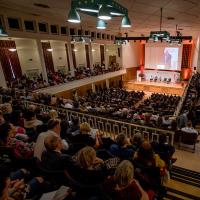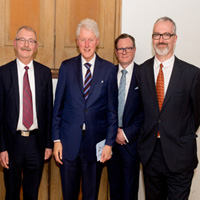 During Senator George J. Mitchell's keynote address, he paid tribute to those involved in reaching the Agreement and people of Northern Ireland saying: "The real heroes of the Agreement were the people of Northern Ireland and their political leaders.

"The people supported the effort to achieve the Agreement and afterwards they voted overwhelmingly to ratify it."
Speaking to Senator George J. Mitchell and the audience about peace building and why he got involved in the peace process in Northern Ireland, former US Present Bill Clinton recalled why he stepped in to help: "As the United States, there are two things we can do to help. First we can do our best to maximise the rewards and minimise the risks for those seeking peace. Then we can do our best to listen and close the gaps."
He also told the audience: "The Good Friday Agreement is the work of genius that's applicable if you care at all about preserving democracy.

"Because it called for a real democracy, majority rule, minority rights, individual rights, the rule of law, the end of violence, shared political decision-making, shared economic benefits, shared special relations, maintained the relationship with the United Kingdom, expanded the relationship with the Irish republic and then let the future take its course."
Senator George J. Mitchell and Bill Clinton became the 83rd and 84th recipients of the Freedom of the City of Belfast at an event in the Ulster Hall later that evening for their work during the peace process.
For more information on the event and to re-watch the live stream, please visit: https://www.qub.ac.uk/News/Allnews/KeyfiguresfromtheBelfastGoodFridayAgreementperiodaregatheringatQueenstoday.html
Media
Media inquiries to Claire Kelly, Communications Manager, Queen's University Belfast c.m.kelly@qub.ac.uk and 02890975391