Leading Scientists and Noble Prize-winning LED Inventor honoured at Queen's University
Shuji Nakamura, Professor Charles Sawyers and Michael J. Dowling will receive Honorary Degrees at Queen's University Belfast today (Saturday 30 June)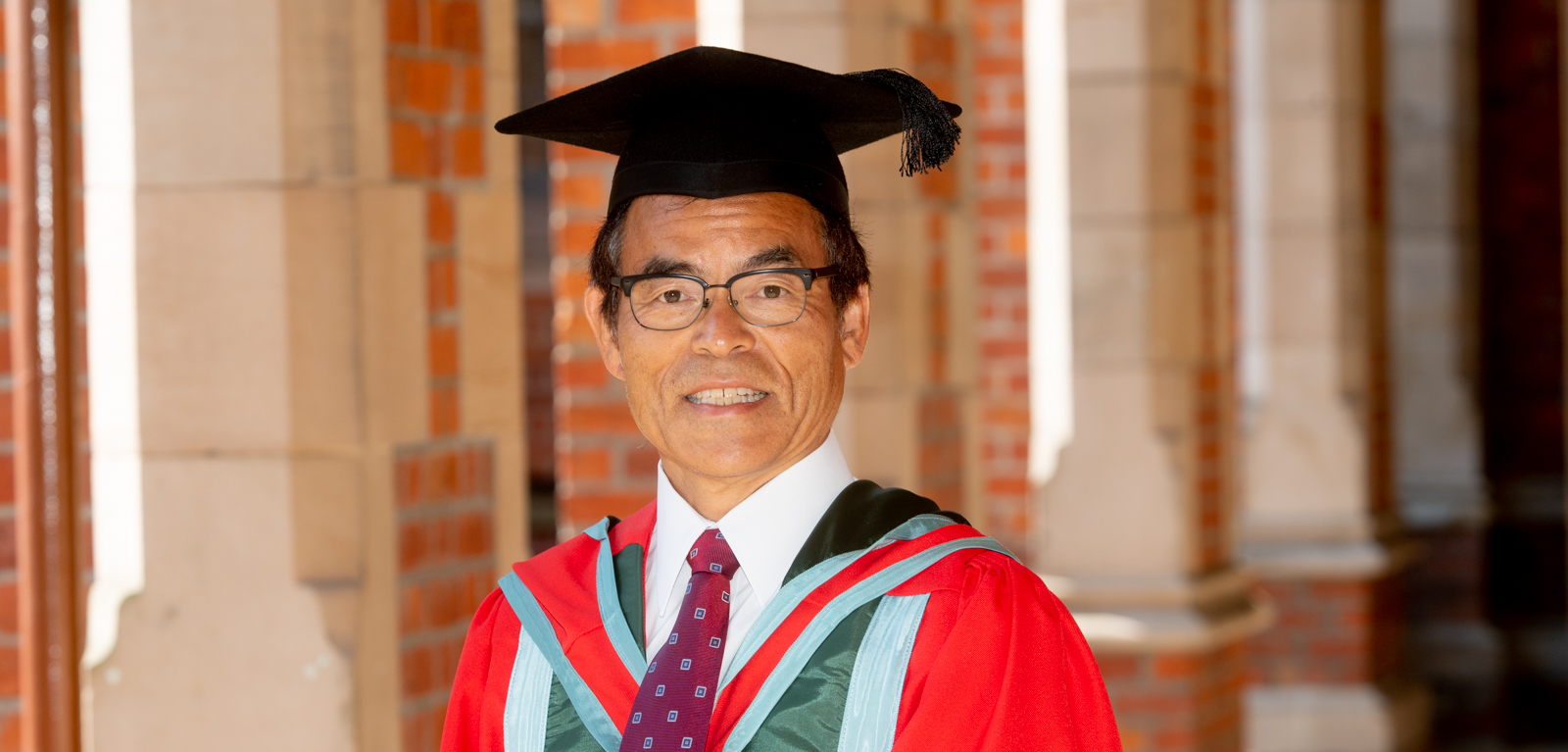 This morning's graduation ceremony at Queen's University Belfast will see one of the world's most prominent engineers presented with an honorary doctorate for distinction in engineering.
Shuji Nakamura - a Japanese-born American electronic engineer - is regarded as the inventor of the blue LED – a major breakthrough in lighting technology. He was one of three recipients of the 2014 Nobel Prize for Physics and is currently Professor in the College of Engineering at the University of California, Santa Barbara.
Professor Nakamura graduated from the University of Tokushima in 1977 with a BEng degree in Electronic Engineering. He later completed a Masters degree and joined the Nichia Corporation. It was there that he invented the first high brightness gallium nitride (GaN) LED whose blue light, when partially converted to yellow by special coating, is the key to LED which went into production in 1993.
Professor Nakamura said, "I am delighted to receive this honorary doctorate from Queen's University Belfast – an institution globally recognised for its research. We should always seek to promote world-class research as it is the mechanism through which we advance and progress science and technology."
In the afternoon graduation ceremony on Saturday 30th June, Professor Charles Sawyers and Michael J. Dowling will be awarded honorary doctorates.
American Professor Charles Sawyers is a world leader in precision oncology and personalised medicine. His work has helped to revolutionise the treatment of Chronic Myeloid Leukaemia. His co-discovery of an anti-androgen drug has significantly advanced the treatment of prostate cancer.
The physician-scientist was a recipient of the Breakthrough Prize in Life Sciences. A $3m award, it recognises individuals involved in ground-breaking achievements in scientific research. He was appointed to the US National Cancer Advisory Board by former President Barack Obama.
American Professor Charles Sawyers said, "I am thrilled to be presented with this honorary doctorate from Queen's. It is exciting to see the University's commitment to research in precision medicine, reflected in the opening of its £10m Centre of Excellence in Precision Medicine earlier this year."
Fellow American Michael J. Dowling will be honoured alongside Professor Sawyers.
Michael J. Dowling is President and CEO of Northwell Health, which is recognized throughout the US for its world-class clinical care, pioneering research and innovative medical education. Northwell is the largest health care provider and private employer in New York State with a total workforce of more than 66,000 employees.
Michael J. Dowling said, "I am grateful to Queen's for presenting me with an honorary doctorate. I admire the University's strong links with industry and commerce as well as its commitment to training and research in healthcare."
Twelve individuals will receive honorary degrees this summer at Queen's University Belfast.
Queen's awards honorary degrees to individuals who have achieved high distinction or given significant service in one or more fields of public or professional life, and who serve as ambassadors for the University and Northern Ireland around the world.
Media
For media inquiries, please contact Queen's University Communications Office, 028 9097 5845 comms.office@qub.ac.uk