New strategic alliance announced by Agri-Food and Biosciences Institute and Queen's
AFBI and Queen's University Belfast have announced a new strategic alliance to create a globally competitive research and education partnership, developing the next generation of leaders and experts in agri-food and bioscience.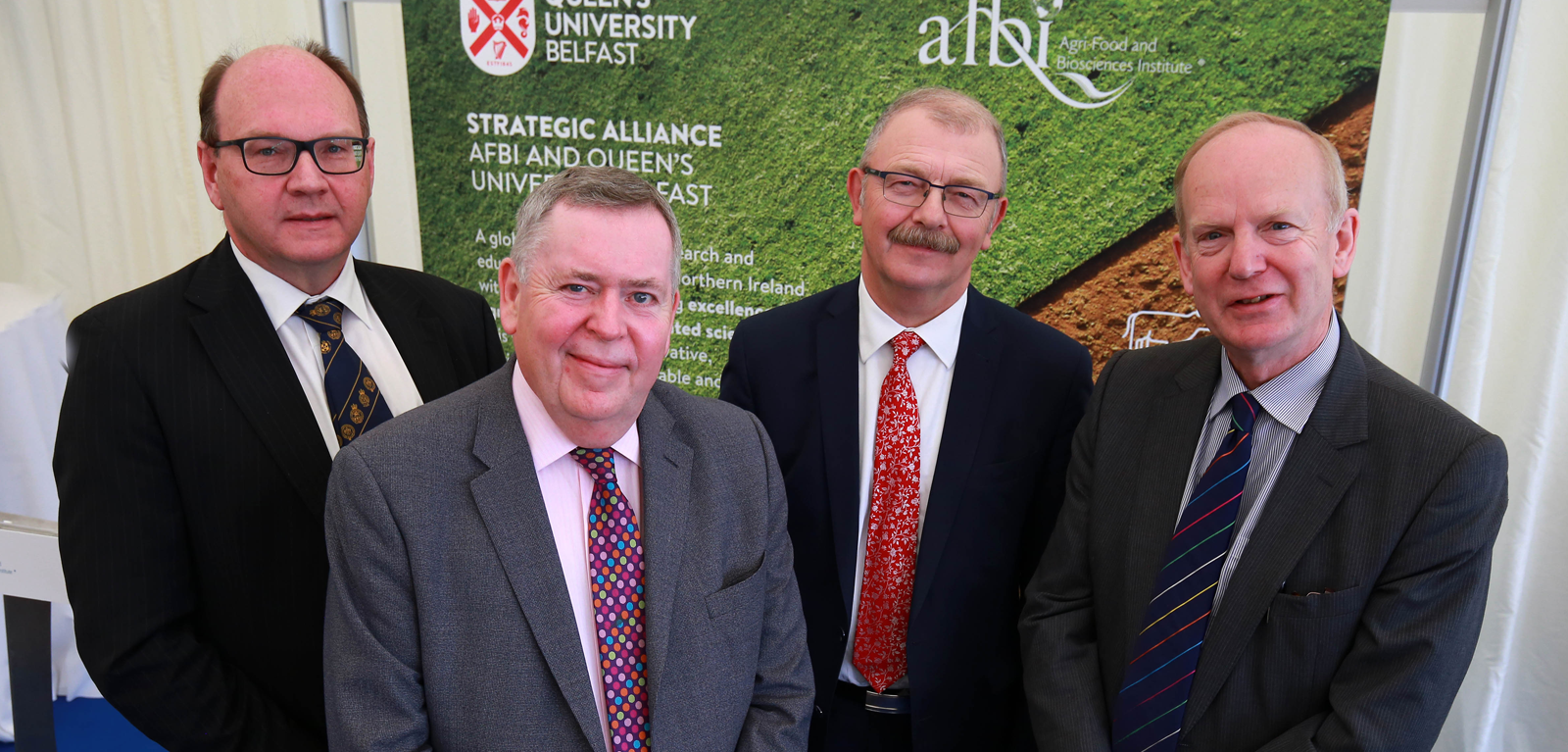 Both institutions have historically worked together and the new alliance will enable further pooling of expertise, facilities and knowledge to support the development and expansion of the local and global agri-food industry.

The alliance will have three core themes; enabling innovation, facilitating new ways of working and partnerships.

Through enabling innovation the alliance will address local and global challenges, maximising the impact of science – from discovery through to applied – and utilising the skills of experts, to boost the Northern Ireland economy, inform policy and improve quality of life.

By facilitating new ways of working the alliance will create new innovative working practices in an era of rapid technological advancement, multidisciplinary research, high throughput technologies, next generation internet and quantitative and computational approaches to bioscience.

Working in partnership with stakeholders, including key research investors and the private and public sector, nationally and internationally, the alliance aims to deliver an exciting vision for global impact from bioscience.

Speaking at the launch event, AFBI Chief Executive Dr Sinclair Mayne commented: "The agri-food industry is set to experience a period of unprecedented change in the next decade given the major global challenges of increased food demand, climate change and pressure on land use, coupled with continued volatility and uncertainty in agricultural production and food systems.

"At the same time, the global and UK research arena is undergoing major change, with research institutions and universities merging or developing alliances to achieve the necessary scale to be competitive and achieve impact."

Dr Mayne added: "This alliance with Queen's University Belfast will enable our agri-food science base within Northern Ireland to keep pace with these developments, thereby ensuring that the local agri-food and biosciences sectors have access to world leading science to assist them in evolving and adapting to new challenges and opportunities."

Director of the Institute for Global Food Security at Queen's University Belfast, Professor Nigel Scollan, commented: "At a time when the world's population is growing at its fastest ever rate, food security is a major global challenge. Responsive, high quality research, education and partnership is essential to ensure the agri-food sector remains innovative, sustainable and globally competitive.

"This alliance between Queen's University Belfast and AFBI builds on the strengths of both organisations and will create a globally connected, state-of-the-art research, enterprise and education alliance to address these huge global issues."

Professor Scollan added: "Through the alliance we will focus on tackling the challenges in agriculture and food security, training the next generation of leaders and experts who are equipped with the knowledge and skills required to transform our current food production systems. By working in close partnership, we will help to ensure that food production and consumption is resource-smart, climate-smart and eco-healthy."

Under the new alliance, both organisations will retain their current independent status with increased emphasis on effective collaboration. This will be done by utilising the diversity of skills, knowledge facilities and capacity within both organisations to achieve greater impact in the global agri-food and food security arena.

The alliance will become a significant contributor to more profitable, sustainable and environmentally sensitive agri-food systems at a global level whilst providing greater wealth generation and distribution locally.
Media
Media inquiries to Queen's Communications Office T: +44 (0)28 9097 3091 E: comms.office@qub.ac.uk.