Queen's University Belfast opens £7.5 million advanced manufacturing technology facility
Queen's University Belfast has opened a new £7.5 million state-of-the-art advanced manufacturing technology facility, supporting its mission to enable more competitive supply chains with increased productivity.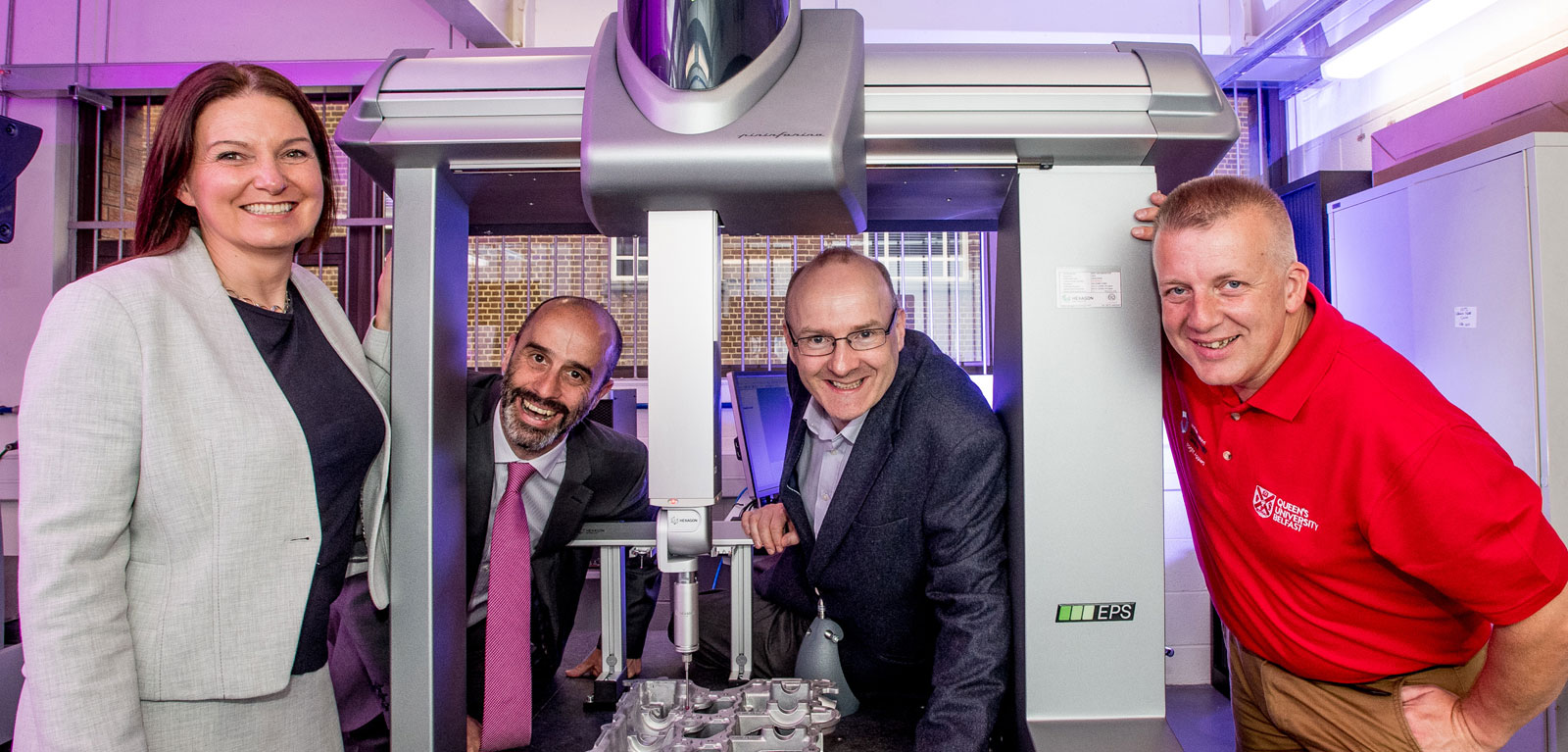 Details on the facility were announced at the university's 'Manufacturing Beyond the Horizon' conference. The collaborative investment is one of the biggest in manufacturing by Queen's, the UK Government and Northern Ireland industry partners. It has been supported by the Department for Business, Energy and Industrial Strategy, Innovate UK and the Aerospace Technology Institute.
The new facility will have an open door to industry partners, currently including RLC Global Point, Moyola Precision Engineering, JW Kane Precision Engineering Ltd., Travan Precision Engineering and Retec Engineering Solutions.
Leading innovation
Based at the distinguished Northern Ireland Technology Centre at Queen's, the facility is part of the Centre for Intelligent Autonomous Manufacturing Systems (i-AMS), a pioneer research programme at Queen's which is leading innovation in new technologies for advanced manufacturing. This was also officially launched at the conference.
Through i-AMS, interdisciplinary researchers, spanning the disciplines of Engineering, Computer Science, Applied Mathematics and Psychology, are working together to tackle challenges within industry and helping to make Industry 4.0, the new industrial revolution, a reality.
Prioneer research programme
Professor Mark Price, Pro-Vice-Chancellor for the Faculty of Engineering and Physical Sciences at Queen's,comments: "I am delighted to announce the opening of our £7.5million advanced manufacturing technology facility, based at the Northern Ireland Technology Centre (NITC) at Queen's.
"The facility will provide key support to our new pioneer research programme i-AMS. Both i-AMS and the new facility are open for business and are already making a difference to the advanced manufacturing community in Northern Ireland and the UK. This is a great example of industry, government and academia working in partnership to move Northern Ireland forward."
Computerisation of manufacturing
Professor Seán McLoone, Director of i-AMS at Queen's, says: "Addressing the challenges of Industry 4.0, the centre and facility are spearheading the computerisation of manufacturing. This includes the use of advanced data analytics, machine learning, intelligent system and autonomous robotics concepts, digital manufacturing and human-robot interaction.
"Through this exciting initiative, we are able to translate advanced research and new ideas in i-AMS quickly through to application in industry through the NITC. This streamlined innovation chain is key to enabling competitiveness in Northern Ireland manufacturing.
"With rapid developments in the Internet of Things (IoT) and it coming together with manufacturing Cyber Physical Systems (CPS), we are very aware of the potential impact of embedding this technology in factories of the future. It is game-changing work."
Tackling challenges
Explaining the benefits of the new facility, Head of the NITC Colm Higgins says: "For the last 50 years we have worked closely with industry partners through the NITC to provide support and tackle challenges head on. The demands for industry are ever-changing and as a key partner to Northern Ireland companies, we are delighted to open this new state-of-the-art facility at Queen's, which will drive forward advanced manufacturing and meet short term and future requirements."
The facility also provides Northern Ireland with an important regional link to the well-established UK High Value Manufacturing Catapult and Research Technology Organisations, as well as the emerging Irish Manufacturing Research Centre. All of these help to bridge the gap in technology concept and commercialisation.
Digitisation
Professor Mark Price adds: "The advanced manufacturing technology facility at Queen's will enable the local industry to be more competitive through the optimisation and digitisation of manufacturing processes, including automation. It also paves the way for more productive, flexible, resilient, responsive and energy efficient manufacturing systems and associated supply chains. This means we can drive down costs, improve product quality, minimise waste and ultimately increase productivity and competitiveness.
"Ultimately, the facility allows us to address the challenges that the industry is currently facing and plan ahead to meet future needs. It also provides an opportunity to train up the next generation of experts in manufacturing. From a very early stage, our students at Queen's will have had the chance to use state-of-the-art industrial machines, which will be beneficial when they begin their careers in industry.
"We are delighted to be open for business and look forward to the journey ahead."
Media
Media inquiries to Emma Gallagher at Queen's University Communications Office T; +44 (0)28 9097 5384 E: emma.gallagher@qub.ac.uk