Queen's researchers develop new treatment for pancreatic cancer
Queen's researchers have secured a prestigious award to develop a new antibody drug for the treatment of pancreatic cancer.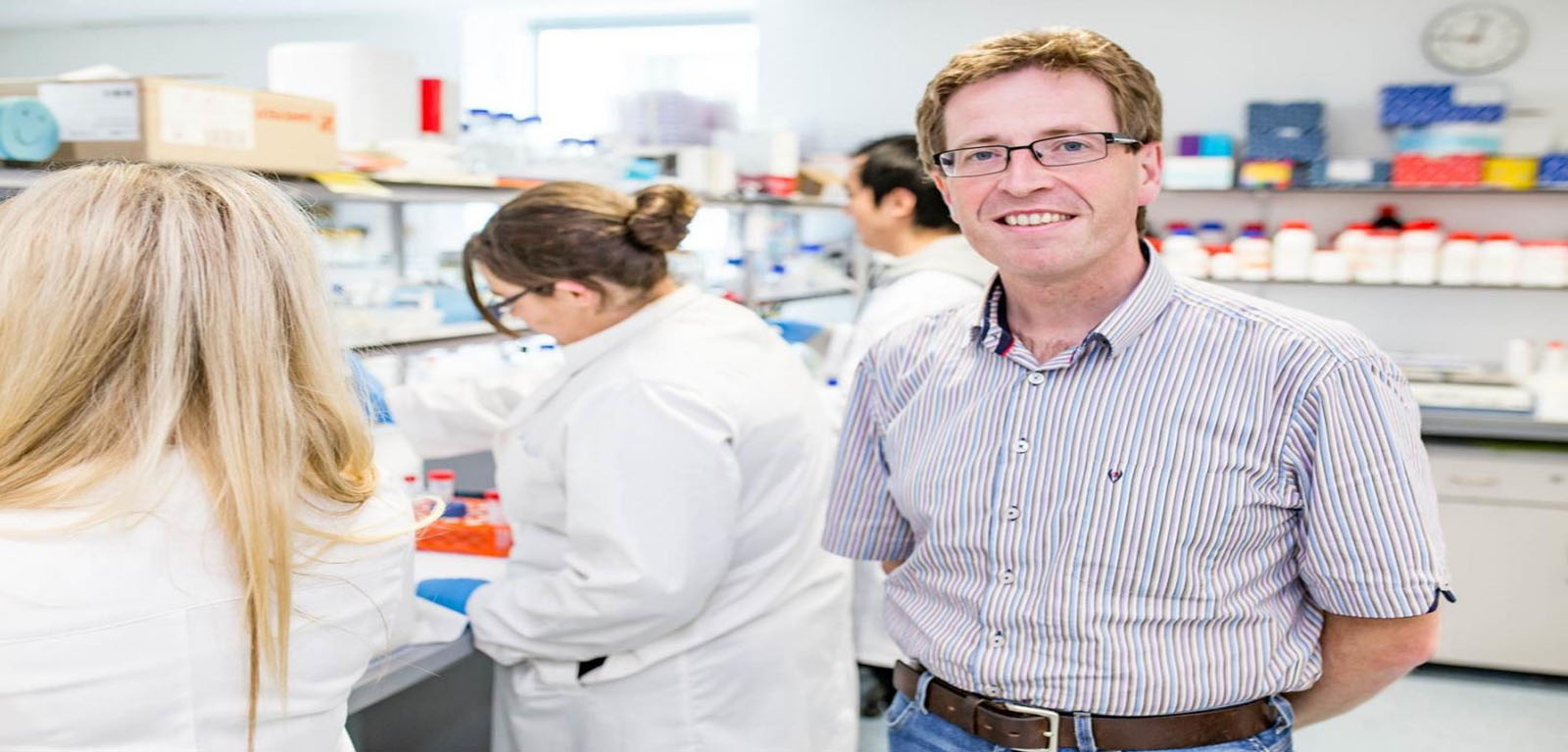 Queen's University Belfast researchers at the Centre for Cancer Research and Cell Biology (CCRCB) alongside local company Fusion Antibodies plc have secured a prestigious Medical Research Council (MRC) award to develop a new antibody drug for the treatment of pancreatic cancer.
Globally pancreatic cancer is still one of the most difficult cancers to treat, and new treatments are urgently required.
Recent statistics from Cancer Research UK shows that in the UK alone, almost 10,000 new cases are detected annually and the outlook for patients is much poorer than those suffering other cancers.
Queen's researchers are addressing this gap by designing an antibody that specifically targets the surface of the cancer cells.

Professor Dan Longley, Chair of Molecular Oncology at the Centre for Cancer Reserach Cell Biology (CCRCB) explains that, "this approach, called immunotherapy, has been heralded as a game-changing approach for other cancers such as skin melanomas, but new innovations are required to treat pancreatic cancer and this is the focus of our current work."
To create these antibodies the Queen's team will work with therapeutic antibody development specialists Fusion Antibodies plc to develop these prototype molecules.
Explaining the concept behind this new award, Professor Chris Scott, Chair of Pharmaceutical Biosciences at CCRCB at Queen's University describes, "Pancreatic cancer is the 6th most common cause of cancer death in the UK.
"Our aim is to develop a new antibody drug that will re-arm and trigger the patients' own immune systems to combat the disease. This exciting project is very much in line with the research ethos of Queen's University, which is centred on Global Challenges. With this discovery, we hope to change the lives of people across the world who are diagnosed with pancreatic cancer."
Dr Paul Kerr, Chief Executive at Fusion Antibodies said, "We are delighted to use our expertise in drug development and antibody engineering to collaborate with Queen's University to generate new drug candidates for pancreatic cancer."
This current project builds on a successful research programme funded by the Northern Ireland Health and Social Care Research & Development Division.
The research team are kindly supported by generous donations through the Queen's University of Belfast Foundation into pancreatic research.
Professor Chris Scott
Professor Chris Scott
Media
Media inquiries to Sian Devlin at Queen's Communications Office on: s.devlin@qub.ac.uk or tel:028 9097 5292.