Three Queen's University Belfast students to compete in the 2018 Commonwealth Games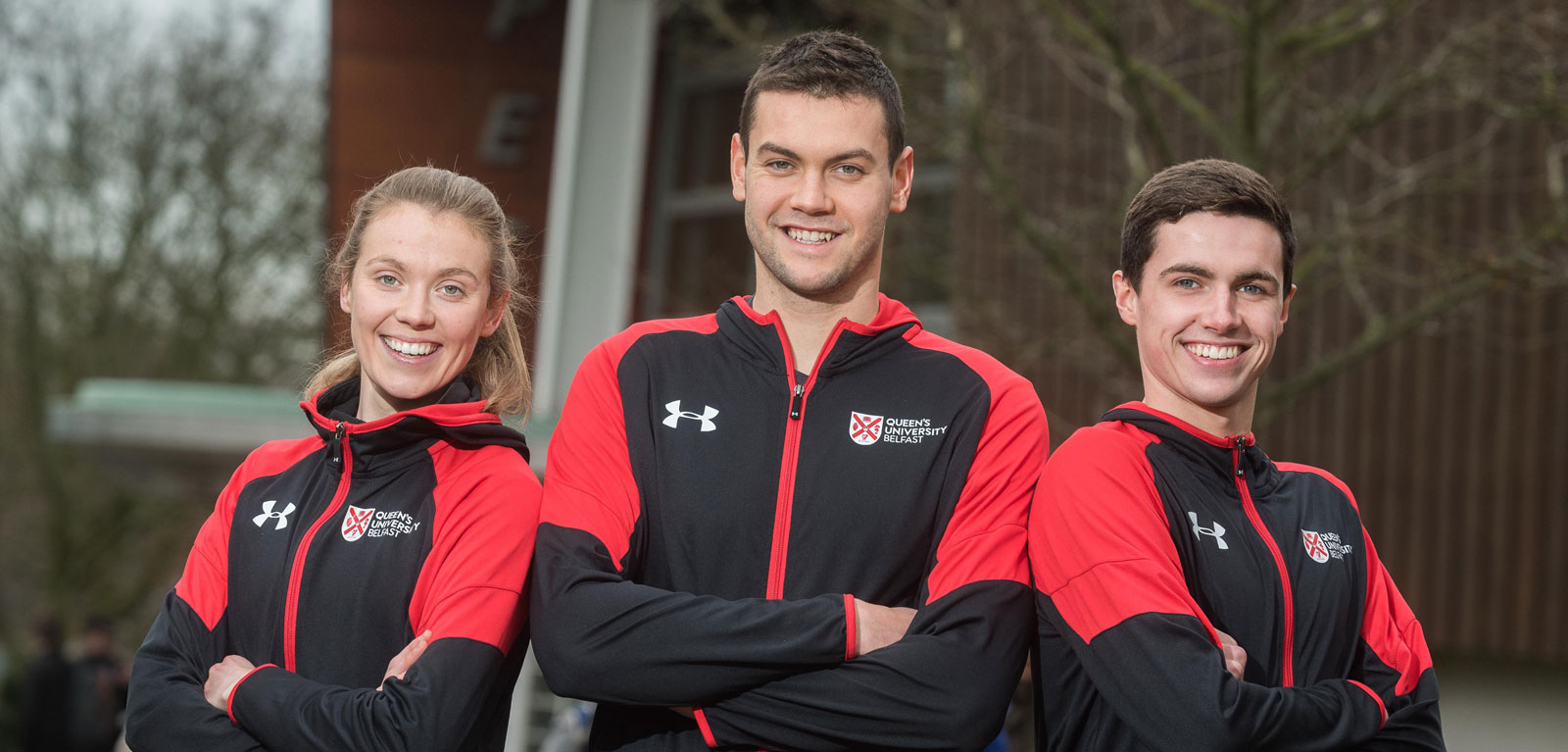 Three talented Queen's University Belfast students have been selected to represent Northern Ireland in the 2018 Commonwealth Games, which are being held on the Gold Coast of Australia in April.
Health, Physical Activity and Sport student Emma Mitchell, from Banbridge, will compete in Athletics – 5,000m & 10,000m; Finance student Curtis Coulter, from Bangor, will compete in Swimming; and Economics student James Edgar, from Lisburn, will take part in the Triathlon.
All three athletes have been supported by Queen's Sport during their studies. Third year Emma and fourth year Curtis have been supported by the University's Elite Athlete Programme, and first year James by the Sports Bursary programme.
The scholarships and bursaries offered by Queen's Sport are designed to give support to students who compete at the highest level in sport so that they can achieve both their academic and sporting goals.
14 Elite Athlete Scholarships are available annually for Queen's University students, in addition to over 120 Academy Scholarships and Bursaries.
Queen's Sports Development Manager, Karl Oakes highlights the importance of universities in the performance pathway of an athlete: "Queen's Sport have played a significant role in the development of some of our finest local sporting talent and are proud to be supporting Curtis, Emma and James through our existing performance sport programmes which offer a holistic student-athlete support package covering mental, emotional and athletic development.
"We understand there are many challenges facing our local high performing student athletes especially regarding expert coaching, funding and academic flexibility. We will continue to work in partnership to create a world class sporting and academic environment for all our students to become the best versions of themselves and wish Team NI every success at the Games."
Speaking about the support received from Queen's Sport Elite Athlete Programme, Emma Mitchell said: "Queen's Sport and the University have been a fantastic support towards my sporting career. The benefits offered through the Elite Athlete Programme have opened a lot of doors for me, not only sporting but also academically.
"The use of Queen's Sporting facilities, in particular the PEC is great - with this unlimited access my coach is able to plan and schedule my gym training accordingly. The financial support has allowed me to travel and compete throughout the UK and Europe, which has enabled me to produce performances and target times, as well as gain valuable racing experience throughout Europe. The support from Queen's Sport played a vital role in securing my place on Team Ireland for the World University Games in Taipei, where I had two top 10 finishes in the 5000m and 10,000m."
After graduating all three athletes hope to continue to compete in their chosen sport and will follow a career in their studies when their sporting careers end.
Media
Media inquiries to Communications Office at Queen's University Belfast on Tel: +44 (0)28 9097 3091 or email comms.office@qub.ac.uk.