Double joy for Queen's graduate as she celebrates becoming a new mum and Master's in Data Analytics
It's double joy for Carmel Colohan today as she picks up her Master's in Data Analytics as well as celebrating the birth of her baby boy Finn.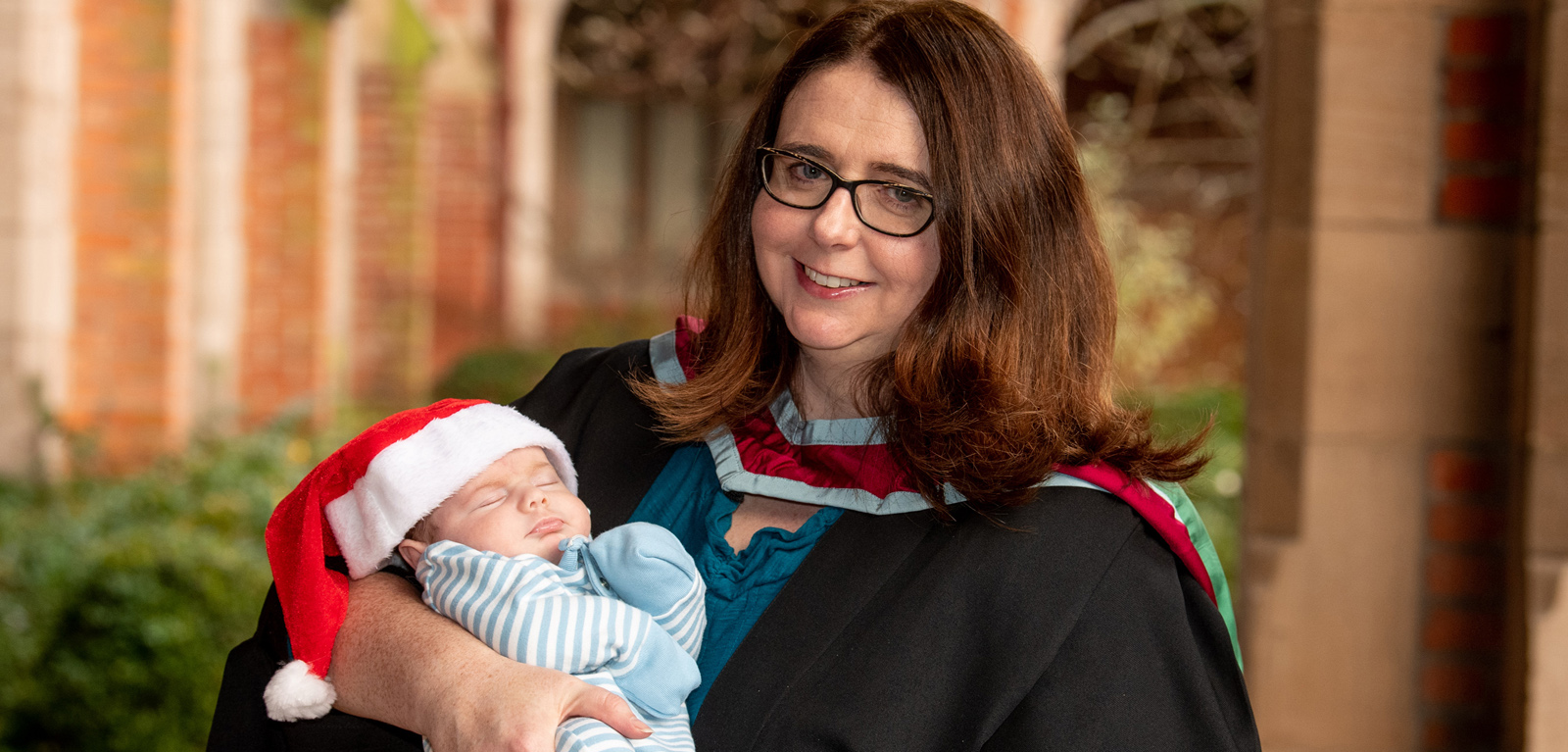 Carmel, who is originally from London, works for the Northern Ireland Statistics and Research Agency (NISRA).
She moved to Belfast in 1999 to do a degree in Maths at Queen's and has stayed in Northern Ireland since. She has been working in the data analytics field for a long time and decided to take on the Master's and balance it with her job.
In her final year, Carmel was delighted to find out she was pregnant and didn't let it hold her back from graduating with a Distinction.
She comments: "I was lucky in that I had a relatively easy pregnancy but my course director at Queen's was extremely supportive in helping me to identify an appropriate three month placement with my existing employer."
Carmel had a very exciting day on 7 November – just five weeks ago. Five hours after arriving at the maternity ward in the Royal Hospital, she noticed a flurry of messages on her phone between contractions.
She explains: "When I saw the messages between contractions I managed to log into my account at Queen's and saw that that I had achieved a Distinction. The midwives at the Royal - Sarah and Zara - thought I was mad but I got two great results that day - Finn and my Master's."
Commenting on her time at Queen's, Carmel says: "I loved the course - both the programming side and the maths and statistics side. As it is a new course in an ever developing field there is huge potential so it will be exciting to see how it grows over the next few years."
She has big plans for the next few years: "After my maternity I will be returning to NISRA to work on embedding and applying data science in the public sector. In the longer term I want to find ways to use the skills I have developed on the course to really exploit the potential of data and am considering further studies to get deeper into the world of machine learning and data science."