Eight Queen's University students selected as part of prestigious Washington Ireland Program
Eight students from Queen's University will join a group of thirty-one students from across Ireland to spend this summer in the USA as part of the prestigious Washington Ireland Program (WIP).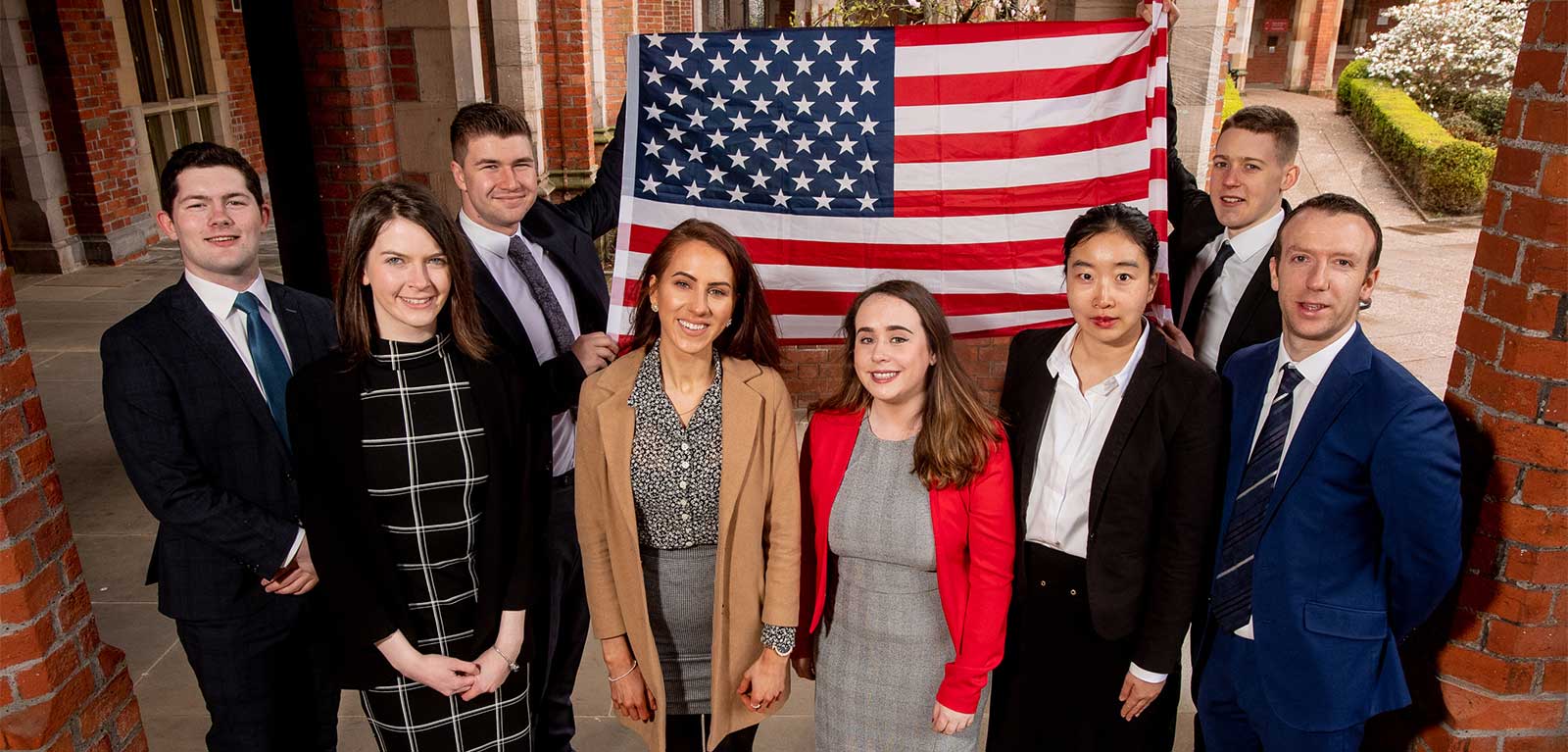 The successful students were selected out of hundreds of applications to complete the year-long programme of service and leadership development.
The students from Queen's are Ross Connolly, Ellen Fearon, Grant Hutchinson, Aisling McCarthy, Kathryn McNickle, Emer Smyth, Matt Toland and Wanting Wu.
Their summer experience in Washington DC and New York will include opportunities for cultural exchange and personal development – including living with host families, working closely with American peers and gaining real life exposure relating to their skills and interests.
Now in its 25th year, the Washington Ireland Program inspires and develops promising leaders through a program of personal development, policy debate and community service. Participants are challenged and equipped to realise their potential in both service and leadership.
Kathryn McNickle, a LLM in Human Rights Law in Queen's, said, "I feel so lucky to be included amongst such an inspirational group of young leaders. The Washington Ireland Program is an incredible opportunity to learn both from the US experience and each other to strengthen our own values, in order to bring them back and make a real difference at home."
Queen's University Belfast has been involved since WIP's inception and, over the years, has sent over 200 students to America.
WIP commented, "For the past 25 years the Washington Ireland Program has had a long and shared history with Queen's University Belfast. From the very first WIP class that arrived in Washington D.C, which was made up of only Queen's students, there has always been a large representation in each class.
"Once again this year we are delighted to welcome eight students from Queen's University join us this summer in Washington D.C and New York City. WIP seeks students who demonstrate leadership potential and have a substantial track record of service. Ross, Ellen, Grant, Aisling, Kathryn, Emer, Matt, Wanting all exceed these requirements and we are sure they will take full advantage of the busy program of training and development WIP provides."
"After they have successfully completed the program, they will join WIP's distinguished alumni. This diverse, all-island network share a commitment to shaping the future of Ireland and Northern Ireland. More than 600 alumni, including An Taoiseach Leo Varadkar TD, have graduated from the program and are now excelling in roles across the political, business, legal, entrepreneurial, advocacy and cultural sectors on the island. For many, their contribution to social and political progress on the island represents a continuation of what they learned on the program. The calibre of candidates that have been produced has not faltered and would not be possible to maintain if it were not from the support and encouragement we received from Queen's University."
​