Ashleigh celebrates graduating with PhD from Queen's Management School
Ashleigh Neill will today (Wednesday 16 December) celebrate graduating with a PhD in Finance from Queen's Management School at Queen's University Belfast.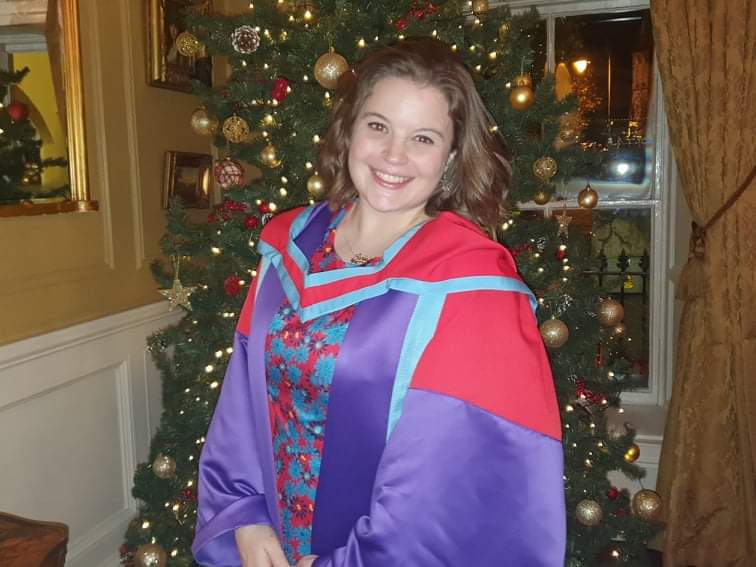 Ashleigh, aged 29 and from Listowel in Co Kerry, balanced her PhD in Finance: 'Law and Financial Stability' and starting her new business as an illustrator after using her artistic skills to illustrate her PhD chapters to make it easier for people to understand.
Ashleigh explained: "I used illustrations and some data visualisations to depict key concepts of my research which crossed between Law, Finance and Econometrics as it can be a little difficult to explain. My illustrations started to win prizes at academic presentations and gained the attention of other researchers, both locally and globally, as far as Australia. I started collaborating with researchers to help them express their work in a creative and accessible way, and 'PhDcartoon' was born."
"In starting my business Queen's Students' Union were extremely helpful. The Enterprise SU business consultants encouraged me to take my illustrate work seriously and see it as a viable business plan. I entered the SU's 'Make it Happen Fund' competition and I won £500 to buy equipment to allow me to create digital drawings. They also connected me with the Belfast Enterprise Academy, the 'Go for It' and 'Kickstart programme' run by Belfast City Council, and the 'Innovate US' programme with Belfast Met and DfE. I received expert business mentoring, training and further funding and since July my business has grown tremendously."
As well as starting her illustration business, Ashleigh taught in the Economics department during her final year. She said: "Starting my PhD, I was eager to gain experience teaching. I was fortunate that the Heads of the Finance and Economics departments at my School at the time, Professor Donal McKillop, Professor John Turner, and Professor Rob Gilles, were very supportive and helped facilitate this.
"Professor Turner was also my PhD supervisor and was very supportive and trusting in my ability to juggle more than just my PhD, like teaching and my illustration work. Even though my PhD was in Finance and empirical, Professor Tuner encouraged me to include legal research too as my undergraduate is in Law."
During her time at Queen's, Ashleigh enjoyed the facilities on campus and courses available to students. "A PhD can be all consuming, you can quickly lose yourself," she said. "Queen's Sport provided me with a much needed disconnect from my work in the evenings. I attended classes like Spin and Kettlebells – and made friends for life there. The Graduate School also provided some excellent courses – I particularly benefitted from their writing courses. Attending courses is a great way for students at different stages of their thesis to help each other and find some new buddies to explore Belfast's social scene with."
Ashleigh plans to celebrate her virtual graduation day at home with her family in Kerry. She said: "After my virtual ceremony we are going to go for a nice meal and get dressed up. I wouldn't have persevered with the PhD had it not been for my family's support.
"In a way 2020 has been a very successful year for me, all my hard work over the years is starting to pay off – but this is hard to reconcile with the fact that 2020 has been very challenging for so many of us. It feels strange to be celebrating."
After graduation, Ashleigh will concentrate on her business and hopes to eventually pursue a career as a researcher at a university or at a Central Bank.
Media
For media enquiries, please contact the Communications Office, 028 9097 3091 comms.office@qub.ac.uk