Economy Minister visits Queen's University Belfast
Economy Minister, Diane Dodds has visited Queen's University Belfast today, Thursday 11 June 2020.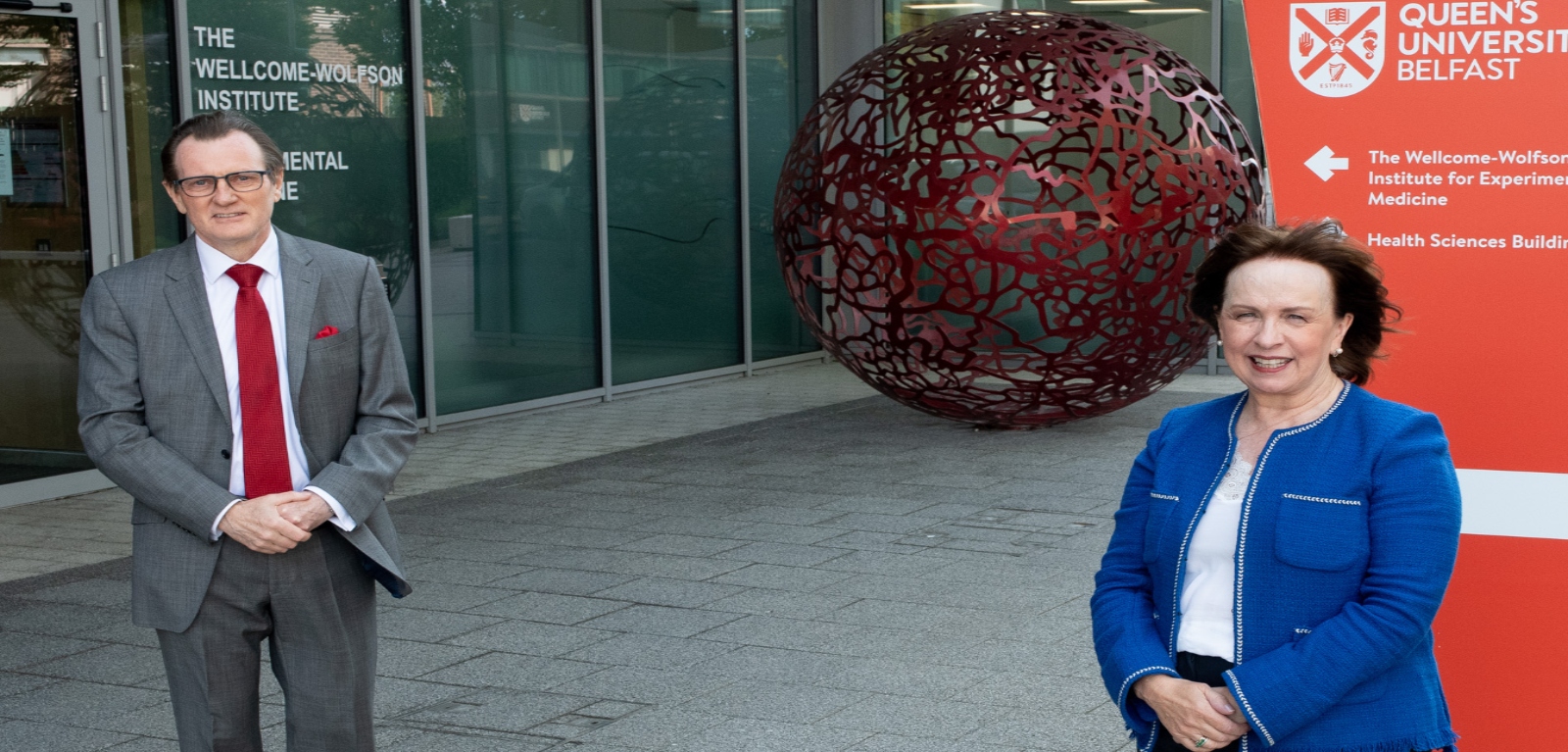 The Minister met with Professor Ian Greer, President and Vice-Chancellor of Queen's University, and Professor Stuart Elborn, Pro Vice-Chancellor, Faculty of Medicine, Health and Life Sciences, to discuss the vital role Queen's is playing to advance our knowledge of the global challenges presented by COVID-19.
The Minister also met with key researchers from the University who are leading new research projects to address COVID-19. Queen's researchers are supporting local, national and international efforts to expand our knowledge of the pandemic and deploying enhanced intelligence to develop solutions that will benefit our society here in Northern Ireland, across the UK and globally.
Speaking after the visit the Minister said: "Northern Ireland's further and higher education institutions have been making an invaluable contribution to the fight against COVID-19. Queen's University is internationally renowned for its research and teaching and the work here is at the forefront of the research for a vaccine for COVID-19.
"This work was recently recognised with a team of researchers from the University being awarded a grant of almost £300,000 by the UK Government to contribute to the effort. I want to thank Vice-Chancellor Professor Ian Greer for meeting me today and taking the time to talk to me about the important work being done here.
"In addition to their research work Queen's University, and our local higher education sector, are a significant contributor to the local economy who will be of vital importance to our economic recovery. Along with being a key employer themselves, Queen's is also responsible for ensuring our students have the right skills and expertise to be enable local businesses to compete on a global scale and help to attract international investment to Northern Ireland."
Professor Stuart Elborn said: "The incredible united effort by the Queen's community in response to COVID 19 demonstrates our commitment to delivering positive impact on society. We are enormously proud of the collective strength and determination to make a difference to those who need it most."
Media
Media inquiries to comms.officer@qub.ac.uk