Queen's graduate and author Gabrielle looks forward to her next chapter
Gabrielle McMaster will celebrate graduating from the Institute of Theology today (Tuesday 21 July) at Queen's University Belfast with a BA (Hons) in Theology and History.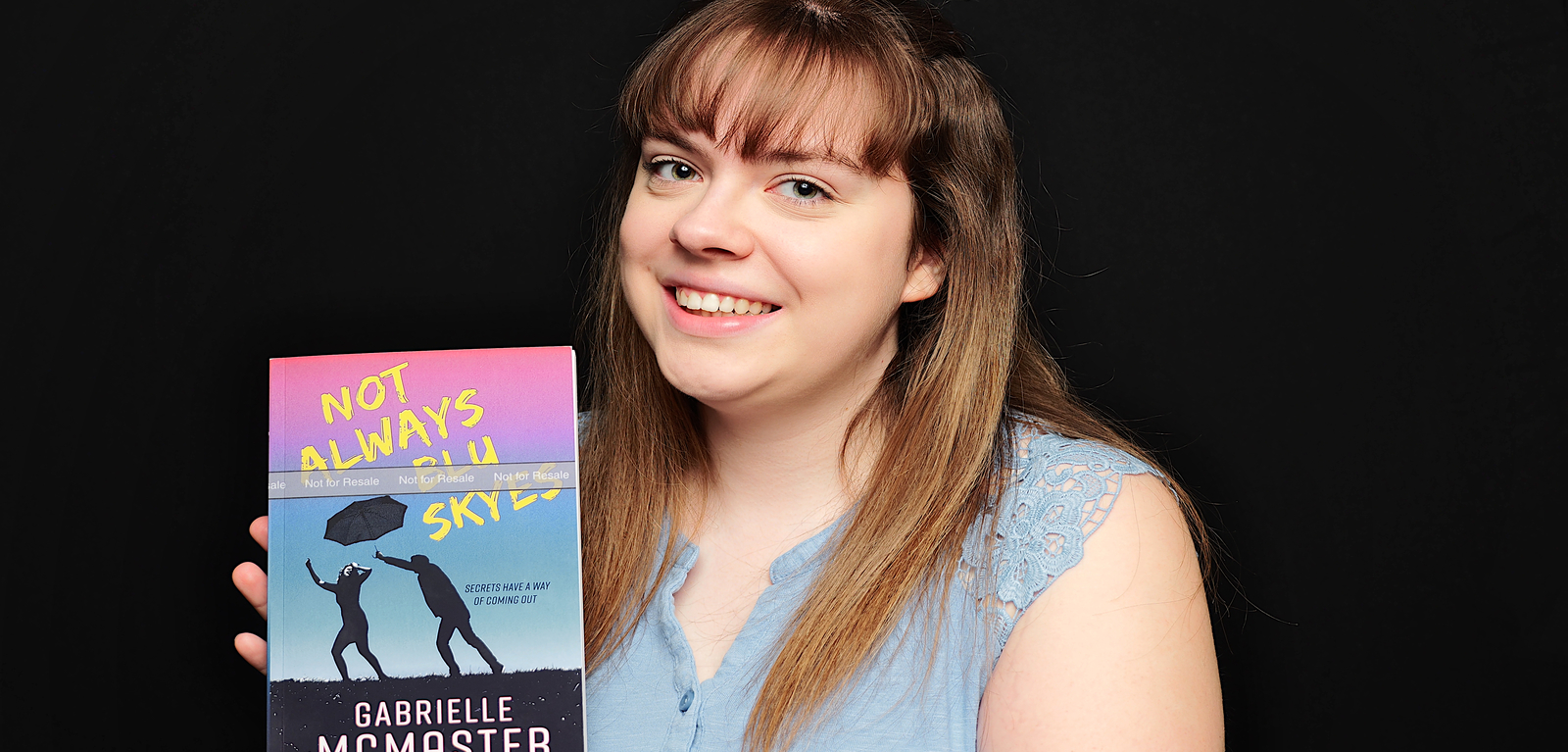 Gabrielle, aged 22 and from Killyleagh in Co. Down, is the author of 'Not Always Blu Skyes', her debut novel which was published in May 2020 after she secured a two-book publishing deal with Zenith Publishing whilst still a student at Queen's.
Gabrielle, who always dreamt of becoming an author, is a strong advocate for mental health. She said: "My debut novel was released in May and my second novel, Twist in the Wind, will be released in May 2021. The novels focus on mental health in young people, as well as deciding on the future, such as going to university. The first book centres on recovering from mental health, specifically depression, and the second novel takes a turn towards the American Dream.
"Each book is different, but I wanted to highlight the importance of addressing mental health in both and will continue to feature mental health as an important theme in each of my novels, no matter what genre they may be.
"To be achieving my dream of becoming an author is phenomenal. I was bullied for writing when I was fifteen and it was very difficult to begin writing again. People thought that I could never manage to get a book out into the world because I was too young. However, I now have a publishing deal and it shows me that I can achieve anything I put my mind to. I'm glad that my journey to publication is inspiring other young writers to keep going with their dream of being an author."
Even though Gabrielle was busy working on her novels throughout her studies, she enjoyed her university experience. She commented: "I have been supported by the University a great deal. My first year was difficult due to external circumstances but the staff were incredibly supportive of me. No matter what problem or query I had my lecturers were always on hand to help me. The support at Queen's has been fantastic."
"Both staff and students made my whole university experience enjoyable. The best part was getting to know so many new people that have become lifelong friends. Doing two subjects allowed for me to meet such a wonderful variety of people and I couldn't ask for better people to spend my three years at Queen's with."
Looking forward to graduating and beginning her next chapter, Gabrielle commented: "I'm looking forward to graduating. It is great to be celebrating all of the hard work I have put in to my degree for three years. I can't wait to celebrate with my family from home. It's a huge milestone and it makes me excited to begin my Master's (MA) in History at Queen's in September.
"I plan to enjoy the summer break with my family and friends. As lockdown eases I hope to return to my job as a volunteer tour guide at the Somme Heritage Museum in Newtownards."
ENDS…
Media
For media enquiries, please contact the Communications Office, 028 9097 3091 comms.office@qub.ac.uk