The Graduate School at Queen's Wins Award For Best Student Experience
The Graduate School at Queen's University Belfast has won the award for Best Postgraduate Student Experience Initiative in this year's UK-wide Find a University's Postgrad Awards.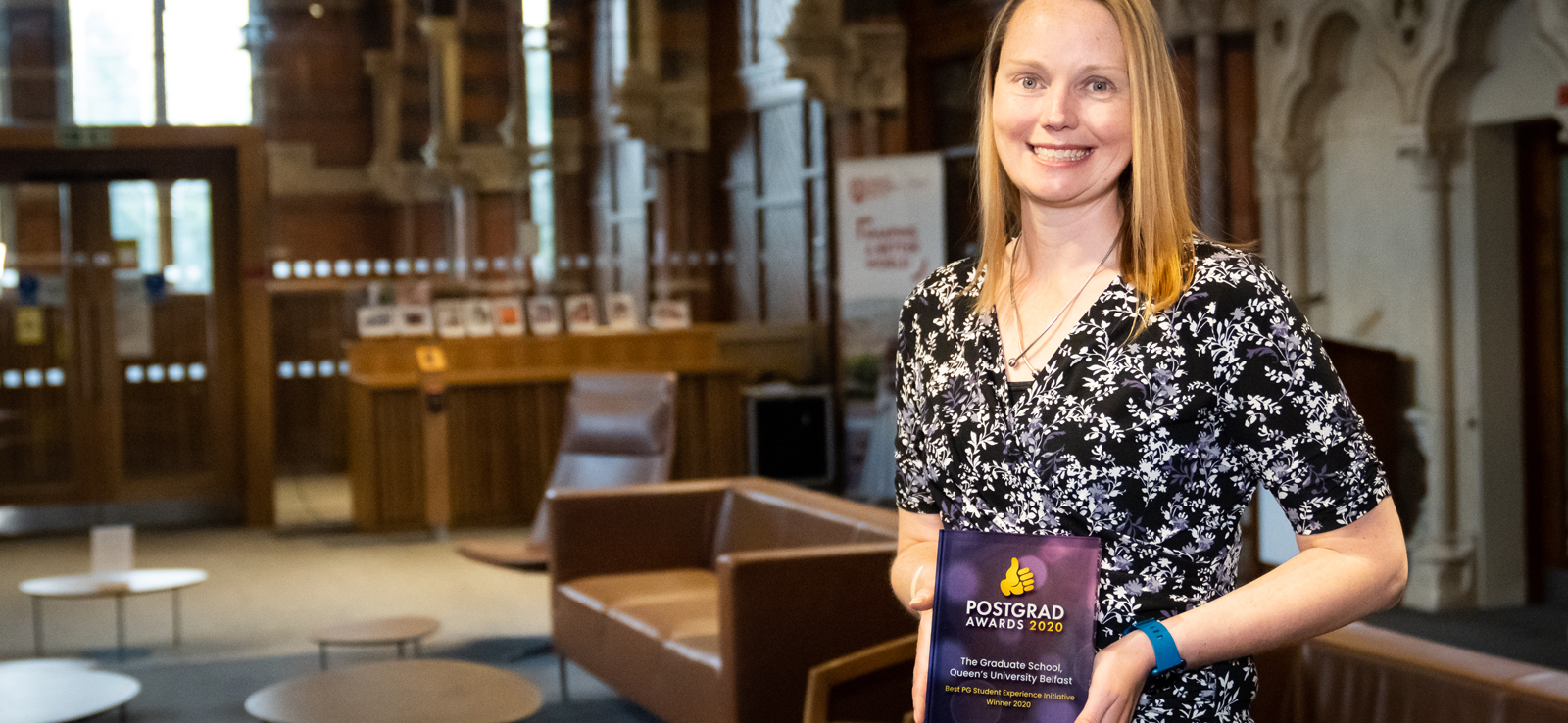 The award recognised the School's agile response to the Covid19 crisis which saw it quickly introduce a new virtual programme of well-being, training and development event for postgraduate students.
Professor Margaret Topping, Dean of the Graduate School, said, "The Graduate School is a core part of the postgraduate student experience at Queen's; it's a community where students from all cultures and all disciplines come together to connect and socialise, to develop their personal, professional and academic skills, and to be supported by one another and by our team. With the challenges of Covid-19, our students needed this community more than ever, so while the pandemic meant that we had to close the physical doors of our beautiful building for a while, the community remained virtually connected and has continued to thrive. We were determined not to allow the virus to stifle our commitment to offering dynamic training, support and social events, so thanks to a fantastic team who are absolutely dedicated to the wellbeing of our students, all of our provision was moved online in record time."
The Graduate School Manager, Kara Bailie added, "We were very pleased to receive this award. It not only reflects the enormous efforts of the 26-strong staff team but also the exceptional spirit of our postgraduate students. They willingly adapted to and embraced the changes. Our priority is always the wellbeing of the postgraduates and then offering them the chance to add an extra dimension to their university experience."
The judging panel of the Postgrad awards said, "The judges were impressed with the way The Graduate School at Queen's worked quickly and effectively to move its events programme online in response to the Covid19 crisis, whilst successfully ensuring that the quality of student experience was maintained in these extraordinary circumstances. They were therefore a worthy winner of this award."
The Graduate School - formerly the old university library dating back to 1868 - welcomes thousands of students each year. It supports the development of postgraduate students and encourages them to become Leaders, Thinkers, Communicators and Innovators who are Future Ready. It is a dynamic intellectual hub which creates a community based on challenge between disciplines.
The impressive Graduate School building was designed by Irish born architect William Henry Lynn (1829-1915) in a neo-gothic style. It owes much to the influence of John Ruskin (1819-1900) and is arguably the best example of Ruskinian Victorian gothic architecture and is a building of importance and profile on the main site.
Media
For further information, please contact Queen's University Communications Office, comms.office@qub.ac.uk