Queen's Opens World-Class Hockey Facility with Hosting of Irish Senior Women's Olympic Training Camp
Queen's University Belfast will hit fever pitch this week with the official opening of a new world-class hockey facility during an Irish Senior Women's Hockey Olympic training camp at Queen's Sport Upper Malone.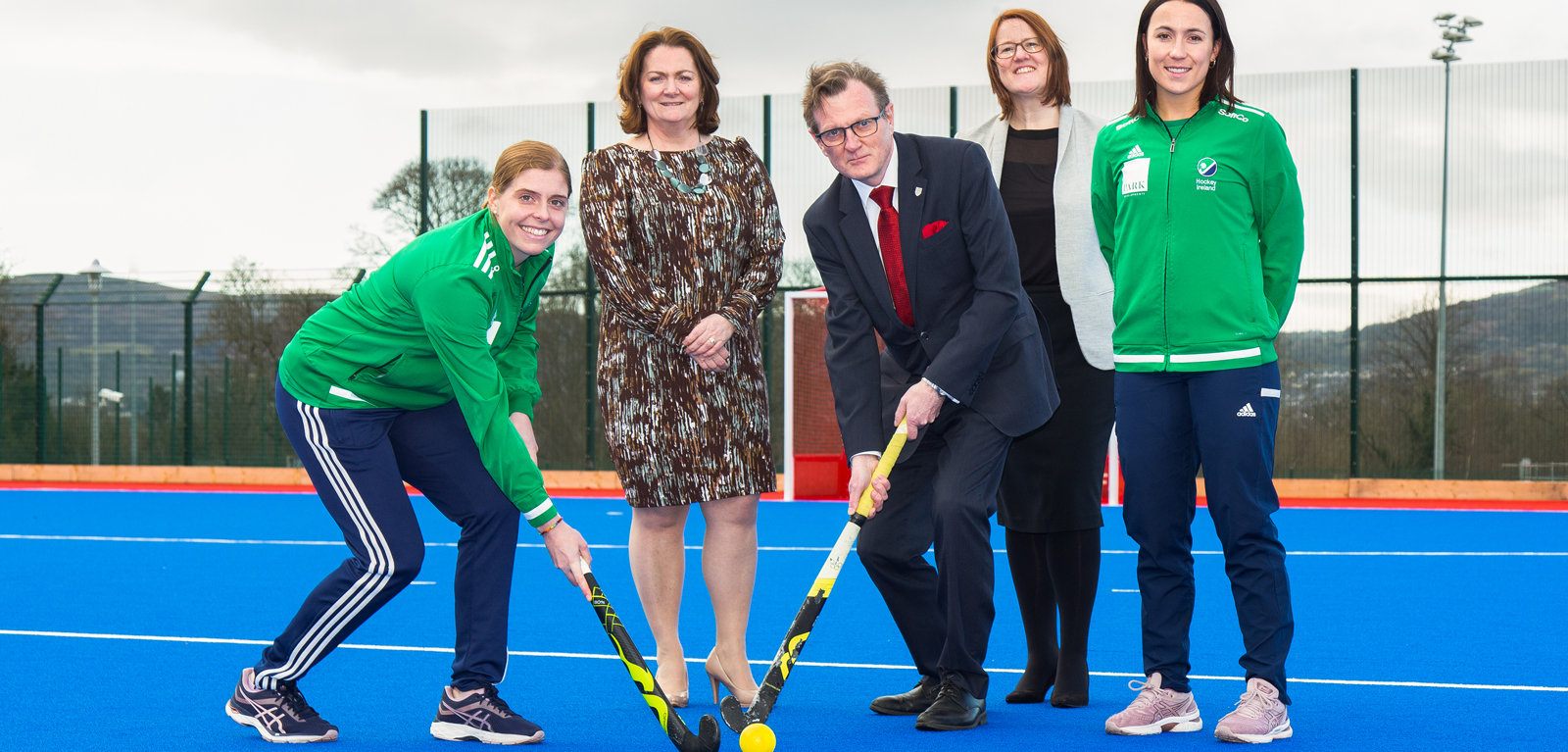 An impressive £1.2m investment includes an international standard water based pitch, 100-seat spectator stand, floodlights, drainage system, dug-outs and TV tower. This significant investment will enable the University to meet the growing needs of the sport locally and internationally, and support student hockey at all levels from participation to elite performance.
Queen's hockey has had a continued resurgence over the past numbers of years with teams increasing from one to eight across the men's and women's game, investment in high quality coaching, formation of a Hockey Academy and Alumni Association, EY (All Ireland) Hockey League qualification, International representation and Ulster Shield champions for the first time since 1933. As previous winners of the Ulster Hockey Club of the Year, Queen's take pride in their reputation and capacity to provide students with the platform to reach their potential in the sport while they pursue a world-class education. A dedicated hockey development officer has also been recruited to help build on this success.
Head of Queen's Sport, Liz McLaughlin commenting on the importance of major university sporting capital projects to support student sport, said: "On behalf of Sport at Queen's University Belfast, I welcome the opportunity to officially open our new world-class hockey facility. Hockey at Queen's has been on an exciting journey of late with participation growing, enhanced performance levels and improvements in student athlete support, staffing, coaching and club administration.
"High quality facilities are central to developing key sports, such as hockey and we are proud of our continued investment in infrastructure, people and programmes as part of our overall Strategy for Sport which was launched last year. We are also keen to use this investment as a gateway to develop our ongoing partnership work with community clubs, schools and national governing bodies including Ulster Hockey and Hockey Ireland."
Following their silver medal at the 2018 FIH World Cup, the Irish Senior Women's team continue to prepare for the 2020 Olympic Games in Tokyo later this summer. A training camp at Queen's University's impressive new facility will fit with their professional preparations. Queen's hockey are no strangers to Olympic success with graduates Billy McConnell winning a bronze medal with GB at the 1984 Olympics in Los Angeles and Jimmy Kirkwood winning a Gold medal at the 1988 Olympics in Seoul. Both men also represented Ireland at the 1990 Men's Hockey World Cup.
Irish Hockey Coach, Sean Dancer commenting on the camp and ongoing preparations, said: "It's an exciting time for us at the moment in Irish Hockey. Preparations are going well and it's great to be here for the opening of this facility in Queen's. Another high-class hockey facility opening like this is excellent news for the development of the sport. It really is fantastic to see this enthusiasm and commitment from Queen's University."
At the official opening of the new world-class hockey facility, President and Vice-Chancellor of Queen's University, Professor Ian Greer, announced Shirley McCay will be one of Queen's University's honorary graduates this year.
Shirley McCay is recognised as one of this country's finest hockey players, and has received 305 caps over the last 12 years, making her Ireland's most capped sportswomen.
Shirley will officially receive her honorary degree later this year.
Media
Media inquiries to Communications Office at Queen's University Belfast on Tel: +44 (0)28 9097 3091 or email office@qub.ac.uk.