Driving Forward to Zero-Emissions at COP26
World-leading researchers from the WTECH Centre at Queen's University Belfast are travelling to COP26 this week to highlight Northern Ireland's key role in developing zero-emission public transport vehicles.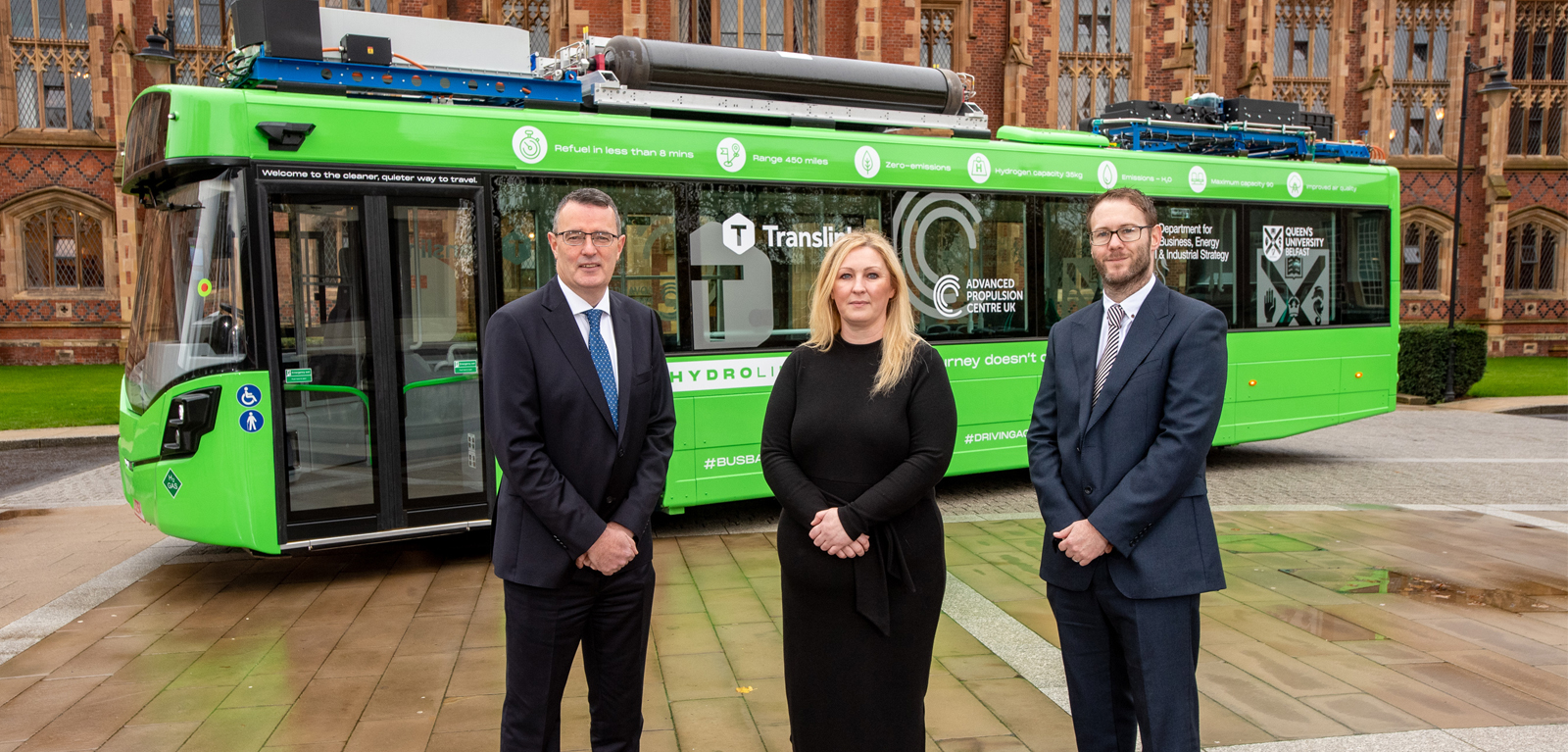 The Queen's team have been collaborating with industrial and public sector experts, including leading bus manufacturer Wrightbus, to drive forward the transition to net-zero within the public transport sector.
Participating in an event, hosted by Translink, the session will set out the steps being taking to revolutionise and decarbonise Northern Ireland's public transport system. This includes transitioning to renewable energy technologies and accelerating net zero emissions across our bus and train fleet and wider business by 2040 ahead of Government's 2050 target.
Professor Juliana Early, Head of Mechanical and Aerospace Engineering at Queen's and Director of the WTECH Centre, comments: "All of the work we have been involved in through WTECH has been incredibly exciting.
"We are continuing to demonstrate how fundamental research undertaken in Queen's University can be applied to next generation zero-emission vehicle development. We are delighted to be a part of the team delivering these innovations and driving transformative change in underpinning zero-emissions technologies, which is seeing such positive impact in our local economy.
"Within WTECH, we are also supporting the skills transition in this emerging technology sector, training the next generation of experts. This is critical in responding to the growing calls for our society to move towards a net-zero future. This places Queen's University and Northern Ireland in a very strong position to become a market leader in the zero-emission sector."
Dr Robert Best, Director of Engineering at Wrightbus, says: "The collaboration we have with WTECH is vital, not only for pushing forward emerging technologies and innovations to allow us to reach net zero, but also to ensure the next generation of engineers and researchers have the necessary skills and experience to work on the new and exciting hydrogen technology that is powering our world-first, zero emission Hydroliner buses.
"WTECH has also been instrumental in helping Wrightbus launch our Electroliner BEV with class leading efficiency and passenger comfort and uncompromised seating layouts."
A Hydroliner will be on display at COP26 in the Green Zone in Glasgow throughout the COP26 conference.
Chris Conway, Translink Group Chief Executive says: "We are delighted to be one of the nominated businesses to attend this prestigious event. Working in collaboration with our partners has fuelled ambitious energy solutions to allow us to deliver on our ambitious targets to have net zero emissions across Northern Ireland's buses, trains and buildings by 2040 ahead of government targets and then becoming Climate Positive by 2050.
"Showing environmental leadership is vital at this time with the wicked problem of climate change affecting us all. COP26 presents a unique opportunity to come together to learn and inspire others to accelerate action and build back better for a more sustainable future, that unlocks inclusive, greener growth for the generations to come."
Professor Early will be taking part in events at COP26. On 3 November at 11am she is part of an in-person panel discussion at the Science Show Theatre in the Green Zone exhibition area, which will be broadcast through the COP26 YouTube channel. She will be joining expert panellists from Translink, Wrightbus, Energia Group and Department for Infrastructure to discuss the need for strategic leadership and collaboration for driving transformative change to net zero in public transport.
Emer Rafferty, an undergraduate student from the School of Chemistry and Chemical Engineering at Queen's, will also be involved in the panel discussion, as the first Translink Changemaker Ambassador.
On 10 November –Professor Early will be participating in the UK Research and Innovation (UKRI) COP26 Exhibition in the Green Zone in Glasgow.
Professor Juliana Early
School of Mechanical and Aerospace Engineering
Media
For media inquiries, please contact Emma Gallagher emma.gallagher@qub.ac.uk