IGFS honoured by United Nations-related agency
The Institute for Global Food Security has been recognised for the quality of its science by an agency within the larger United Nations family.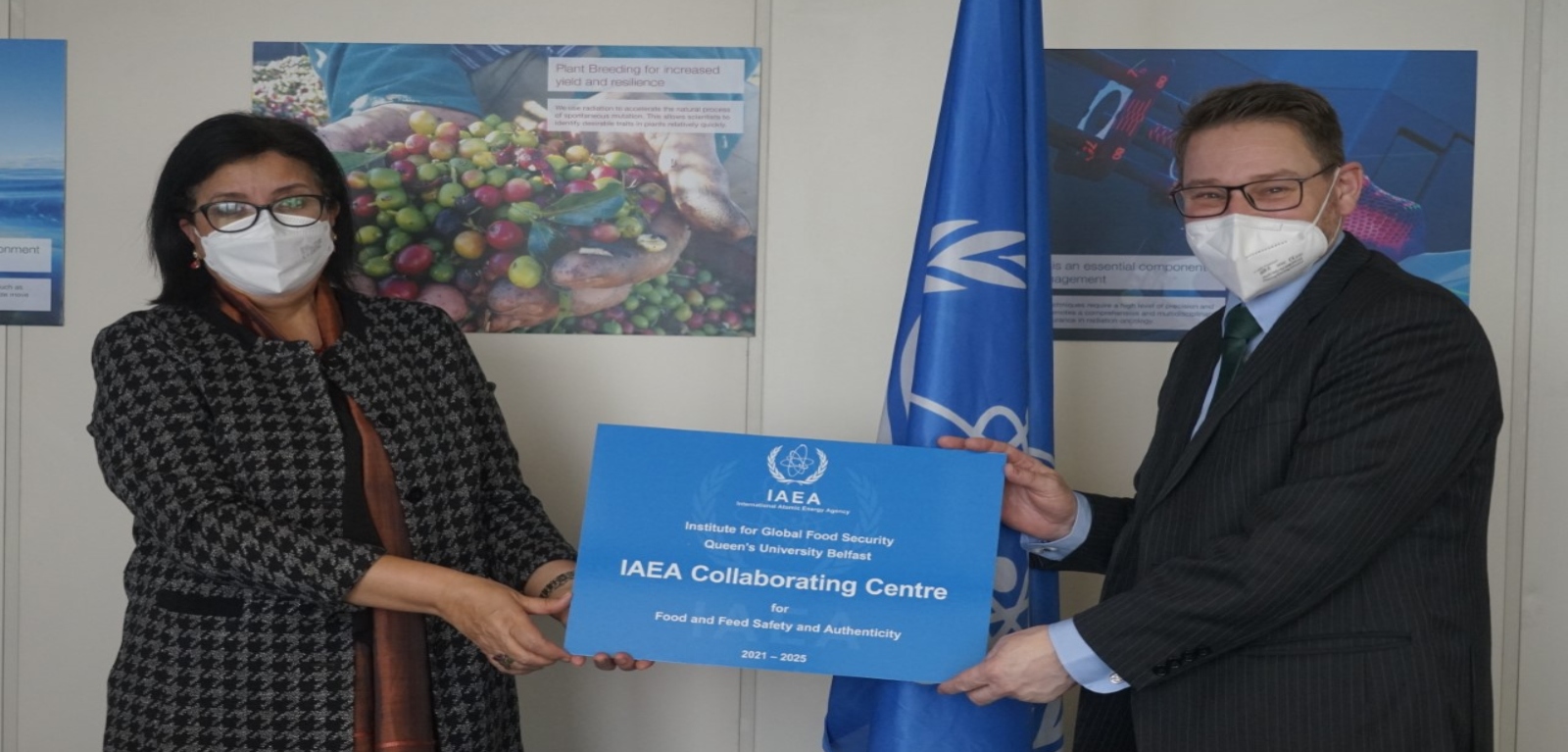 The Institute has been designated a 'Collaborating Centre' of the International Atomic Energy Agency (IAEA).
IGFS is one of only two designated Collaborating Centres in the UK and the first (in the UK) in the area of food and agriculture research. As of today, there are 47 IAEA Collaborating Centres worldwide across a range of research areas. IGFS becomes only the third insitute In Europe, undertaking food and agriculture research, to be singled out in this way.
The prestigious accolade is in recognition of research support by IGFS to the IAEA in the areas of feed and food safety, authenticity and traceability over a number of years. The collaboration between the two organisations will grow in scale and importance due to this designation. The application of nuclear and nuclear-related analytical techniques to detect the contamination and adulteration of feeds and foods as well as training scientists across the world in these methods will be key elements to the collaboration.
The IAEA's mission is to use atomic science as a force for good in the world, for example by using nuclear technologies to improve the carbon footprint of industry, increase access to clean water in the developing world, and to promote food security, better nutrition and human health.
The designation of IGFS as a Collaborating Centre was officially made at IAEA HQ in Vienna, Austria today, Friday 5 March 2021, when a plaque was handed over by IAEA Deputy Director General and Head of the Department of Nuclear Sciences and Applications, Najat Mokhtar to William Gatward, Deputy Ambassador at the UK's Permanent Representative to the IAEA.
Members of IGFS attended the ceremony remotely alongside representatives of the UK Department for Business, Energy and Industrial Strategy (BEIS).
In his remarks, IGFS Director Professor Nigel Scollan said: "Partnership is at the heart of IGFS and we are proud to be recognised in this way by the IAEA. We wholeheartedly support and share their vision of using the very best science and technology to make the world a better place and look forward to continued collaboration in the area of food and feed safety and authenticity."

IAEA Deputy Director General Ms Mokhtar said: "The synergies in the expertise, knowledge, skills and experience of the two institutions will allow a multiplication of the impact of the nuclear technologies. We look forward to increasing our fruitful co-operation with IGFS in helping address some of the serious challenges to food safety and security that our Member States face, today and in the future."
Commenting afterwards, Professor Chris Elliott OBE, an international expert on food security who leads the food safety and authetitcity work in IGFS said: "This is a wonderful accolade for IGFS to be recognized by IAEA for our efforts in food and feed safety and authenticity. We are thrilled by the opportunities this agreement will provide for us to support the vital work of the Agency."