Kilwaughter Minerals helps to build £750k pathway to Queen's
County Antrim quarry and mineral processing firm Kilwaughter Minerals is to support an additional 250 first year Pathway Opportunity Programme students at Queen's University.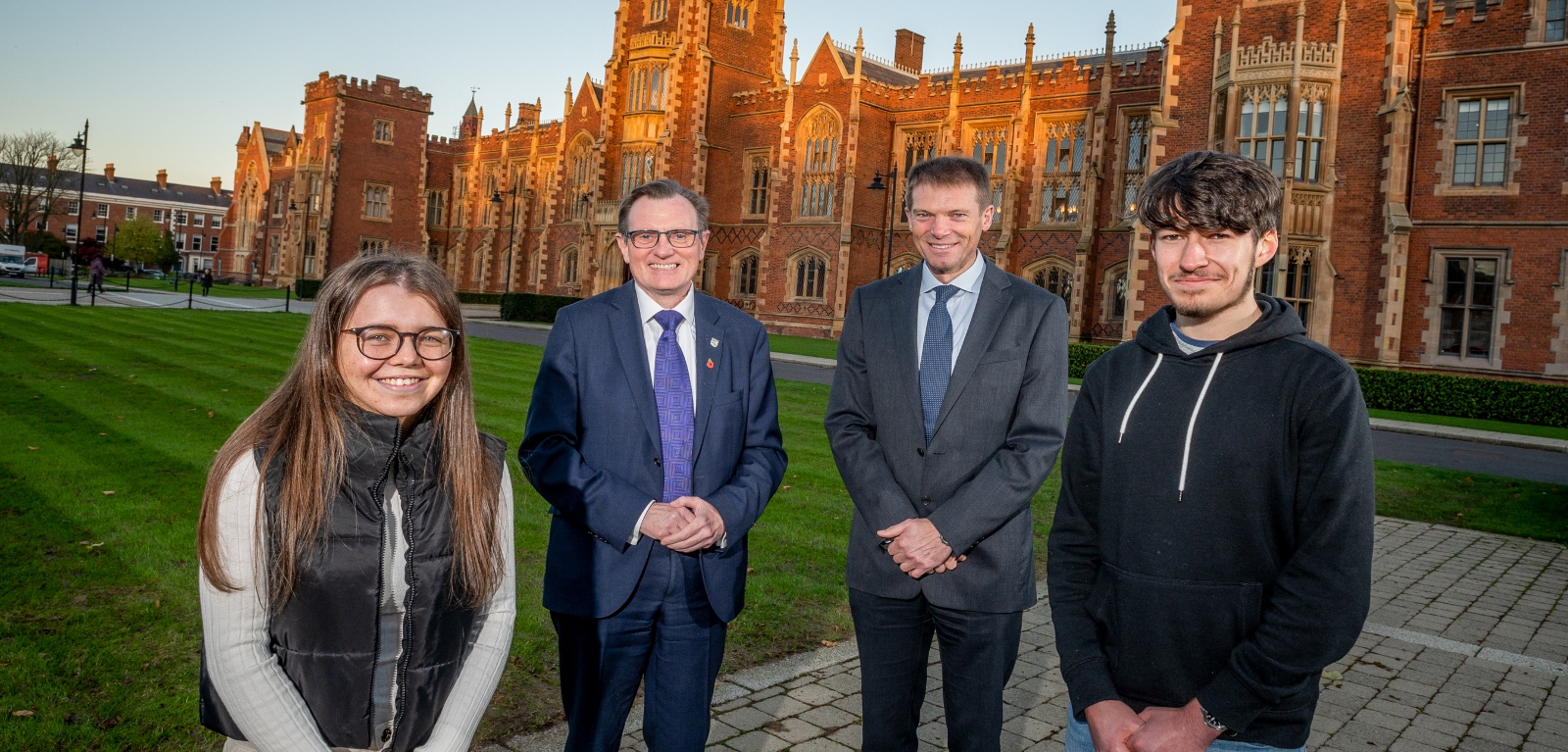 Queen's University Vice-Chancellor Professor Ian Greer and Simon McDowell, Director of Kilwaughter Minerals with bursary recipients Maeve Shortt and Sam Patterson.
The Pathway Opportunity Programme is designed to open up opportunities for people who may otherwise not get the chance to access University.
Welcoming the announcement at an event with Kilwaughter at Queen's, President and Vice-Chancellor, Professor Ian Greer said: "The generous donations of Kilwaughter Minerals have helped sustain the Pathway Opportunity Programme and we welcome the news that they intend to support even more first year Pathway students at Queen's.
"This is part of a ten-year commitment from Kilwaughter Minerals which was started in 2017 and this gift will bring their total support towards the Pathway Programme Bursary Fund to date to £750,000. That is a huge and much appreciated investment in the education of young people in Northern Ireland."
Professor Greer was welcoming 135 students who have taken up places at Queen's following their participation in the University's Pathway Opportunity Programme.
The students, studying a range of subjects, participated in the programme while still at school and took part in a number of activities throughout the year to support study skills, university applications and confidence building. They also each receive a Kilwaughter Minerals bursary of £1,000.
Congratulating the students and welcoming them to Queen's, Professor Greer added: "I want to congratulate all of those who have made it to Queen's, who so deserve to be here on their own merits and often against the toughest of personal odds.

Your perseverance and determination – and the support of all those who backed you – has helped to deliver you a place at one of the UK's top Russell Group universities."
Kilwaughter's Chief Executive Officer Gary Wilmot added: 'We are very proud of our association with this programme and we are honoured to be able to help make a difference to our youth and through them, make an investment in our collective future."
Find out more about the Pathways Opportunity Programme here. The Pathways Programme is supported by donations from various organisations and businesses across Northern Ireland.
To support Widening Participation / Pathway Opportunity initiatives at the University contact Viv Harris, Development Manager in Queen's Development and Alumni Relations Office, or donate here.