Queen's launches innovative drama project 'Friel Reimagined'
Queen's University has launched 'Friel Reimagined', an innovative drama engagement and research project.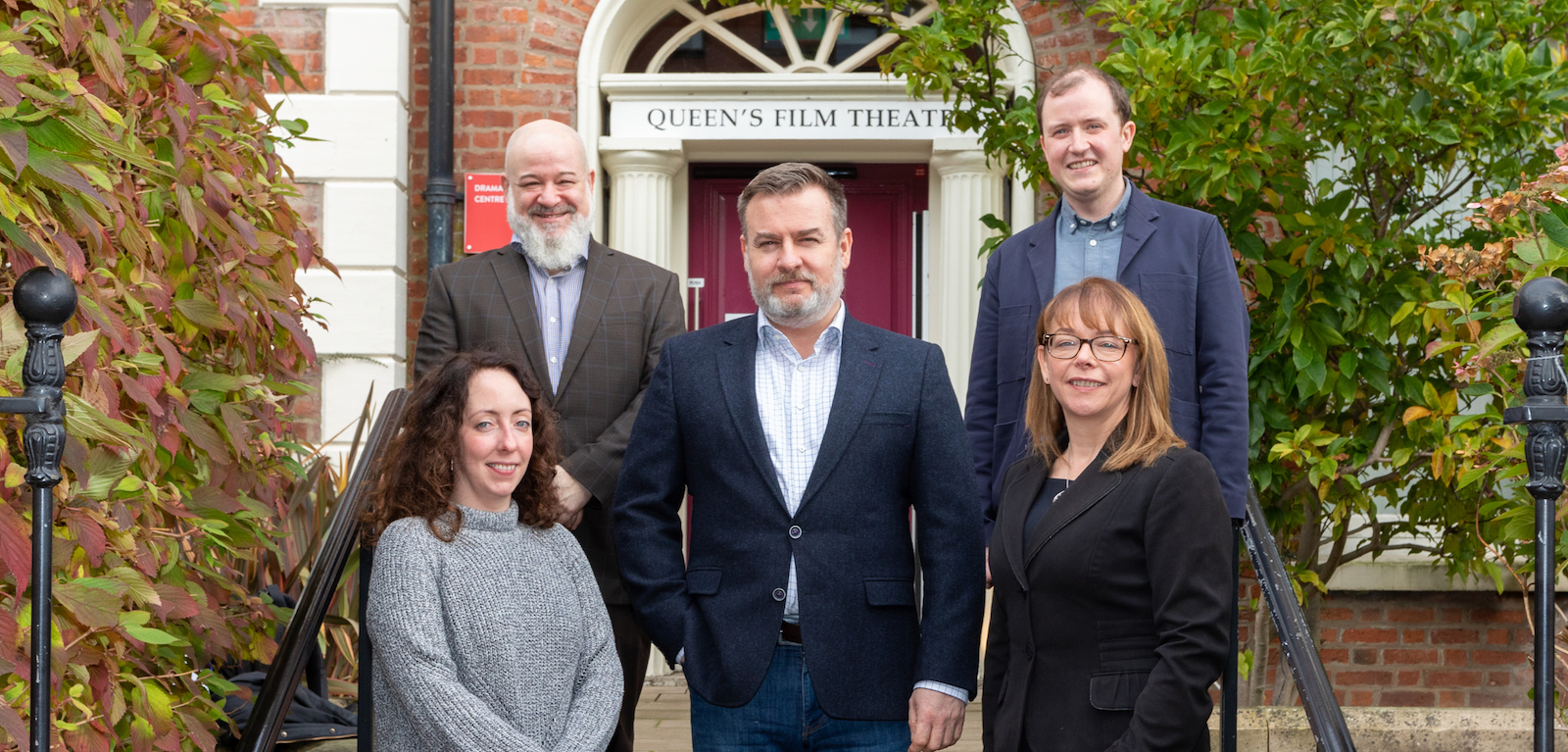 Representatives from Queen's University and the National Lottery Heritage Fund at the launch event for Friel Reimagined. L-R: Frances McNally, Investment Manager, National Lottery Heritage Fund; Dr Kurt Taroff, Head of School of Arts, English and Languages; Dr Paul Murphy, Senior Lecturer, School of Arts, English and Languages and Project Lead, Friel Reimagined; Dr Conor McCafferty, Project and Outreach Manager, Friel Reimagined; Professor Nola Hewitt-Dundas, Pro-Vice Chancellor, Faculty of Arts, Humanities and Social Sciences.
Friel Reimagined will focus on the heritage and legacy of the writings of Brian Friel, the late dramatist, short story writer and founder member of the Field Day Theatre Company. With connections on both sides of the border throughout his career, Friel was one of Ireland's leading playwrights during his lifetime and is widely recognised as one of the greatest dramatists of his generation.
The project will present a range of public events and a touring exhibition in 2022, offering insights into the work of the renowned playwright and connecting his legacy with new audiences.
The project has begun an ambitious digitization of Friel's papers from the National Library of Ireland relating to five of his key plays, and a series of outreach workshops with community partners representing disadvantaged and marginalized communities, led by Bruiser Theatre Company. Next year will see a new digital and in-person exhibition based on the archival papers alongside talks, workshops, and masterclasses.
Dr Paul Murphy, Senior Lecturer in the School of Arts, English and Languages at Queen's, said: "Friel's digitised archives offer a new way to understand creative practice by seeing his work in progress through the material legacy that he has left behind.

"The themes of Friel's work continue to have resonance for society today – this project seeks to reimagine his work for contemporary society and with audiences who might not have any previous knowledge of him. We are very excited to present the public with a fresh opportunity to explore Friel's acclaimed work in a new way."
Friel Reimagined will focus on the archives relating to five of Friel's most acclaimed works: Philadelphia, Here I Come! (1964); Freedom of the City (1973); Faith Healer (1979); Translations (1980); Dancing at Lughnasa (1990). This selection is comprised of almost 3,000 documents, including early drafts, edits, and personal comments on his plays, alongside diary entries and personal correspondence.
The project will work in partnership with Special Collections at the McClay Library at Queen's, the National Library of Ireland, JSTOR, Hazelwood Integrated College, Hydebank Wood College and Women's Prison, the Stronger Together Network and Belfast Interface Project.
The project is supported by The National Lottery Heritage Fund and The Steel Charitable Trust. Paul Mullan, Director of Northern Ireland - The National Lottery Heritage Fund, said: "Thanks to National Lottery players, this project gives people the opportunity to not only learn about heritage, but to become truly involved in it by engaging with the work of Brian Friel. We know that giving people a chance to have a closer understanding and relationship to their heritage reaps many benefits and is something we are proud to fund."
Further details on Friel Reimagined can be found on the project website at https://www.qub.ac.uk/sites/friel-reimagined/ The full programme of public events will be announced in early 2022.
For queries, contact Friel Reimagined Project Manager, Conor McCafferty at C.McCafferty@qub.ac.uk
Media
Media inquiries to s.devlin@qub.ac.uk