Experts from the UK and China meet at Queen's to discuss clean energy
A group of experts from government and academia have met at Queen's University Belfast for the China-UK/Northern Ireland Forum on New Energy Innovation.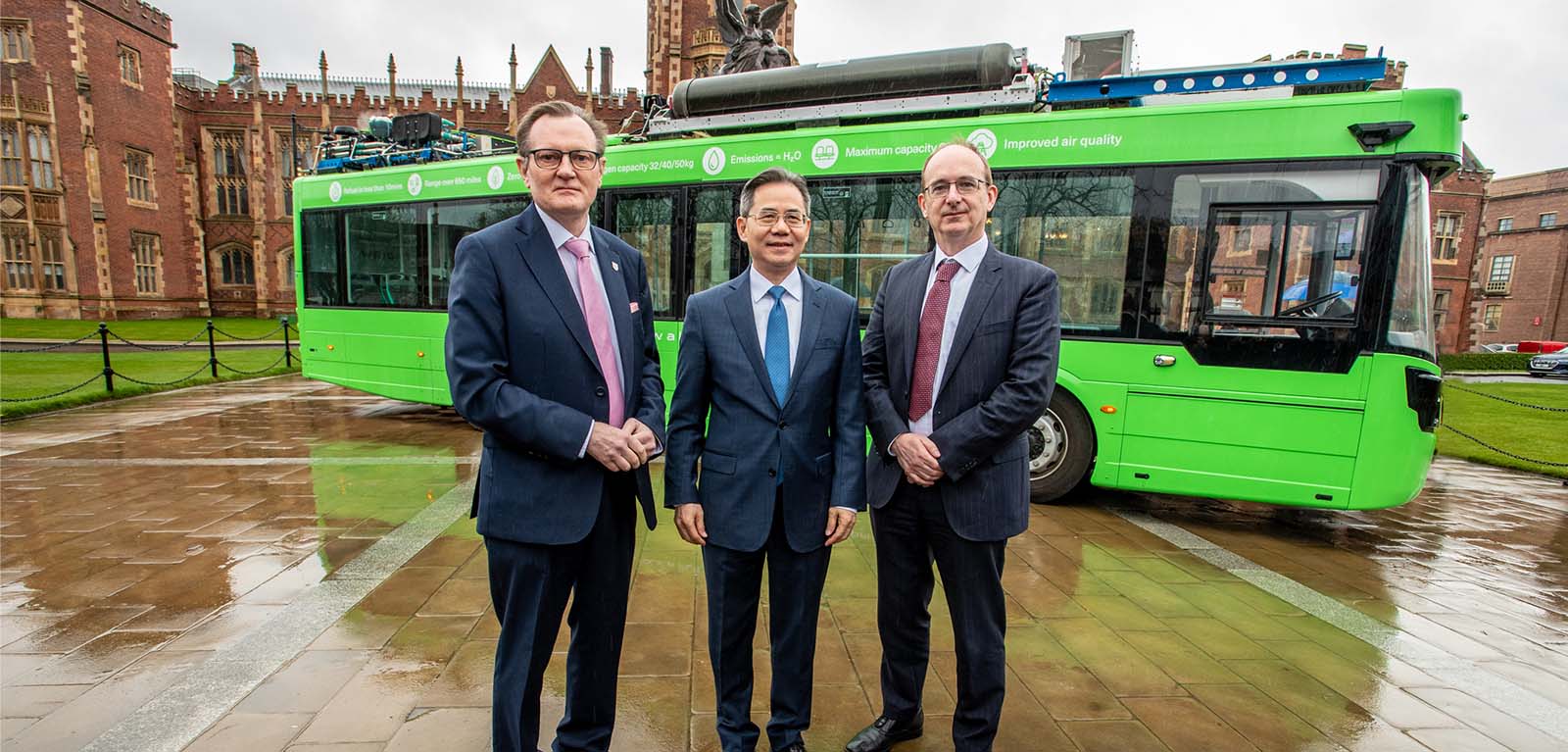 Discussions at the event focused on innovation and cooperation for driving forward clean energy, including Hydrogen.
The Forum was presided over by Professor Ian Greer, Vice-Chancellor of Queen's University. He welcomed guests from China including the Chinese Ambassador, H.E Mr Zheng Zeguang, and Mr John Edwards, His Majesty's Trade Commissioner for China.
Also in attendance were Mr Yan Dong, Vice President of the Chinese People's Association for Friendship with Foreign Countries (CPAFFC); Mr Bai Tao, Mayor of Foshan City, Guangdong Province and Dr. Zhang Qingjie, Academician, Chairman and Director of Foshan Xianhu Laboratory of Advanced Energy Science and Technology.
The speakers talked about cooperation at different levels. Regional discussions focused on Guangdong and Northern Ireland and trade discussions looked at China and the UK. At a city level, discussions focused on Foshan and Belfast and the University level was centred around Wuhan and Queen's.
In Foshan, China, there is a strong investment in Hydrogen. At the event, representatives from Queen's signed a Memorandum of Understanding with Wuhan Institute of Technology and the Foshan Xianhu Lab.
Professor David Rooney is leading the project at Queen's. He explains: ""As a University, Queen's has been developing our collaboration with institutions over many years and by working together we have achieved great things in research and education. The signing of the MoU with Wuhan Institute of Technology and the Foshan Xianhu Lab is the next step on an exciting journey to developing a more co-ordinated and synergised approach to our research and teaching.
"Through the MoU, Queen's and the institutions in China will focus on the development of hydrogen refuelling stations and hydrogen bus manufacture. At Queen's, we have developed cutting-edge technology and research in this area through a very successful partnership with Wrightbus and through the work of the Advanced Manufacturing Innovation Centre.
"Through this international collaboriation, we will carry out research jointly and develop a deeper understanding of clean energy through knowledge sharing. Research and education will be a key focus with graduate students at both Queen's and the institutions in China exchanging visits. There will also be an opportunity for visits by staff for research, teaching and discussion purposes."
Queen's University Belfast's Vice-Chancellor, Professor Ian Greer, comments: "I am delighted to have welcomed a delegation from China to Queen's to discuss innovation and cooperation for clean energy.
"At Queen's, we have built a positive relationship with colleagues in China over many years in our mission to develop new and innovative types of energy and to help reach Net Zero targets.
"The global challenges we face as a society are huge and international collaborations such as this partnership with China are vital in driving forward research and education. Strengthening relations between world-class universities like Queen's and institutions in China will have a positive impact for both countries, as well as wider society."
Media
For media inquiries, please contact emma.gallagher@qub.ac.uk