Queen's University researchers and alumni awarded Fulbright Scholarships
Three Queen's alumni and two researchers are amongst five of 37 people across Ireland to be awarded a Fulbright scholarship this year.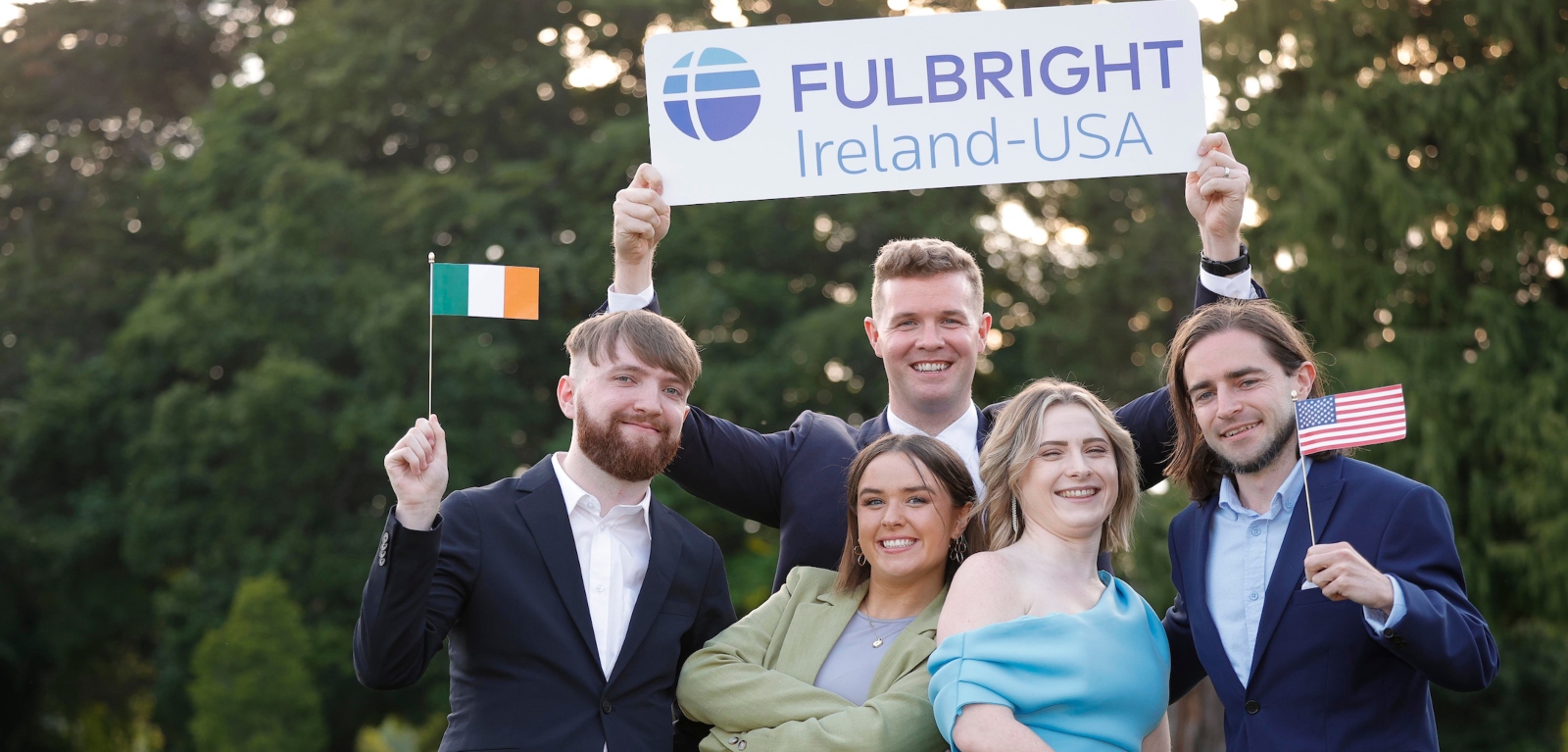 Recipients were presented with the awards at a ceremony in the US Ambassador's Residence.
The 37 Irish awardees will head to the US to exchange ideas and knowledge and serve as cultural ambassadors. By doing so they strengthen connections between the US and Ireland.
Academics, professionals, students and Irish speakers will attend leading US institutions to research, study, teach and collaborate with experts in their fields from August 2023 to August 2024.
The Fulbright bilateral exchange programme is known for selecting outstanding candidates from across the island of Ireland to study and work with US institutions across all disciplines ranging from health, science, technology and business to the arts and culture.
Awardees will travel to 17 states across the USA embedding themselves in institutions ranging from the Dana-Farber Cancer Institute in Boston, Poets House New York and The University of Hawaii to The Smithsonian Institution in Washington and East Los Angeles College, the largest community college in California. Fulbright Irish Scholars, Students, and Foreign Language Teaching Assistants (FLTAs) will also engage with US society and share their knowledge and expertise when they return home.
This is the first year three Irish-language scholars from Queen's have been awarded Fulbright Scholarships.
Dr Gerard Walls is an Academic Clinical Lecturer in Clinical Oncology at the Northern Ireland Cancer Centre and Queen's University Belfast. As a Fulbright Health Impact Scholar, Gerard will join the world-leading Cardio-Oncology research team at Washington University in St Louis to conduct further analysis on the interaction between radiotherapy and cardiovascular health in patients with lung cancer.
Annie Mary Jowett received a Bachelor of Arts in Irish and French at Queen's University Belfast where she was awarded the Dr Noel J Hamilton Prize for Irish and Celtic Studies. She is currently a PhD student in Irish and Celtic studies at Queen's. Annie will teach the Irish language and take classes as a Fulbright FLTA at the College of Our Lady of the Elms in Chicopee, Massachusetts.
Eibhlín Seoige NicCormaic graduated from Queen's University Belfast with a degree in Irish. She is a member of Conradh na Gaeilge's Coiste Gnó and will be teaching the Irish Language as a Fulbright FLTA at Davidson Community College in North Carolina.
Niall Páirc graduated from Queen's University Belfast with a degree in Irish. He has worked in Irish-medium education as a classroom assistant and language assistant, while pursuing an MA in Translation at Queen's University Belfast. Niall will teach Irish as a Fulbright FLTA awardee at the University of Notre Dame.
Joe Coulter graduated from Queen's University, Belfast with a Bachelor of Science in Business Information Technology. Joe has worked with Panarts in a marketing and ambassadorial role, promoting and celebrating the cultural links between Belfast and Nashville. As a Fulbright TechImpact Scholar, Joe will be hosted by Belmont University, Nashville, Tennessee, where his research will focus on piloting a bespoke IT programme he has created to help develop the IT skills of older musicians. Joe will replicate his Fulbright research in Belfast, thus creating an international community of learners. Joe's wider research focuses on the interfaces between technology, peace and the arts.