Structural Engineering Students Claim Top Prizes at Concrete Centre Awards
Three students studying Structural Engineering at Queen's University Belfast have won two top prizes at the annual Student Structural Concrete Design Competition.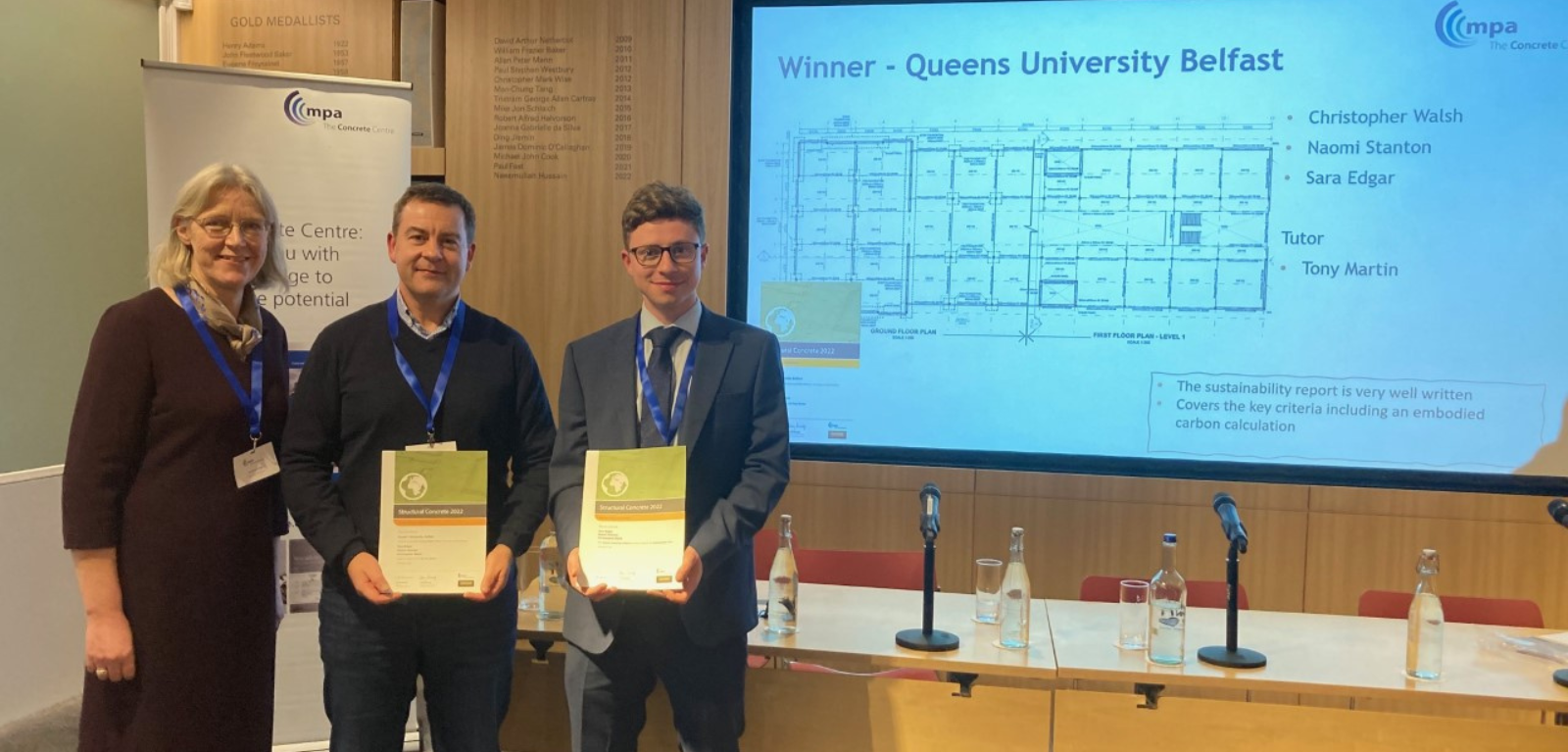 Students, Christopher Walsh, Naomi Stanton and Sara Edgar won the overall 1st Prize for Design in addition to the Sustainability Prize at the annual Student Structural Concrete Design Competition for their submission.
The UK-wide competition, which is open to all universities invited applicants to design a new high school building using concrete. Working with a specific set of guidelines, the team from Queen's created the winning design, showcasing not only their ingenuity but also their sustainability goals.
The competition works on two levels; with initial submissions being made at University level and judged by a team of local academic tutors. The winning submission from this stage is then entered by the University to be judged by a panel of experts at the Concrete Centre's UK headquarters using the following criteria:
Compliance with the project brief
Safety, function, stability and robustness
Material efficiency and sustainability
Buildability, constructability and maintainability
Speed of construction and cost effectiveness
Imagination, flair, aesthetic appreciation and innovation.
Talking about the award and what it means for students their tutor, Dr Tony Martin said:
"The annual Concrete Centre 'Structural Concrete' design competition challenges structural engineering students to provide a complex design solution to suit the evolving needs of the UK concrete construction sector.

"Every year, top universities throughout the United Kingdom take part and I am delighted for Chris Walsh, Naomi Stanton and Sara Edgar who impressed the judges by winning the top prize in both categories - for their overall design and for their consideration of sustainability issues."
Commenting on how this success reflects on the Undergraduate Structural Engineering Course at Queen's University, he further added:
"This success shows that the calibre of structural engineering students at Queen's is of the highest order and reinforces the message that our undergraduate programmes are at the cutting edge of what the Civil Engineering industry needs and expects."
If you are interested in learning more about studying Structural Engineering at Queen's please click here:
Media
For enquiries please contact Katherine Hamilton at: katherine.hamilton@qub.ac.uk