'Rosalind Franklin, Éamon de Valera and the Irish Role in the Discovery of the Secret of Life' with Prof Mark Lawler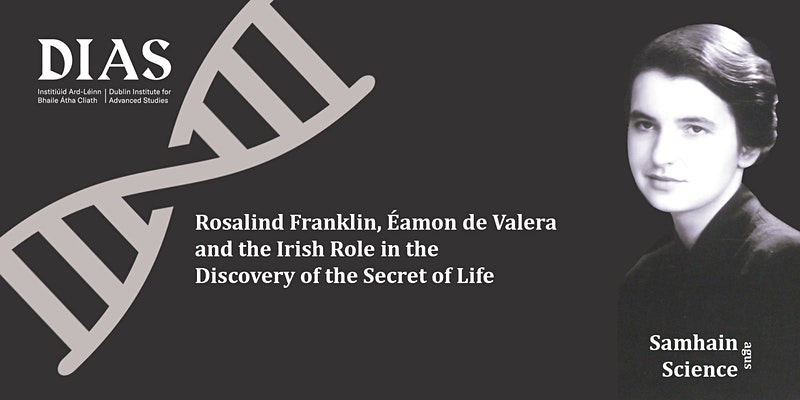 ---
As a geneticist, our speaker Mark Lawler has always been fascinated about the research that uncovered the "Secret of Life" as Francis Crick described the discovery of the structure of DNA in, of all places, the Eagle Pub in Cambridge. But Mark's hero in this seminal discovery was not the cerebral Francis Crick, nor his more brash American colleague James Watson.
In his public lecture as part of the celebrations of the 80th Anniversary of the Dublin Institute of Advanced Studies, Mark will focus on the oft forgotten contribution of Rosalind Franklin, the Dark Lady of DNA, who did so much but received so little. But the more he delved into this fascinating and sometimes sad story, the more Mark realised that there was a significant Irish connection, one that involved a number of what might seem at first unlikely players, including Eamon De Valera and Archbishop John Charles McQuaid. Mark will bring you back to a time when Ireland, and, in particular, Dublin, was at the heart of the scientific universe and share with you a story that is exciting, puzzling, challenging, but never dull.
Prof Mark Lawler, Associate Pro-Vice-Chancellor, Professor of Digital Health, and Chair in Translational Cancer Genomics, Faculty of Medicine, Health and Life Sciences, Queen's University Belfast (QUB)
Mark is an internationally renowned scientist who work has been recognised by numerous international awards. He is Scientific Director of DATA-CAN, the UK's Health Data Research Hub for Cancer. In the context of the pandemic, Mark's work on COVID and cancer has received significant international attention and he was featured in a recent Panorama programme on COVID-19 and cancer. He co-chairs a Special Network on COVID-19 and Cancer for the European Cancer Organisation, the largest multi-professional cancer organisation in Europe. Mark has a strong commitment to patient-centred research/care and to addressing cancer inequalities. He was architect of the European Cancer Patient's Bill of Rights (BoR), which he launched in the European Parliament on World Cancer Day 2014. The BoR received the 2018 European Health Award, a prestigious award for partnerships that yield real health impact in Europe. Mark is co-chair of the European Code of Cancer Practice, which he launched at the end of September in Brussels (virtually) with the European Health and Food Safety Commissioner Stella Kyriakides. He is passionate about communicating science and is frequently invited to deliver public lectures, webinars and blogs. When he isn't talking about science and medicine, he performs a highly acclaimed one-man show about James Joyce (which he also wrote) for charity.
This talk will be presented online via Zoom.
The link for the talk will be issued on the day of the talk to those registered 2 hours before the event is due to begin.