The All-Island Innovation Programme is an InterTradeIreland funded programme established to promote and encourage innovation for Small-to-Medium size Enterprises (SME) across the island.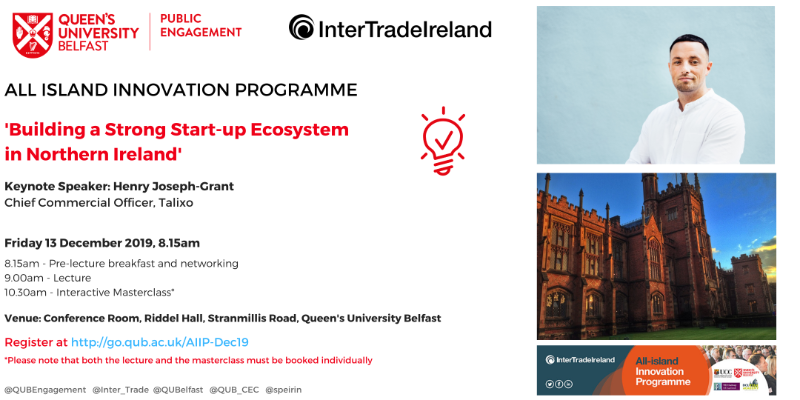 Conference Rooms, Block 2, Riddel Hall, Queen's University Belfast, 185 Stranmills Road
---
Continuing the three-year programme we are hosting an open innovation breakfast lecture followed by an interactive masterclass in Riddel Hall, with Henry Joseph-Grant, Chief Commercial Officer at Talixo and one of the founding members of Just Eat UK.
'Building a strong Start-up Ecosystem in Northern Ireland'
Northern Ireland has lots going for it, two great universities, a long standing entrepreneurial culture, well established traditional industries such as agriculture, manufacturing and construction, yet many talented people choose to chase their dreams elsewhere be it England, USA, Australia or New Zealand, almost every family has a relative who has moved overseas, our diaspora is huge. Being part of that diaspora himself, Henry believes that with only 1.8m people and a relatively small ecosystem, it is hard for many to return home or not leave in the first place if they want to excel and reach their professional and entrepreneurial goals, but with the increasing importance of tech and startups to any economy, he passionately feels that can change.
Henry will share what he feels are the key ingredients needed for Northern Ireland to put it's best foot forward and build a world class startup ecosystem, that will not only prevent brain drain, but also attract the world's finest investors, operators and entrepreneurs to invest in, start and work for startups based here.
Masterclass
The second part of the morning has a limited number of places – on a first come, first served basis and will feature an interactive workshop with Henry where he will take individuals through their specific challenges and give advice, suggestions and an opinion on how best to scale your business.
About our speaker
Henry is Chief Commercial Officer at Talixo, the world's leading B2B ground transportation startup based in Berlin, he writes for Irish Tech News and also mentors entrepreneurs through a variety of accelerators, initiatives and investment funds.
Previously, Henry was part of the team that built JUST EAT from a bootstrapped startup to $2.44Bn IPO and he went on to work with startups all over the world. He was named in the top 25 entrepreneurs in the UK by Smith and Williamson. Henry is originally from Draperstown in Co. Derry/Londonderry and is very proud of where he's from and keen to help the tech startup ecosystem throughout the island of Ireland.
THE EVENT
8.15am - Networking Breakfast
9.00am - 'Building a Strong Start-up Ecosystem in Northern Ireland'
Keynote Lecture from Henry Joseph-Grant
10.30am - Interactive Masterclass

Please note you must register for each event seperately to attend, as the masterclass is limited in numbers.