The next in the series of online innovation briefings, delivered by Queen's University Belfast as part of the All-Island Innovation Programme. This initiative is powered by InterTradeIreland to promote and encourage innovation for SMEs.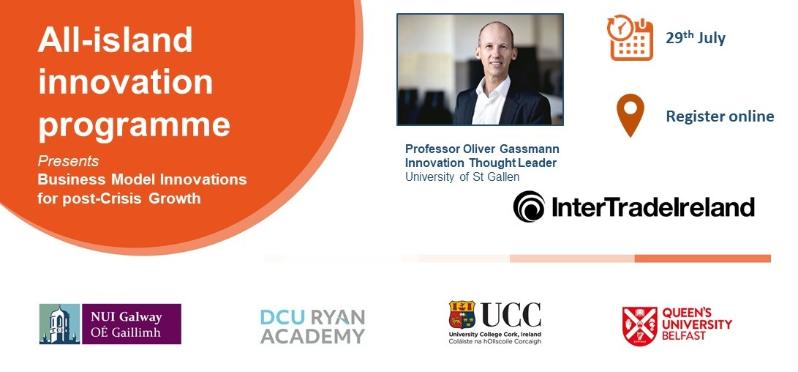 ---
As part of the ongoing All-Island Innovation programme, in which Queen's University Belfast is partnered by University College Cork (UCC) NUI Galway and the DCU Ryan Academy, the Cork University Business School, UCC are delighted to announce the seminar of world renowned author and innovation thought leader Professor Oliver Gassmann, entitled, 'Business Model Innovation'.
You can register here.
Oliver is the Professor of Technology Management at the University of St. Gallen. In this exclusive webinar he will discuss the importance of Business model Innovation for post-Crisis Growth.
In this event, the All-Island Innovation Programme will engage in conversation with Professor to discuss:
What a business model is and why it is so important that SMEs consider how it can be innovated for competitive advantage.
The process by which enterprise can evaluate their existing business model for innovation.
What are the different types of business model that an enterprise can consider adopting.
What new insights on business model innovation can we expect from his forthcoming 2nd edition of his Business Model Navigator best seller (https://www.amazon.co.uk/Business-Model-Navigator-Models-Revolutionise/dp/1292065818).
Department

Public Engagement