The Declan Kelly Lecture Series was established in 2017 by Queen's Honorary Professor Irish-American entrepreneur, businessman and philanthropist Declan Kelly.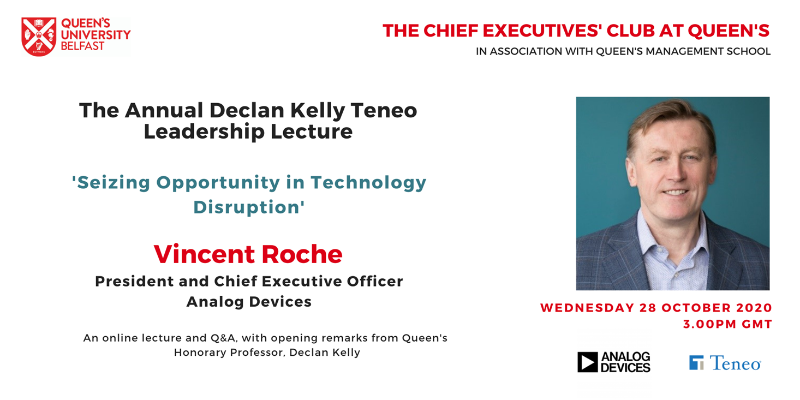 ---
The series has included a range of high profile international business leaders including Declan Kelly himself, CEO of the world's leading CEO advisory firm Teneo; Ursula Burns, former CEO of Zerox; and Lord Mervyn Davies, Partner and Chairman of Crosair Capital.
This year's guest speaker is Vincent Roche, the CEO of Analog Devices and believed to be the only Irish born CEO to lead a Fortune 500 company.
As President, Chief Executive Officer, and member of the Board of Directors, Mr. Roche sets Analog Devices' strategic vision and oversees operational execution across the business. Since becoming ADI's president in 2012 and CEO in 2013, Vincent has been instrumental in growing the organization's market leadership in the high-performance analog sector through a strong customer-centric focus and unyielding commitment to innovation and engineering excellence. Under his leadership, ADI has expanded the breadth of its product portfolio and added new technologies and capabilities to provide more comprehensive solutions to customers' toughest technical challenges.
Event Itinerary
3.00pm - Welcome
3.05pm - Opening remarks by Declan Kelly
3.15pm - 'Seizing Opportunity in Technology Disrpution' by Vincent Roche, Analog Devices
3.45pm - Q&A
4.15pm - Close