Queen's University is delighted to welcome George Hamilton QPM, Chief Constable Police Service of Northern Ireland, to deliver a public lecture at the University. The event will be hosted by Professor Kieran McEvoy, Queen's University Belfast.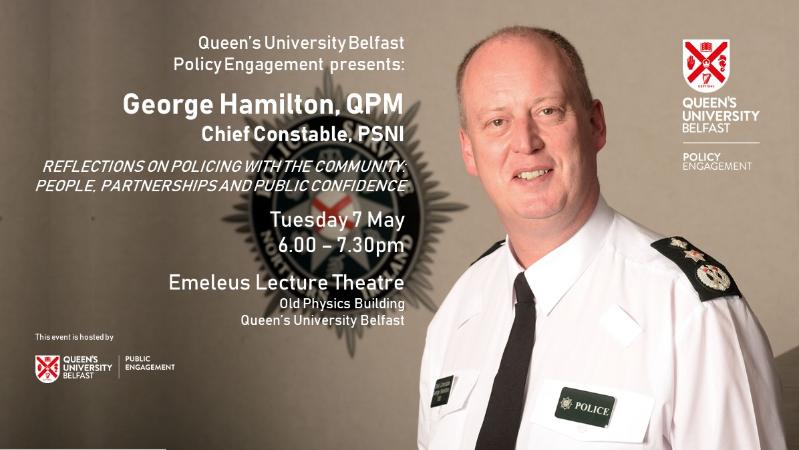 May 7, 2019 - May 3, 2019
Emeleus Lecture Theatre, Old Physics Building, Queen's University Belfast
---
About the speaker
George Hamilton was appointed Chief Constable of the Police Service of Northern Ireland on 30 June 2014.
Chief Constable Hamilton's policing experience started in 1985 when he joined the Royal Ulster Constabulary. Since then he has gained a wide range of experience in a variety of operational roles.
In 2009 he was appointed as an Assistant Chief Constable in Strathclyde Police in Scotland, with responsibility for serious and organised crime, public protection and counter terrorism investigations.
Prior to his appointment in Strathclyde he had been Chief Superintendent and District Commander in 'B' District (South and East Belfast).
He also served as a Detective Chief Inspector and Detective Superintendent in the PSNI where he was involved in a number of high profile and complex investigations. During a three secondment in England he worked on a range of training and organisational development projects.
Chief Constable Hamilton holds a Bachelor of Arts Degree in Politics and Economics and a Masters in Business Administration. He is a member of the Institute of Directors and the FBI Law Enforcement Executive Leadership Association.
In 2015 he was awarded the Queen's Police Medal in the Her Majesty's Birthday Honours list.
In January 2019 he announced his intention to retire from policing in June 2019.