Queen's University Belfast is delighted to announce their second ever LIVE TEDx event to take place in Riddel Hall on Wed 8th June 2022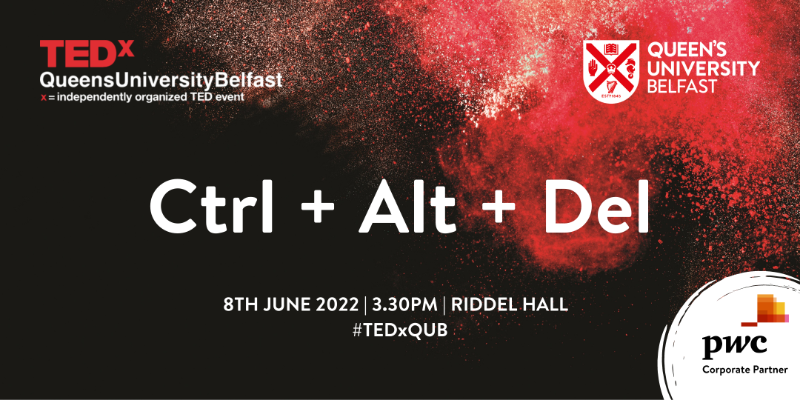 ---
In partnership with Corporate Partner PwC, TEDxQueensUniversityBelfast 'Ctrl + Alt + Del' will showcase our community - the staff, students and alumni of Queen's University Belfast.
Speakers
Barbara Bray MBE| PhD Researcher | What youth can teach us about positive ageing?
Professor Richard English | Director, Senator George J. Mitchell Institute for Global Peace, Security and Justice | Does terrorism work?
Arlene Foster - Alum | Former First Minister of NI | Speak your truth, no matter how many attack.
Professor Ian Greer | President and Vice-Chancellor | Partnership and cooperation results in delivery.
Chris McFall - Alum | Chief of Staff | Human behaviours in a digital world.
Bill Neely - Alum | Former NBC News Chief Correspondent | Mainstream Media - Enemy of the people?
Katie Ní Chléire | President of Queen's Student Union | Recovering our mental health after Covid-19.
Dr Olinda Dantin | Reader | Caring for someone with cancer: Love hurts.
Dr Nidhi Simmons | Royal Academy of Engineering Research Fellow | The economy of things.
Dr Fiona Murphy | Senior Lecturer in Anthropology | Displacement is about all of us.
Isaac Gibson | PhD Researcher | "I Wish I Could Hear Their Voice Again".
Bushra Kalakh | PhD Researcher | The unchanging change.
Department

Public Engagement