This years lecture entitled 'Tilting the Lens: A New Perspective' will be given by Sinéad Burke; writer, educator and disability advocate.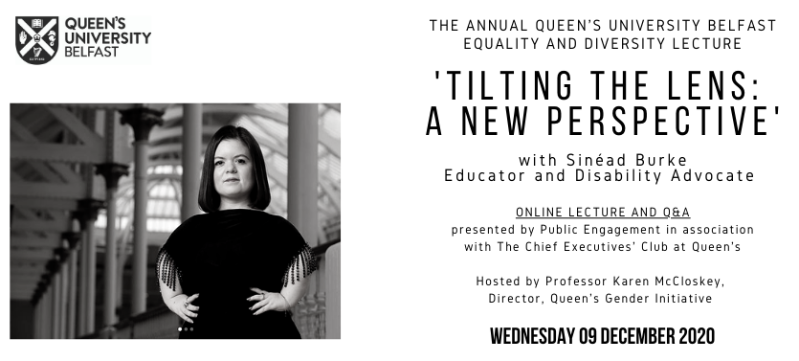 ---
The Queen's University Equality and Diversity Lecture was established in 2018, with Conor McGinn MP giving the inaugural lecture to a packed live audience in the Emeleus Lecture Theatre.
This year's keynote speaker is Sinéad Burke, an Educator and Disability Advocate.
Sinéad burke is a teacher, writer and advocate. Through her company, 'tilting the lens', sinead works towards accelerating systemic change within the domains of education and design, by focusing on accessibility as a vehicle for creativity, innovation and social justice. Sinead is responsible for the introduction of the term for little person, 'duine beag', into the Irish Language and recently released her first book, 'Break the Mould' to encourage children to acknowledge difference and to design a world that is accessible and equitable for all.
Sinéad is a TED speaker, her talk, 'Why Design Should Include Everyone' has amassed one million views. Sinéad has addressed the World Economic Forum at Davos and is a member of WEF's Future Cities Council. Sinéad is the first little person to feature on the cover of Vogue and to attend the Met Gala, but her interest and work is utilising her experience of being the first, as a case study to make these practices the rule.
Department

Public Engagement