The Queen's Management School 2020 Mary McAleese Diversity Lecture, taking place on Friday 7 February 2020 from 12.00 noon in The Isdell Courtyard at Riddel Hall, Queen's University Belfast, with support from the Chief Executives' Club at Queen's.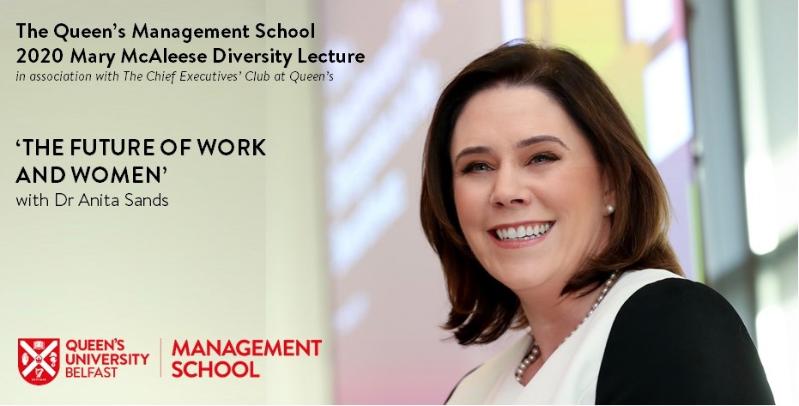 Isdell Courtyard, Riddel Hall, 185 Stranmills Road, Queen's University Belfas
---
This year's lecture, 'The Future of Work and Women', will be delivered by global technology and business leader, Dr Anita Sands. The main keynote address will be followed by a question and answer session and a buffet lunch for all guests.
About Dr Anita Sands

Anita Sands is a Silicon Valley-based board director, author, and speaker. A former Fulbright Scholar, she holds a Masters in Public Policy and Management as well as a Ph.D. in atomic and molecular physics, from Queen's University Belfast.

Anita spent a decade in leadership positions in financial services in Canada and the U.S. before becoming COO of UBS (WMA). She now serves on the boards of three public companies — Symantec, ServiceNow, and Pure Storage—and private companies ThoughtWorks and AppBus.
Described as a 'force of nature' with unique perspectives, Anita has been awarded many honours for her contribution to business and social challenges, including in 2014 the Queen's University First Trust Graduate of the Year Awards for her achievement as a global thecnology and business leader, public speaker and advocate for the advancement of women.

As a speaker, Anita is renowned internationally for engaging audiences with her thoughtful and practical insights on the implications of three major trends:
Technology's influence on companies, society, and public policy
Gender equality and the power of Belonging
Leadership and governance for the digital age
Hailing originally from Co. Louth, Anita splits her time between San Francisco, New York, and Dublin.