'Healthy. Connected. Well.': Mental Health Awareness Week 2019 at Queen's
Queen's University Belfast will this year partner with Action Mental Health to host Mental Health Awareness Week 2019 (Monday 13 May – Friday 17 May 2019), holding a range of events and talks for staff and students.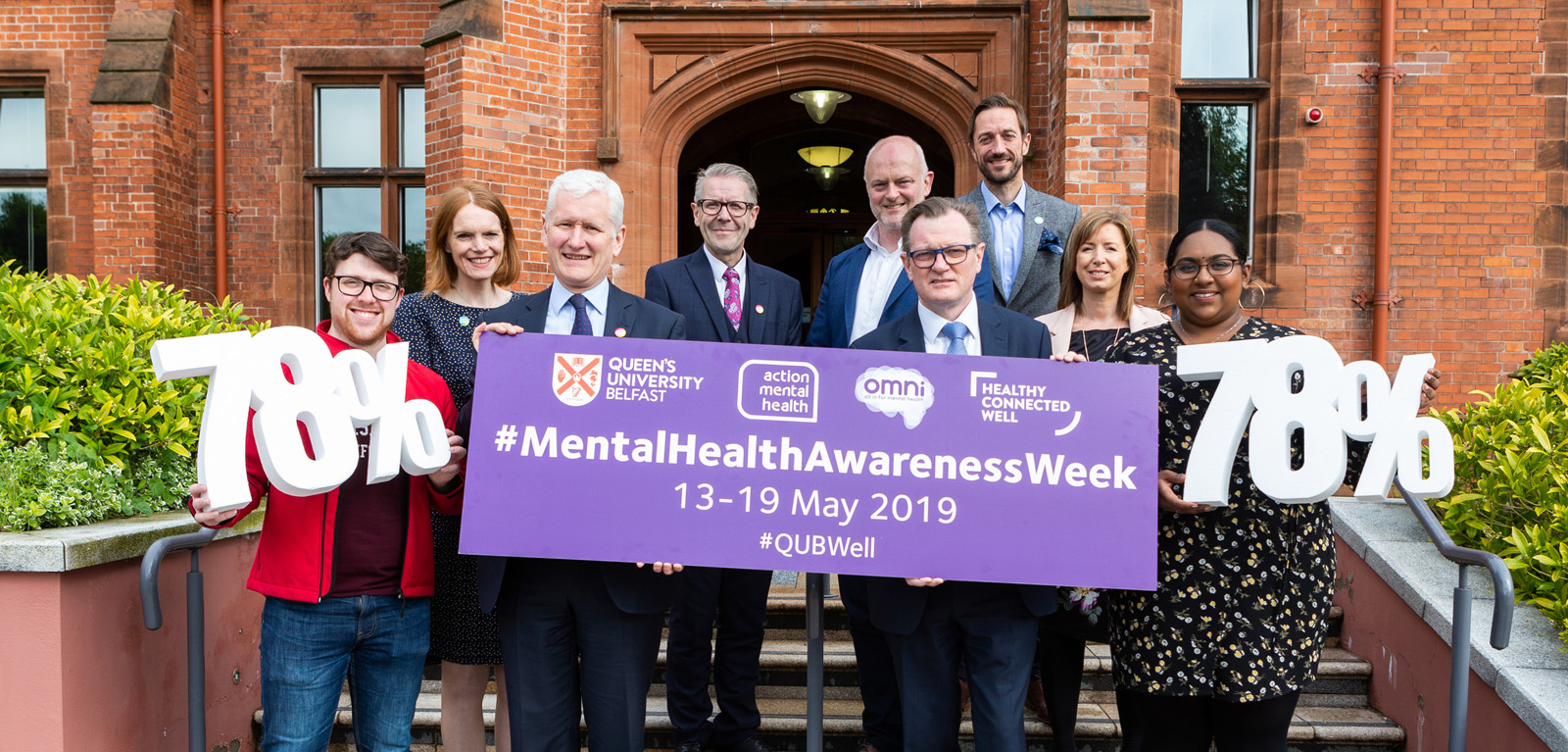 Taking place under the theme of 'Healthy. Connected. Well.', the week kicks off on Monday 13 May 2019 at 10.00am with the launch of our Annual Pedometer Challenge. Proceeds raised will go to Action Mental Health, a local charity which works to enhance the quality of life and the employability of people with mental health needs or a learning disability in Northern Ireland.
Brian Parkes, People and Culture Director, said, "At Queen's, we are committed to creating a compassionate culture that supports and promotes the mental health and wellbeing of all our people and we are delighted to partner with Action Mental Health for Mental health Awareness Week 2019, with a range of events that will bring staff and students together to raise awareness, drive conversations and show their support for better mental health."
In February 2019, Queen's Students' Union launched an ambitious new campaign to tackle mental health issues facing students – 'OMNI' – under the resounding call to action "all in for mental health".
OMNI asks us all to recognise the role that we each have to play at all levels across the University in supporting mental health and, in response, Queen's has now adopted a new whole-university approach in support of OMNI in order to address mental health and wellbeing for both staff and students. Work is already underway to develop a new institutional three-year (2019-2021) Framework for Mental Health.
Commenting on the University's new holistic approach to mental health, Brian Parkes said:
"The student engagement and activism driving the movement to enhance student mental health at Queen's through OMNI has been an inspiration to many of us as university staff and a reminder that we learn not just from experts but from our students.

"In adopting mental health as a strategic priority and implementing a whole-university approach that involves students and staff at all stages of the journey, we believe we can meaningfully address the issue."
The line-up of events taking place during Mental Health Awareness Week includes guided walking tours of Botanic Gardens led by Belfast City Council, talks hosted by Inspire, a charity and social enterprise based in Northern Ireland focusing on promoting wellbeing for all, and talks by some of our own researchers working in areas relating to mental and physical health.
Action Mental Health Chief Executive David Babington said: "It's gratifying to see such a prestigious institution shining a light on mental health issues and taking the lead to cultivate and promote the mental well-being of their staff and student body."
The week's headline event, taking place on Thursday 16 May, will feature local personalities including former Gaelic footballer Oisín McConville, Cool FM radio presenter Paulo Ross and journalist and newsreader Tara Mills talking about mental health from their own personal experiences.