IGFS researcher lands top award
An IGFS researcher who investigates the link between nutrition and cancer has received a prestigious award from a leading cancer charity.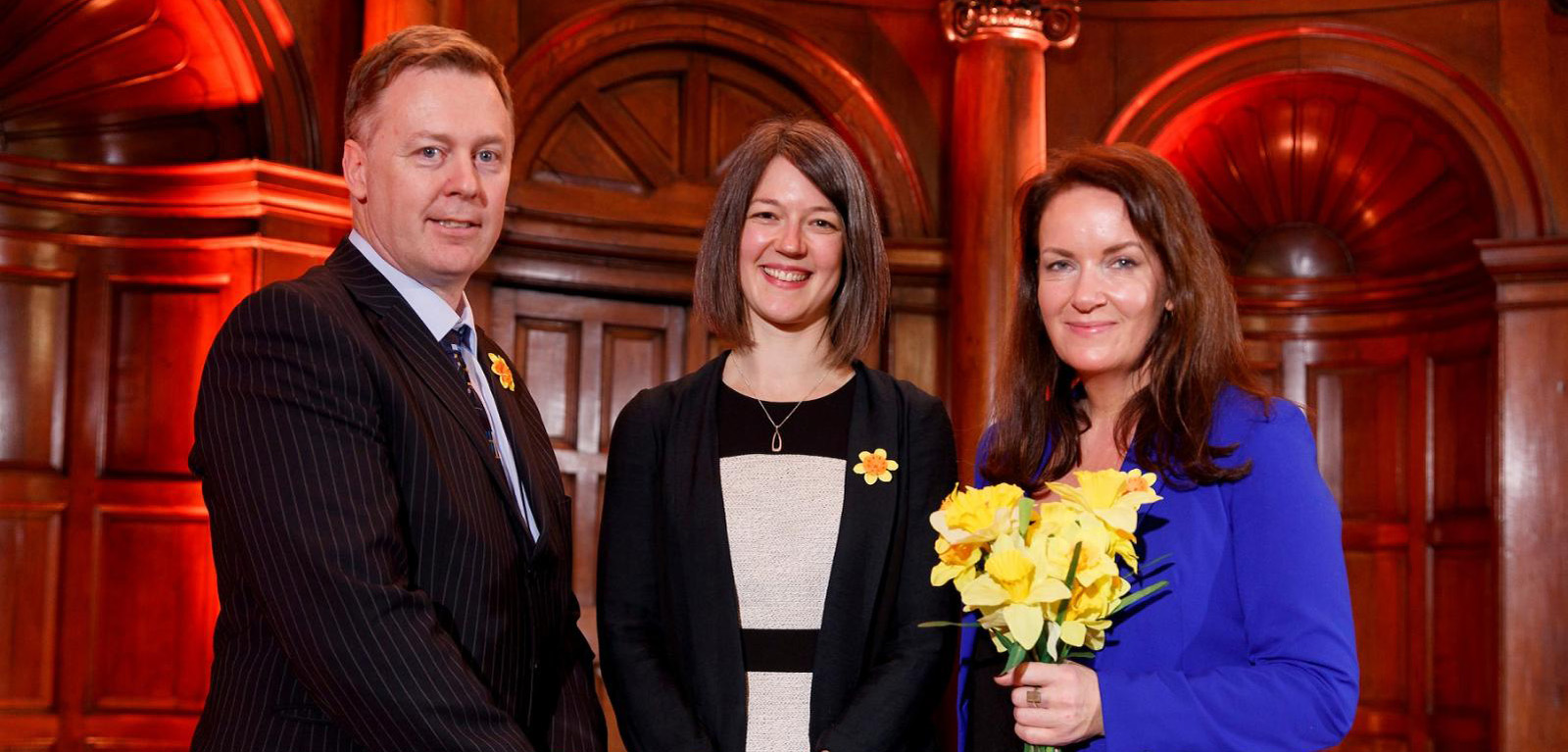 Dr Emma Allott, whose lectureship spans IGFS and the Centre for Cancer Research and Cell Biology at Queen's, was awarded 'Post-Doctorate (Senior) Researcher of the Year 2019' last month by the Irish Cancer Society at a glitzy ceremony in Dublin's former House of Lords building.
Emma has received funding from the charity since 2016 for one of her main research projects, which focuses on the relationship between cholesterol and prostate cancer. Elsewhere, her research specialisms include obesity, breast cancer and molecular epidemiology.
Prior to joining Queen's last year, Emma carried out research in the University of North Carolina at Chapel Hill and Trinity College Dublin as part of a partnership between the Irish Cancer Society, the Dana-Farber Cancer Institute and Harvard TH Chan School of Public Health.
On receiving her award, Emma said: "Thanks to the Irish Cancer Society's support, I've been able to find out potential links between cholesterol levels and advanced prostate cancer in men. The more we know about why men get advanced prostate cancer, the more we can do to stop it happening in the first place. Preventing prostate cancer means saving countless men from the often harsh treatment that comes with this disease. The Irish Cancer Society's funding has allowed me to work with international experts and gain invaluable expertise. I plan to pass this knowledge on to future cancer researchers so that we can come even closer to stopping prostate cancer."
The Irish Cancer Society invests in upwards of 100 science researchers every year and is now on track to invest €30 million in cancer research in the decade up to 2020. It relies on donations from the public; to get involved in its fundraiser Daffodil Day 2019, visit cancer.ie/daffodilday.
Dr Allott (centre) is pictured receiving the award of Post-Doctorate (Senior) Researcher of the Year 2019 with Head of Research at the Irish Cancer Society, Dr Robert O'Connor and Newstalk radio broadcaster, Dr Ciara Kelly.
Many congrats 2 r colleague Dr Emma Allott @dremmaallott on her 'Researcher of the Year' award from Irish Cancer Society

Emma probes the links between #nutrition & #cancer, particularly #cholestrol & #ProstateCancer

Read the full story on IGFS website: https://t.co/DKXn0sIiGl pic.twitter.com/R2OYSraQM7

— IGFS (@QUBIGFS) 6 March 2019